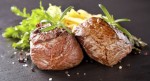 Roasted Bison

Fans of roasted bison love its tender, sweet, rich flavor. We have plenty of fans right here at the Pritikin Longevity Center + Spa, where guests enjoy grass-fed, free-range bison entrees every Thursday night.
Servings
Prep Time
Cook Time

12

people

30

minutes

1

hour
Ingredients
Servings: people
Instructions
In a medium bowl, combine all ingredients, except bison, to create a marinade. Rub marinade over bison. Refrigerate for at least 4 hours but no more than 6 hours.

Before cooking, bring roast to room temperature (about 15 minutes before placing in oven). Pre-heat oven to 250°.

Place roast, plus marinade juices, in a roasting pan. Cook in oven until pink, about 1 hour. Do not overcook.

Let bison roast sit 15 minutes before slicing. Slice into 4-ounce portions.
Recipe notes
Leftovers can be stored in the refrigerator for the next 3 to 4 days.
Share this Recipe