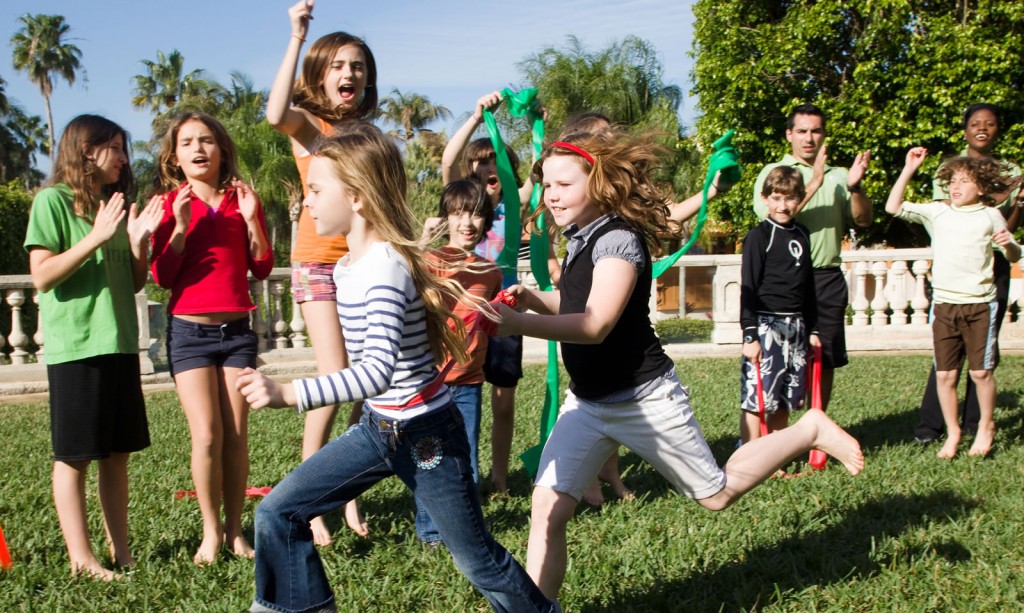 June 28 to July 11, 2014 (Kids 8-18)
Each day, the kids whoop and holler their way through drum-thumping "Cardiac Rap" aerobic workouts, strength training called "Pump 'Em Up," kid-friendly nutrition and cooking classes, and afternoons filled with swimming, golf, volleyball, and tennis. They also enjoy tasty, healthy snacks and meals like chewy potato skins, icy fruit smoothies, salsa-bean burritos, chicken pasta primavera, and chocolate ice cream.
Meanwhile, parents receive the full benefit of the traditional, for-adults Pritikin Health and Weight-Loss Program. They can also attend workshops on motivating their kids to make healthy choices.
In peer-reviewed studies on children in the Pritikin Family Program (see citations at end of article), scientists at UCLA found that in just two weeks the children:
Shed on average 9 pounds (among children needing to lose weight)
Decreased LDL bad cholesterol 25% and total cholesterol 23%
Lowered triglyceride fats 39%
Reduced key markers of inflammation
Eliminated the Metabolic Syndrome (a pre-diabetic condition)
---
One Week

Two Weeks

One Adult & One Child

$ 6,150
$ 10,550

Two Adults & One Child*

$ 8,850
$14,350

For Each Additional Child*

$ 1,650
$ 2,650

*Includes accommodations in a Standard Resort Room. A variety of suites is also available.
---
Total Immersion In Healthy Living… And A Lot Of Fun
To teach children healthy habits, the entire family needs to be involved, insists every major pediatric health organization. Family immersion in healthy living is what the Pritikin Family Program is all about, and it's taught by nationally renowned physicians, dietitians, and exercise physiologists.
More important (as far as the kids are concerned) is that the program's just a whole lot of fun. Each day, the children get movin' in tennis and dance classes as well as strength training, music-charged aerobic workouts, and afternoons horsing around and participating in games like volleyball, soccer, basketball, and poolside bingo.
The cooking classes get high marks, too. The kids make – and get a big kick out of sampling – tasty snacks, soups, sorbets, pastas, crepes, cookies, and Mexican beans and tortillas.
In kid-friendly nutrition classes taught by Pritikin's dietitians, the children are exposed to some real eye-openers, like the number of teaspoons of sugar (more than 10!) in a can of Coke, and how smooth-skinned arteries can turn "gross with cholesterol boils" after years of eating the wrong foods.
Meanwhile, parents receive the full benefit of the traditional, for-adults Pritikin Health and Weight-Loss Program. They can also attend workshops to learn strategies for motivating their kids to make healthy choices, such as planning menus with your kids, handling picky eaters and junk food lovers, and fitting fitness fun into everyday family life.
Sample Day and Menu For the Pritikin Family Program
7:30
Breakfast
Hot or Cold Cereals
Bananas, Peaches, Berries, Watermelon
Egg White Omelet Bar
Fresh Yogurt, Cottage Cheese
Fruit Juices, Nonfat Milk, Soymilk
8:15
Tennis Lesson
9:30
Cooking Workshop
"Easy, Tasty Snacks"
10:45
Nutrition Workshop
"Packing Your Lunch, and Eating on the Go"
12:00
Lunch
Salad Bar With Freshly Cut Selections
Maniac Minestrone Soup
Pumped-Up Pizza
Bean-Bumpin' Burritos
Fresh Fruit Baskets
Juices and Milk
1:00
Exercise
"Cardio Blast" Workout
2:00
Health Workshop
"Fun Facts About Fitness"
3:15
Field Trip
Visit a water park (weather permitting)
5:00
Field Trip
Whole Foods Market To Learn Label Reading
630
Dinner
Gazpacho Tropical Soup
Chewy, Chunky Potato Skins
Roasted Veggies – Asparagus, Peppers, Corn on the Cob
Grilled Bison Steak With Creamy Macaroni
Onion Mashed Potatoes
Fresh Vegetable Finger Foods
Strawberry Shortcake
Milk, Fruit Juices, Chocolate Milk
7:30
Exercise
Swimming Under the Stars
The Epidemic – Childhood Obesity, Diabetes, and Heart Disease
Never before was it so vital that we improve the diet and exercise habits of our children. We don't have a few overweight kids in America. We have a national health crisis.
Among U.S. teens, obesity-related Type 2 diabetes has increased 800% during the past decade. And nearly 70% of teens in America show the initial stages of fatty streaks, or early heart disease, in their arteries — not only overweight adolescents but thin ones as well. This is the first generation in history, scientists predict, in which parents may outlive their children.
The Solution – Pritikin Delivers Results
A powerful solution, UCLA researchers have found, is the Pritikin Family Program. In studies (see citations below) on both normal-weight and overweight children, the following results were achieved in two weeks:
Total cholesterol lowered on average 23%
LDL bad cholesterol decreased 25%
Average weight loss (among overweight children) of 9 pounds
Triglyceride fats lowered 39%
Key markers of chronic inflammation reduced, including C-reactive protein and oxidative stress
Increased production of nitric oxide, a beneficial chemical that expands blood vessels, increases blood flow, and squelches plaque growth and blood clotting
American Journal of Physiology: Regulatory, Integrative, and Comparative Physiology, 2013; 305R: 552.
American Journal of Physiology: Endocrinology and Metabolism, 2012; 303E: 542.
Atherosclerosis, 2007; 191: 98.
Metabolism Clinical and Experimental, 2006; 55: 871.