Hal Foster | 89 Lopez Island, Washington
There's a lot of talk now in Washington, DC (very good talk, we might add) on disease prevention, on the billions we'd save if we didn't need as many hugely expensive treatments like coronary bypass and angioplasty, and on the personal dividends – a longer life, a better life – that a healthier lifestyle delivers.
If our federal and state goverments were looking for a poster child for the rewards of healthy living, they'd have it in Hal Foster, 89 years old, of Lopez Island, Washington.
Angina
In 1976, Hal was anything but healthy. His arteries were so clogged that he couldn't walk around the block near his home, then in Pasadena, California, without suffering chest-squeezing angina pain.
The 55-year-old L.A. Times executive was frightened, and for good reason. His own father had collapsed and died of a heart attack at the same age. "That heart attack was his first symptom that he had heart disease, and it killed him," recalls Hal.
Alternative to heart surgery
Hal's doctors told him he needed double coronary bypass surgery immediately, or he could try "this new diet-and-exercise program" being taught up in Santa Barbara by a man named Nathan Pritikin.
Hal chose the latter. What he experienced at the Pritikin Longevity Center certainly was new. Nowhere in the Pritikin dining room was typical American food like steaks, fries, and full-fat ice cream. Instead, Hal was served a lot of fresh fruit, fresh vegetables, and other whole, fiber-rich foods like potatoes, beans, brown rice, corn on the cob, and whole-grain cereals, and small portions of lean meat like white poultry and seafood.
He spent a lot of time on his feet, too. By the end of his 26-day stay at Pritikin, Hal was trekking miles every day up and down the hills of Santa Barbara and nearby Montecito – pain free. No angina whatsoever.
Pritikin living | The natural alternative to heart surgery
And he felt fabulous. He returned home to Pasadena and began walking, then running, around the Rose Bowl. "I started by taking 75 steps, then resting, then taking 75 more, and so on."
Within a year and a half, Hal was competing in 10-K races. He also resumed one of his most cherished activities – backpacking trips to the peaks of the Sierra Nevada. He even scaled the highest mountain in the lower 48 – Mt Whitney – at age 70.
Still chopping wood
Today, nearly 90 years old, he still chops wood, still works out on "my ancient Nordic Track" every day for twenty minutes, and still savors long leisurely walks around the bay near his home in the state of Washington with his wife, Anne. He keeps in touch with the faculty at the Pritikin Longevity Center, now in Florida.
No arterial blockage
He's never needed bypass surgery or angioplasty. And he's never suffered a heart attack. In fact, last year cardiac testing showed that his coronary arteries had no blockages. None.
Like we said, a poster child for healthy living, a stunning example of how well we can live – long into old age – when we live well.
Heart-healthy food
Hal's doctor applauds his discipline. Hal himself applauds Anne, the craftsman in the kitchen, who whips up big pots of fresh soups, like lentil, split pea, tomato, and mixed veggies, and freezes them in single-serving containers. She also prepares delicious heart-healthy dinners, often cooking up a favorite of the Northwest – wild-caught salmon – and once a week roasting chicken.
Vitality
Lots of good food. And good living. Sums up Hal, "Struggling with that horrible angina back in 1976, I never would have thought it possible that I could change my whole life, and that the life I began would give me 33 more wonderful years – and counting."
"You don't even miss the cheeseburgers"
"And I know that if I can do it, others can too. Sure, you lose things like cheeseburgers, but you gain so much more, and soon you discover that you don't even miss the cheeseburgers. I've had more pleasure in eating now, in my Pritikin years, than ever in my life."
"It's a much better life, and it can happen to a lot of people."
Yes, it can!
Postscript | Sent to Pritikin Perspective February 20, 2016, by Hal's daughter, Catherine Foster…
It's been five years since you wrote the article on my 90-year-old father, a graduate of Pritikin. I'm sure the diet-and-exercise program (plus my stepmother's cooking and their trusty Cuisinart) led to an extra 40 years of life for Dad.
But, alas, Dad passed on last Saturday. Even at the end, his long-time habit of running, then walking, gave him very strong legs and made him want to get out of his hospital bed! But I just want to say how grateful I am to the Pritikin Program for giving him so many more happy and healthy years.
All best, Catherine
Foster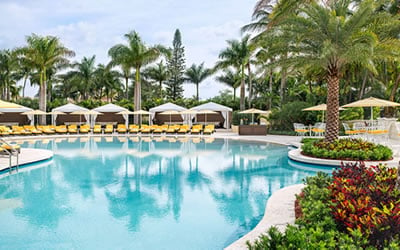 Health Resort
Take life to the next level, and be all that you can be. That's what a vacation at Pritikin is all about. Live better. Look better. Best of all, feel better.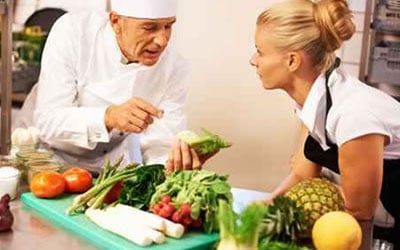 All-Inclusive Program
Since 1975, 100,000+ people have come to Pritikin. We are the longest-running, most scientifically documented health resort in America.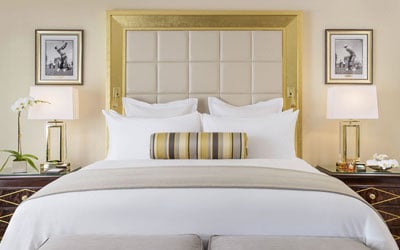 Rooms and Suites
Our newly renovated guest rooms at the health resort are spacious, serene, and amenity-rich. Each has a gorgeous garden view.