Leon always knew his DNA wasn't the best. His earliest memories were of his dear mother passing out in the street, "which scared the hell out of me. I was just a little kid."
She was a victim of fainting spells caused by severe high blood pressure. She died much too soon of, her doctor suspected, a massive stroke.
At age 53, the very same age of his mother's passing, Leon started having his own problems – chest-squeezing angina so painful that "I had trouble walking from the back of my house to the front."
Terrified, the Southern California attorney knew he had to do something – and fast. But his options at the time, 1974, weren't to his liking. After treadmill stress testing and an angiogram, which showed 100% blockage in one coronary artery, 89% in a second, and 76% in a third, UCLA's head of cardiology recommended immediate coronary bypass surgery. He also explained to Leon the risks involved.
Well, Leon was never one interested in risk – "I'm not a big hero."
National Enquirer
So he returned home and, by sheer coincidence, picked up a National Enquirer just a few days later with an article about an 89-year-old woman whose story sounded a lot like his. She'd been taking a litany of drugs for heart disease and struggling with paralyzing angina. She couldn't even walk out to her backyard to play with her grandchild.
Then she told the Enquirer that after meeting a man named Nathan Pritikin and adopting his diet and exercise program, her life had completely turned around. She was now off virtually all her meds, taking brisk walks for miles every day, and feeling like a million.
Not keen on accepting anything from a newspaper with a reputation for limited accuracy, but always with an open mind, Leon called the Enquirer, got the woman's phone number, telephoned her, and found out that everything in the newspaper's story was true. Nathan Pritikin, she affirmed, was her hero.
"I'd Like To Speak To Mr. Pritikin"
So Leon called Nathan Pritikin himself and learned he was involved in a major study at the Veterans Administration Hospital in Long Beach, California. Scientists there were investigating the efficacy of three different programs for VA patients with severe heart disease.
One program under observation used vitamin supplements. The second used chelation therapy. The third was Nathan Pritikin's program. Daily, the vets on the Pritikin Program went to a little home Nathan had rented near the hospital for all their meals, snacks, and exercise training, all paid for by Nathan himself.
Nathan told Leon, "You're welcome to join us." The attorney was intrigued but chose to verify. He called the cardiologist in charge of the three VA investigations, and asked, "Judging from how your investigation has gone so far, how does Pritikin's program compare with the other approaches? If you had to put someone on one of these programs, which would it be?"
"Without a doubt, it would be Pritikin," replied the cardiologist, unhesitatingly.
So without any doubt Leon embraced the Pritikin Program, and even called Nathan regularly for personal advice. It was slow going at first, especially the exercise – "I'd walk 40 or 50 paces, then run 10 paces." But Nathan encouraged him, saying, "You'll be running a half-mile before you know it."
From 40 Steps to 4 Miles
Well, before you knew it, this guy, who had arteries so severely clogged that UCLA cardiologists shuddered when he refused bypass surgery, was running four to five miles daily. Angina-free.
After four months on the Pritikin Program, Leon returned to UCLA for a second treadmill EKG. The same doctor examined him. Recalls Leon, "He put me on the treadmill, fully expecting to see the ischemia that was there four months earlier because of my clogged arteries. While checking my heart's activity with the EKG, he gasped and exclaimed, 'It's gone, it's gone. The ischemia's gone. It's not supposed to be gone, but it's gone!'"
The doctor was as excited as a kid at Disneyland, remembers Leon, because he'd just read a medical journal article stating that once you have ischemia, you will always have it. He told Leon, "I must write the authors of your case."
"Breakthrough That Will Save Millions of Lives…"
Now it was Leon's turn to be interviewed by the National Enquirer. On July 27, 1976, the newspaper ran a story with the headline, "Breakthrough That Will Save Millions of Lives… Hardening of Arteries – Major Cause of Heart Disease – Reversed for First Time Without Drugs or Surgery."
The article told of research involving a diet-and-exercise program by Nathan Pritikin and another by David Blankenhorn, MD, that had dramatically improved the conditions of heart patients – "clogged, fat-encrusted arteries opened up."
The newspaper interviewed leading heart researchers, including cardiologist John Kern, MD of University of California Medical School at Irvine, who helped administer the study of the Pritikin Program at the VA Hospital.
"I Was Amazed…"
"I was amazed at the results," said Dr. Kern. On Nathan Pritikin's program, the patients' arteries "soon began to open up and they had increased blood flow…And it wasn't long before the patients, many of whom could hardly walk before the study, were even running long distances."
Concurred Dr. John A. Scharffenberg of Loma Linda University: "I'm convinced their diet can save millions from heart disease. Their study is the first documented evidence of atherosclerosis reversal in man without drugs or surgery."
The article ended with Leon's inspiring story.
Still Bypass-Free
Today, three decades later, Leon's still a Pritikin devotee, still pounding the pavement around his neighborhood, still practicing law, and still in awe of Nathan Pritikin's vision.
"Today, doctors are giving us the same advice that Nathan was giving 34 years ago. That's how far ahead the Pritikin Program was."
And today, 88 years old and vibrant as ever, Leon gets up every morning for an exercise routine that includes running, a stationary bicycle, and weight lifting ("except on days when I have to be in court"), then back home for his breakfast of whole-grain cereal, no sugar, and nonfat milk.
What's more, he's never needed that bypass surgery.
And he's never forgotten that the man who saved his life was not only brilliant but kind. "When I telephoned Nathan, and I did quite frequently in those first few months when I started his program, he always took the time to answer my questions. Never did he give the impression that he was in a hurry."
"I don't know if I've ever known anyone more giving than Nathan Pritikin," says Leon. "Repeatedly I insisted on paying him, but he never took any money. He always told me, 'If you get better, it will be pay enough for me.'"
Nathan, we're sure you'd feel you've been paid handsomely.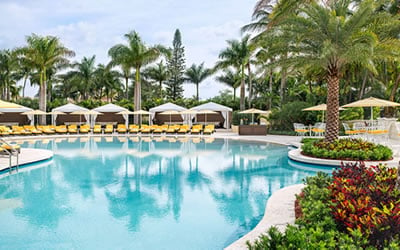 Health Resort
Take life to the next level, and be all that you can be. That's what a vacation at Pritikin is all about. Live better. Look better. Best of all, feel better.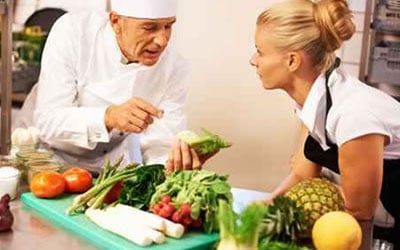 All-Inclusive Program
Since 1975, 100,000+ people have come to Pritikin. We are the longest-running, most scientifically documented health resort in America.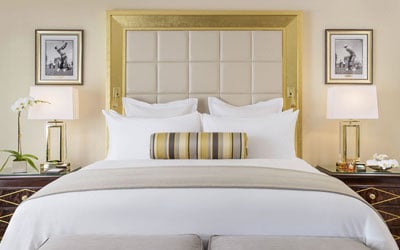 Rooms and Suites
Our newly renovated guest rooms at the health resort are spacious, serene, and amenity-rich. Each has a gorgeous garden view.