CUT SHORT
But in 1982, the 64-year-old dynamo skidded to a dead halt. He suffered a heart attack. "My life was cut short. Finished. I was given up as a goner if I didn't have bypass surgery."
Danny refused the bypass surgery, but life was lousy. Doctors kept reminding him that he was a sick man, that he had to slow down, and worst of all, "that there wasn't a damn thing I could do about it. I was depressed and scared. Worse than that, I was bored. I don't say that lightly. Boredom to an active man is no joke. It depletes the very life force."
"IT CAN'T HURT"
Then, his rabbi handed him an article about the Pritikin Longevity Center. "He called upon 5,000 years of rabbinical wisdom and said, 'Dan, it can't hurt.'"
So in April 1983, Dan arrived at Pritikin. The first few days, he couldn't walk more than a block. But at the end of his 26-day program, he was logging 12 to 14 miles daily. His stress tests were excellent. His cholesterol plummeted from 285 to 147, and his weight dropped from 176 to 159 ("just three pounds over my college weight"). And shortly after returning home from the Center, Danny threw away his medications.
It's been 22 years since that first visit to Pritikin. Danny never needed any more medications, ever again. And he's never had another heart problem. Four days a week, he runs three miles. Twice weekly, he lifts weights with a personal trainer. "It's amazing how strong I am. I can lift 40, 50 pounds so easily – they feel like a bag of clothes!"
TWO OFFICES
And three days a week, he still takes care of clients – running one office in Boca Raton, Florida, and another in Stamford, Connecticut – "and in those three days I accomplish more than I used to accomplish in seven. I'm still a young man," he laughs. "I'm going to be 87 in May."
ENORMOUS DIVIDENDS
He stays young because every six months for the past two decades – in April and in October – Danny returns to Pritikin. "Health and life are worth any price. And the fact is: for the enormous dividends I receive, it's a very low price that I'm paying."
The only thing lower, he jokes, are his pants. "Every time I leave Pritikin, my pants fall down and I have to put another notch in my belt. It's great to be a slim, trim 159 pounds. The truth is, there's no greater feeling than how you feel when you leave Pritikin. Everything feels better. Everything looks better. My face looks better. My skin looks better. You can say all you want about spas, but NOTHING does what Pritikin does." And nobody has more fun "doing" Pritikin than Danny. Throughout his life, from serving on numerous charity boards to funding scholarships for needy students to helping friends' children land their first jobs, Danny's been a giver, and at the Pritikin Longevity Center he continues to give – because it's so much fun. He loves taking out groups of first-time participants – "the new kids on the block" – to five-star restaurants near the Center to show them "that you can eat DELICIOUSLY and still be on the Pritikin Program. No restaurant anywhere in the world will refuse you, especially if you give the head waiter a big tip."
RESTAURANTS
In fact, there's nothing Danny loves more than going out to the best restaurants in New York City. "I find them, and I change them," he laughs. "I used to bring whole-wheat pasta to one of my favorite restaurants. Well, now the chefs buy their own whole-wheat pasta, and the restaurant specializes in whole-wheat pasta dishes." And if menus don't have exactly what Danny wants, well, Danny creates what he wants. For a zesty shrimp cocktail sauce, he asks for catsup and a little horseradish. For his own made-by-Danny salad vinaigrette, he asks for oil and vinegar, and pours mostly vinegar "with just a drop of olive oil."
300 SNAPSHOTS
And while at Pritikin, he takes about 300 snapshots of his fellow "Pritikinites" and hands them out as gifts to all his newfound friends. "We have a great time together," he smiles. "And we're all very, very lucky to have this excellent Florida Center. It's a beautiful setting, a nice hotel, the gym is gorgeous, and the food is fantastic. The doctors are very motivating – and exciting to talk to." "Coming to Pritikin is saving my life. Coming to Pritikin is giving me life," sums up Danny. "I hope Pritikin is around for at least another 20 years. I'll be 106 then. And I hope to still be a young man!"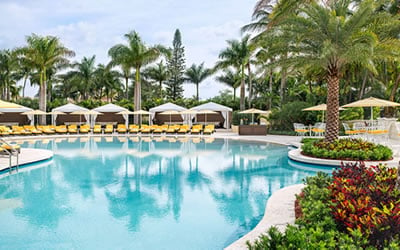 Health Resort
Take life to the next level, and be all that you can be. That's what a vacation at Pritikin is all about. Live better. Look better. Best of all, feel better.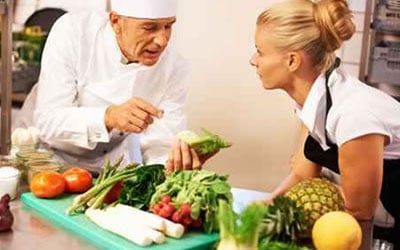 All-Inclusive Program
Since 1975, 100,000+ people have come to Pritikin. We are the longest-running, most scientifically documented health resort in America.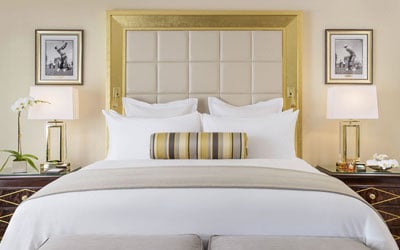 Rooms and Suites
Our newly renovated guest rooms at the health resort are spacious, serene, and amenity-rich. Each has a gorgeous garden view.