Liza Pitsirilos' yoga classes are tremendously popular at the Pritikin Longevity Center. In addition to her work at Pritikin, she coaches leaders in the private and public sector on using mindful movement for enhanced well-being, relationship building, problem solving, and leadership.
At the Pritikin Longevity Center in Miami, Florida, yoga instructor Liza Pitsirilos teaches classes that loosen hips and hamstrings. She holds her Masters in Education and certification as a Wellness Inventory Coach and Registered Yoga Alliance (RYA) Teacher.
Liza guides Pritikin's guests, who are mostly in their 50s and older, in slow, gentle movements that result in "a deep opening for the muscles around the hips, lower back, and legs," she says.
The classes are popular among both men and women. "Men seem to have hips and hamstrings that are especially tight and full of tension," observes Liza, "so it's a huge gift when that tension and discomfort can disappear."
New Yoga Video Series | How To Loosen Hips and Hamstrings
At the request of guests at Pritikin, Liza recently produced a video series that replicates her hips-and-hamstrings yoga classes at Pritikin. "Now, our guests can have regular support when they return home in opening these areas, healing their pain in the lower back and knees, and helping increase their everyday function.
"We all want to be able to do the things we love for as long as we can. Why not dance when we're 90? Or golf when we're 95? Yoga can help us achieve it," encourages Liza.
The new yoga video series is available to everyone – Pritikin alumni as well as the general public.
Treating Your Body With Care and Grace
Essentially, this hips-and-hamstrings series is two videos that are best used in tandem with each other. "They're all about treating your body with care and grace," says Liza.
"What's beautiful about yoga is that you become much more in tune with your body. Yoga helps you choose different ways of working with yourself. So instead of judging, resisting, and fighting your tighter side, what if you breathed down into it instead? What if you acknowledged your tension and gave it compassion, patience, and understanding? What a remarkable way to work with yourself."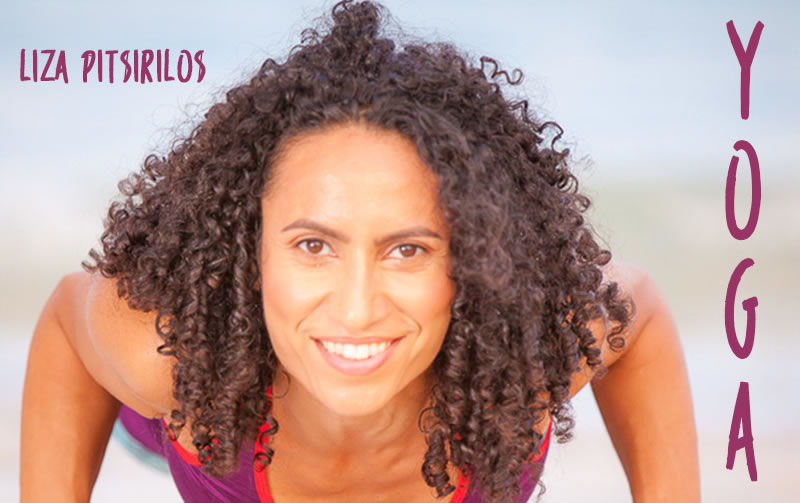 Video #1:

Yoga for Healthy Hips and Hamstrings: Freedom from Struggle

"Yoga for Healthy Hips and Hamstrings: Freedom from Struggle" is the first of the two-video series. Its movements are simple, easy, and relaxing. "You never even leave the floor," smiles Liza. You're either sitting or lying comfortably on your mat. The 46-minute session uses super-simple props, like a wall in your bedroom. The instructions are clear and precise, which is especially helpful for beginners of yoga.
Movements that Liza guides you through include:
Alternative nostril breathing
Legs up the wall
Straddle on the wall
Frog on the wall
Frog lifting through your abdominals
Bridge on the wall
Bada forward bend (Bada is short for Buddha Konasana, a form of pose that angles the body.)
Bada with hip tractioning
Modified shoelace forward bend
Reclined hamstring stretch
Stretch spinal twist
Pigeon on the back
Savasana (deep rhythmic breaths and complete relaxation)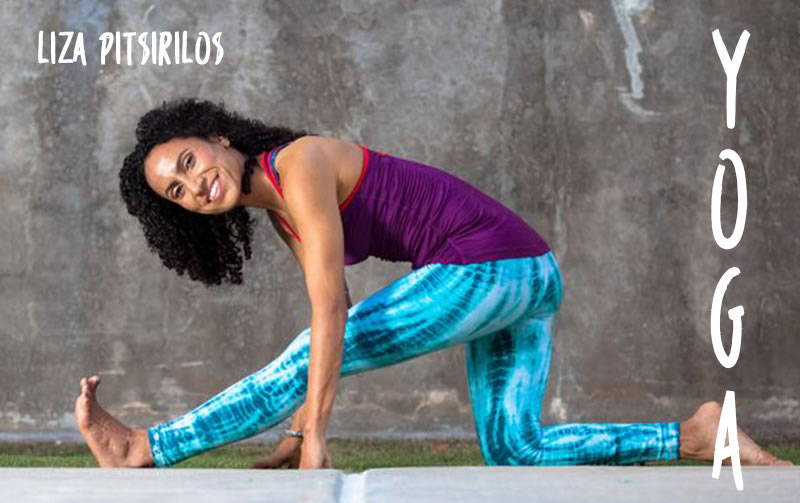 Video #2:

Yoga For Healthy Hips and Hamstrings: Celebrating Your Practice

After practicing the movements in Video #1 several times, you can intermix Video #1 with Video #2, titled "Yoga for Healthy Hips and Hamstrings: Celebrating Your Practice." This second video, about 38 minutes in length, guides you into "deep abdominal work as well as hip and hamstring stretches," says Liza. It will also help improve balance and posture.
Movements taught include:
Kalalabhati breath (which tones and engages the lower abdominals)
Uddiyana breath (also used to tone abdominals)
Seated cat cow tilts
Sidebend in bada
Neck curls
Twisting abdominals with a block
Bada on the back
Bada with hip tractioning
Knees to chest
Lunge series that includes forward bends, low lunges, Nomad's pose, and twisting high lunge
Mountain pose
Back release pose
Savasana
How To Loosen Hips and Hamstrings – And Find Pleasure
Summing up: "The first video is about freeing yourself from struggle so that in the second video you can find pleasure in celebrating your practice," says Liza.
Both videos are a powerful combination. "Each time you practice, you become more limber. You have more freedom. More pleasure comes into your day-to-day life. That's truly something worth celebrating!"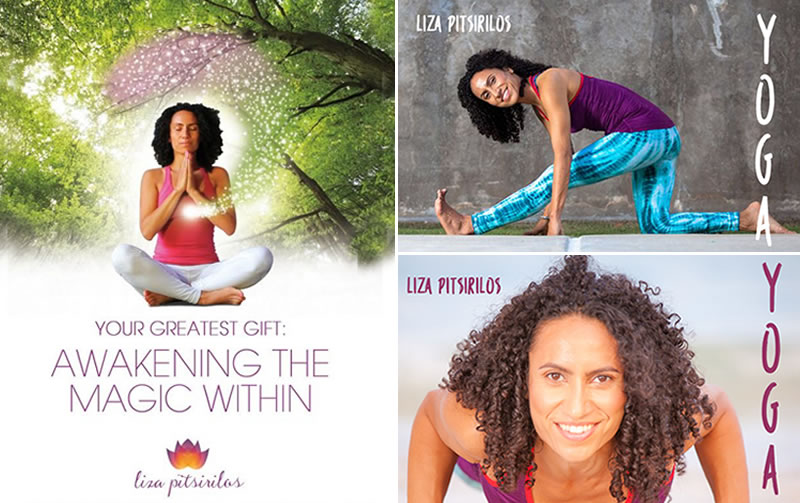 3-Video Bundle:

Yoga: "Your Greatest Gift" + BOTH Hips and Hamstrings Videos

In "Your Greatest Gift: Awakening the Magic Within," Liza Pitsirilos helps you recapture the priceless pleasure of moving with ease. Using yoga movements taught very, very clearly (you'll especially appreciate Liza's expert guidance if you're new to yoga), you'll learn about proper breathing and safe stretching, and how to enter a state of deep relaxation whenever you like. What's more, you'll reach a deep connection with your inner self, which will leave you feeling calm, restored, and centered. "Your Greatest Gift" includes beginner and intermediate sections, and a bonus section focused on breath, core, and more!
You get:
Yoga for Healthy Hips and Hamstrings: Freedom from Struggle
Yoga For Healthy Hips and Hamstrings: Celebrating Your Practice
Your Greatest Gift: Awakening the Magic Within