Pritikin Longevity Center
Part of the Pritikin All-Inclusive Health & Wellness Retreat
Luxury Accommodations. Wellness Classes. Physician Supervised Program. Cooking School. Meals & Snacks. And More!
Pritikin Longevity Center
Part of the Pritikin All-Inclusive Health & Wellness Retreat
Luxury Accommodations. Wellness Classes. Physician Supervised Program. Cooking School. Meals & Snacks. And More!
Measureable Results. Enjoyable. Achievable.
The Pritikin Exercise Plan teaches a comprehensive approach involving three key components to help you obtain optimal health and wellbeing. It's a comprehensive, yet doable program that you can take home and easily incorporate into your life.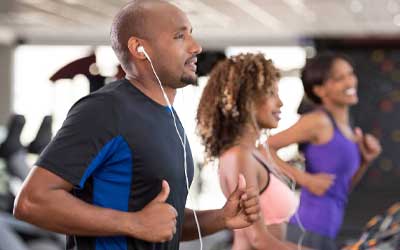 Cardiovascular Conditioning
Getting your heart rate up is an essential part of any exercise regimen and contributes to a healthy heart! Choose your favorite machine and get going!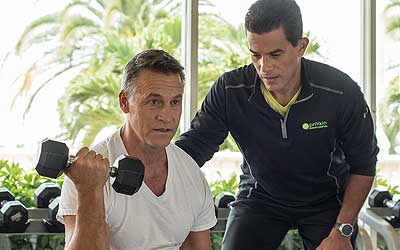 We all know strong bones are important, but they're even more so as we age. We'll teach you how to safely build muscle and tone up during fun group classes.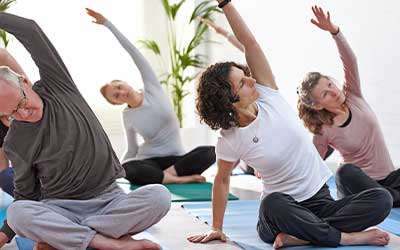 Stretching helps maintain the flexibility of your muscles which is important in order for you to maintain a range of motions and avoid joint injury. There's nothing like a good stretch!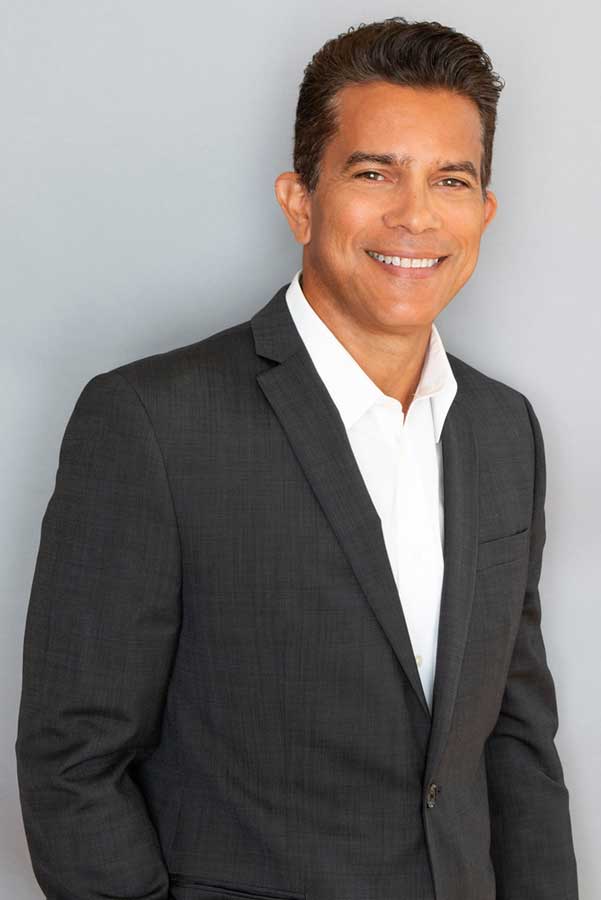 Jamie Costello, MSC | VP, Sales & Fitness at Pritikin: "I get a tremendous amount of satisfaction helping others to achieve and surpass their health and fitness goals. It is a privilege knowing I am a part of their journey toward a better life."
Pritikin Structured Exercise Program
Pritikin isn't a place where you laze by the pool all day. We give you structure so you can establish habits. You'll work out with a group of your peers who have similar physical abilities to yours. Do you like a fast paced workout? No problem. We've got the right class for you.
Upon arrival you'll take advantage of an exercise tolerance test as well as a fitness assessment. These evaluations will assist us in determining both your target heart rate and the right group for you. Our core group fitness classes are color coded, so it's easy to get into the habit and follow along each day. You'll be with the same group of guests during all your core exercise classes, so it's fun to make friends and cheer each other on! Looking for a little more independence? We have plenty of optional classes during the day that you may attend at your leisure.
We'll provide a baseline movement screening to you upon arrival in order to determine which group is a match for your individual abilities. The screen includes a squat, balance, shoulder mobility, and hip hinge test. Based on the results of this evaluation, we will place you in the group that's right for your current fitness level to ensure that the classes fit your needs perfectly and you won't be left falling behind- or falling asleep.
Another benefit of a stay at Pritikin is the ability to add on a la carte services and wellness packages. One of our most popular extras is personal exercise training, which is available in 30, 45 or 60 minute increments. These sessions will allow you to train one on one with an Exercise Physiologist who will work with you as you move through a variety of exercises tailored to your capabilities and goals. You will leave these sessions feeling accomplished and strong.
Pritikin is Much More Than an Adult Fitness Camp
"Pritikin is the first wellness center in the U.S. to incorporate preventive orthopedic care with preventive cardiovascular care, and the results are amazing," says Frank Musumeci PT, Biomechanical and Musculoskeletal Director at Pritikin. "Just think about it. You can have a superb eating plan and all the motivation in the world to exercise daily, but how do you sustain cardio exercise if you have orthopedic discomforts limiting you?"
Often called Pritikin's secret weapon, Frank Musumeci is a fan favorite. His unique and innovative methods to improve posture, gait, flexibility and most importantly- eliminate pain, have had many, many guests singing his praises and clamoring to see him.
Biomechanical + Musculoskeletal Evaluation
No pain, no gain? That's just an old saying! We believe that when you eliminate pain you gain a whole new, happier you!
This comprehensive assessment will analyze you from head to toe. How's your posture? Your alignment? What about your strength? Do you feel any pain while you're working out? What about as you move through your daily life? Sometimes there are aches and pains that you need more than a massage to fix, and painkillers are a temporary solution that often come with serious side effects. Wishing you could wake up in the morning feeling like your old self? Give this service a try.
You'll not only go home feeling better, but armed with a personalized home fitness routine based on your goals and your schedule!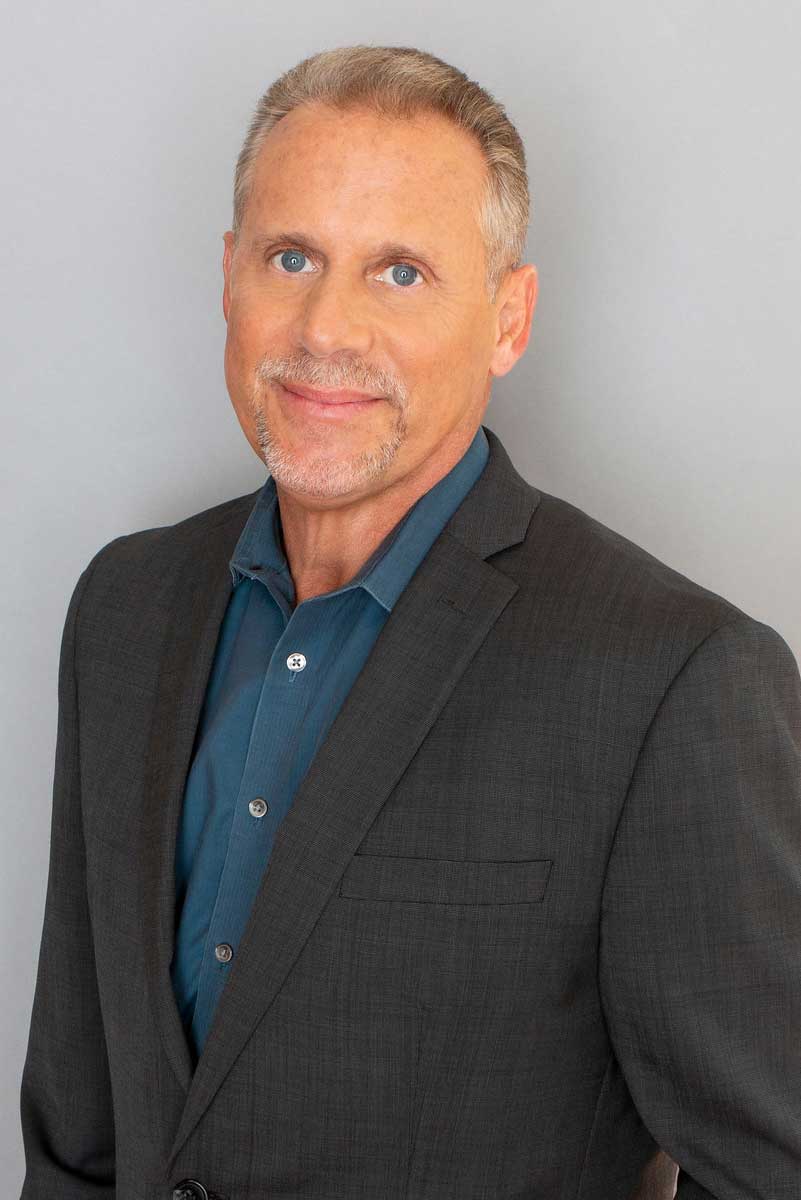 Frank Musumeci PT, Biomechanical and Musculoskeletal Director at Pritikin, excels in developing highly customized exercise plans for people who have struggled in the past with pain or orthopedic limitations.
Or tell us a bit about yourself. We'll then send you rates and a beautiful brochure with more information.
Discover Your New Favorite Exercise
Whether you like dancing, spinning, yoga, or hitting the gym in the traditional sense, we provide a variety of options for everyone. Classes are available throughout the day, so try it all!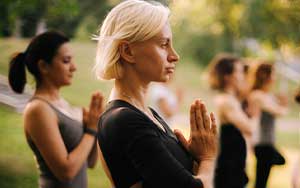 Rise and shine! Start the day off right with a 15 minute relaxing stretch.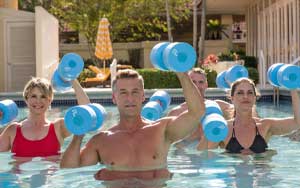 Interval training at a fast pace with a unique mix of cardio & strength in our indoor pool.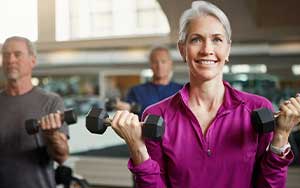 A fun combination of light weights and low impact aerobic exercise.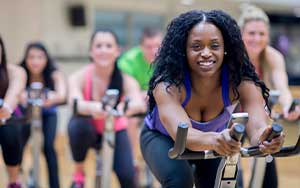 High energy interval training style workout to up tempo tunes.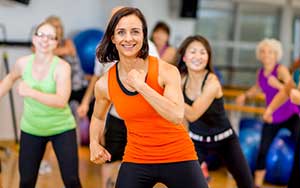 Get your heart pounding in this fast paced, machine based class.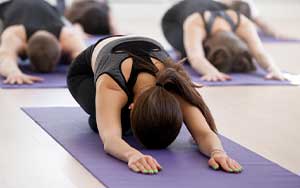 To promote flexibility, respiratory capacity and deep relaxation.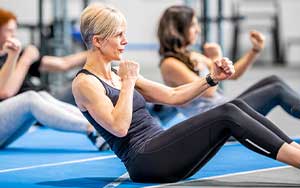 A series of exercises devise to strengthen your center and achieve your optimal fitness goals.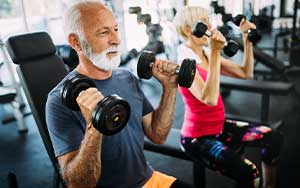 Build those biceps and more in these weight training classes.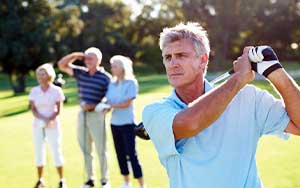 A big part of the property is dedicated to championship golf courses, so keep moving and try your luck at 18 holes.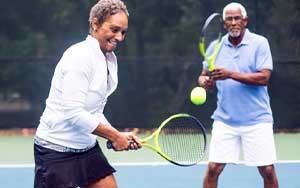 Get interactive on one of our fantastic courts! Play with a friend, take a lesson, or join a clinic. The choice is yours!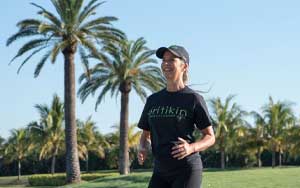 Enjoy the Florida sunshine during a leisurely stroll around our beautiful facility!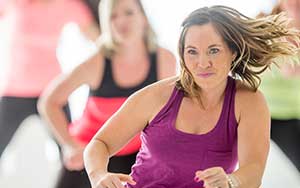 We're constantly rotating our classes to offer a new and exciting variety, which means that quite often you'll have the opportunity to challenge yourself and try something new!
Scientifically Proven Results
Start Your Transformation
Tell us a bit about yourself. We'll then send you rates and a brochure with more information.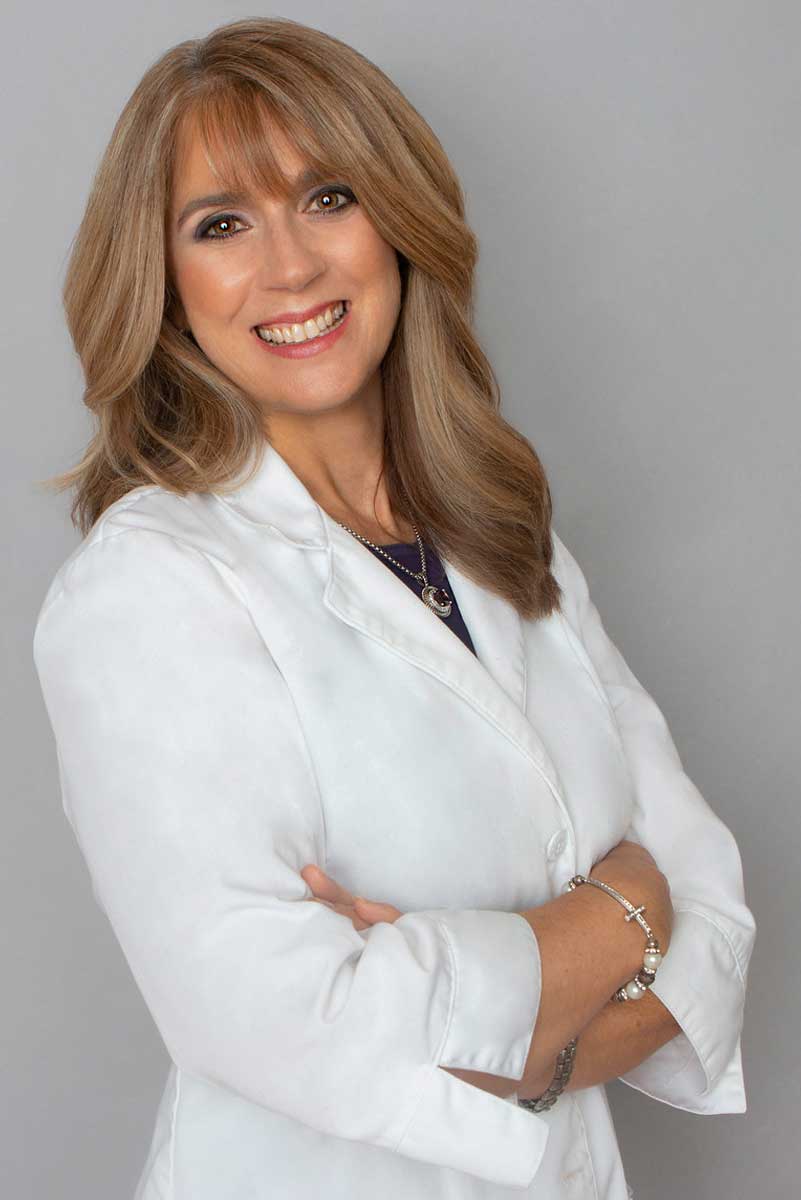 Danine Fruge, MD, ABFP | Medical Director at Pritikin: "I love working at Pritikin because I truly believe that preventive medicine is the medicine of the future, and I intend to make it my life's work."
Physician Supervised Exercise Program
Our knowledgeable and caring team of physicians aren't here to prescribe pills or recommend surgery to you. They're here to help guide you and get you healthy by providing you with ways to make changes to your lifestyle habits in order for you to get healthy naturally. The Pritikin team of physicians, all board-certified in fields such as cardiology and endocrinology, are intimately involved in your entire experience. The average doctor's visit outside of Pritikin is approximately 7 minutes, but you'll spend over 45 minutes with your Pritikin physician. Now that's personalized and attentive healthcare!
"Pritikin empowers people to live up to their fullest health potential," explains Pritikin's Medical Director, Dr. Danine Fruge. "Within just a few days here, they start to feel the wonderful benefits of the Pritikin Program, like increased energy and new freedom from medications, which really motivates them to continue their new lifestyle."
Most of us see our doctors in their offices, but at Pritikin - you're just as likely to find our medical director lunching with guests in our dining room, our cardiologist chatting with a group of guests after a workshop, or the endocrinologist stopping by the fitness center to check on a guest's progress. This is "hands on" like most of us have never experienced.
Wellness Classes & Workshops
It's not only our fitness team and physicians who are involved in helping you achieve optimal health. Our nutritionists, behavioral therapists, chefs, and yes- our fitness experts and physicians as well- all lead a variety of eye-opening lectures, luncheons, cooking school, outings and more, which will all help arm you with the skills you need to keep living your healthiest life upon your return home.
"But I Don't Need Physician Supervision"
Not everyone who comes to Pritikin feels that they want or need physician supervision in theory, but the reality is that the medical component of Pritikin is what ties everything together, and is a huge perk of the program. It's a very special experience to really connect with your favorite Pritikin physician, have access to all of them, and really be HEARD and cared for. The physicians ensure that the program is tailored to your personal health. And good health is priceless.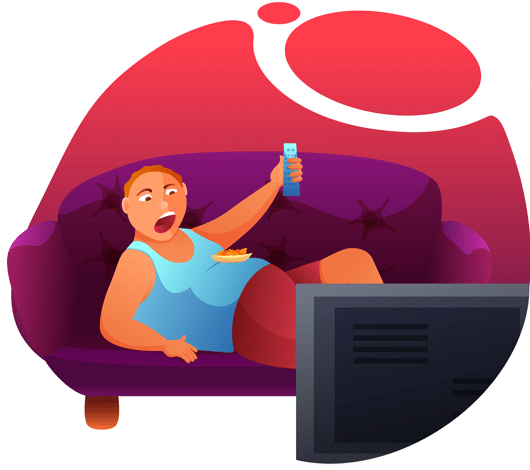 Feeling intimidated by the idea of exercising? We've got you covered. Our fitness orientation will familiarize you with the variety of machines and our exercise physiologists are at your disposal.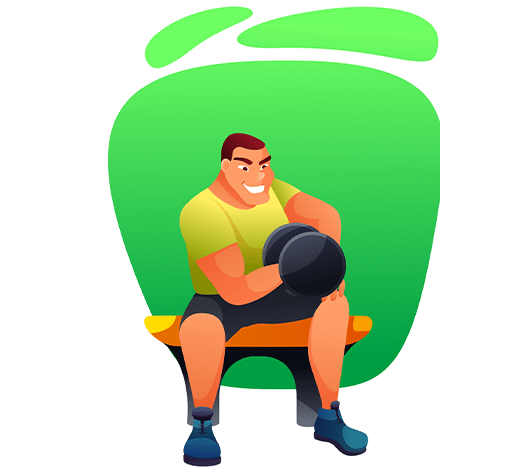 NFL players, professional wrestlers and even Olympic athletes have come to Pritikin to hone their bodies and take fitness to the next level.
Adult Fitness Camp, Evolved
Fitness camps have a single focus - fitness. But why focus on just one aspect of good health? Your experience at the Pritikin resort will focus on all three pillars health - Fitness, Nutrition and Mind-Body Health. You'll get all the benefits of a fitness camp PLUS...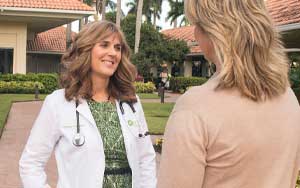 Our Premier Medical Program provides each guest with the expert medical attention required for achieving major life changes smoothly and successfully.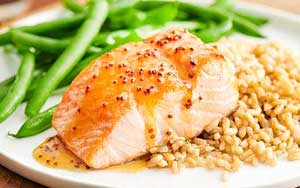 Nutritious Meals and Snacks
You'll never go hungry at Pritikin. All meals are rich in whole, nutrient-dense, naturally-low-in-sodium foods like fruits, vegetables, whole grains, and beans, and lean fish, white poultry, and bison.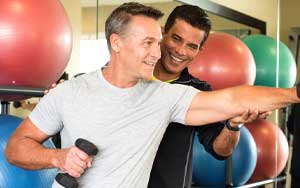 In fitness classes led by our university-degreed exercise physiologists you'll focus on the three most important types of exercise: Cardiovascular (Aerobic), Strength Training, and Flexibility.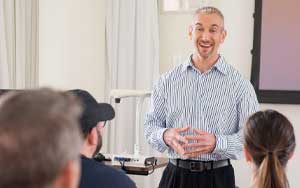 Complete Lifestyle Education
Healthy lifestyle education is the cornerstone of the Pritikin Center. The classes are taught by our physicians, nutritionists, psychologists, and exercise experts.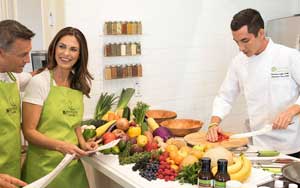 In the Cooking School, taught by Pritikin chefs, the focus is healthy food prep that is not only delicious, but simple.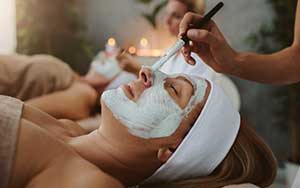 The luxurious spa offers a variety of a la carte, world-class services, from facials to massages to manicures and pedicures. After an invigorating day at Pritikin there's nothing like getting pampered before returning to your room for a good night's sleep.
The Pritikin Longevity Center is located on the grounds of a breathtakingly beautiful South Florida resort – 650 acres of lush tropical gardens, pools, and championship golf courses. A variety of hotel accommodations are available. Some guests opt for the included deluxe guestroom. Others upgrade to the more luxurious spa suites.