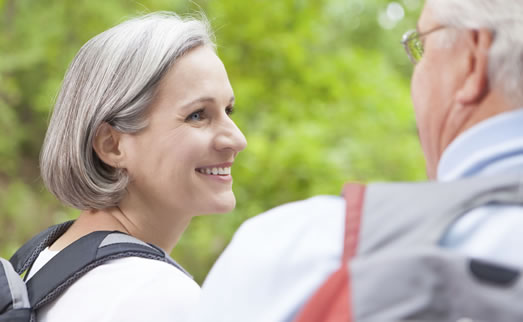 Sample One-Week Schedule
Our guests often describe their time at Pritikin as "one of the best experiences of my life." You'll understand why after you see Pritikin's Sample One-Week Schedule.
Below is a typical day at the Pritikin Longevity Center:
Sunrise Stretch

7:00 – 7:15 am
Join us poolside to begin your day stretching and warming up. The Florida sunrise provides a beautiful backdrop.
Breakfast

6:30 – 8:30 am
Enjoy a delicious menu that includes hot and cold whole-grain cereals, a bounty of seasonal fresh fruit, egg white omelette bar, fresh yogurt, and fresh fruit sauces like kiwi and raspberry.
Monitored Exercise Class

7:45 – 9:45 am
University-degreed exercise physiologists lead small-group classes in stretching, cardiovascular conditioning, and strength development.
Morning Snack

10:00 – 11:45 am
A menu of hearty soups and fresh vegetables. Favorites include Pico de Gallo, Spring Vegetable Soup, and Chives, Dill, & Cucumber Salad.
Yoga, Zumba Dance, or Aquatics

10:30 – 11:15 am
It's exercise elective time! Try something new every day.  You're sure to find activities you'll enjoy continuing when you return home.
Health Enhancement Lectures

11:45 – 12:45 am
Join our physicians, all experts in nutrition as well as medicine, for classes such as: Heart Health, Diabetes Management, Controlling Hypertension, and The Facts on Fat.
Lunch

12:00 – 2:00 pm
Enjoy a healthy, hearty, low-calorie-dense menu that includes an eye-popping salad buffet with 24 freshly cut vegetables and fruits. You'll also enjoy several soup and entree selections, such as Scandinavian Split Pea Soup, Herb Crepe Filled With Ricotta and Sundried Tomatoes, Crispy Roasted Brussel Sprouts, and for dessert, Mango Parfait and Hot Chocolate or Cappuccino.
Nutrition Workshops & Seminars

2:00 – 3:00 pm
Our nationally-renowned dietitians will help you achieve long-lasting weight control and improve your health in several interactive, entertaining workshops, such as: Fueling the Healthy Body; Planning Your Eating Strategy; The Calorie Density Solution – Feeling Full While Losing Weight; Label Reading & Other Tips For Shopping Smart; Dining Out – It Doesn't Have To Be a Food Fight!; and The Biology of Weight Control.
Cooking School

3:15 – 4:00 pm
Join our award-winning chefs to learn both basic and advanced techniques for healthy food preparation. All recipes, from gourmet to quick-and-easy, are low in fat, sodium, refined carbs, and sugars, yet surprisingly high in taste! Some of the mouth-watering offerings you will prepare and sample include Citrus Fennel Mango Salad and Seared Salmon with Arugula, Mushrooms, and Balsamic Vinegar.
Afternoon Snack

3:30 – 4:30 pm
Sample our menu of healthy, tasty snacks, such as Fresh Vegetable Crudites, Grilled Asparagus Spears, Spicy Black Bean Soup, and Potato Skins.
Stress Management Class

4:30 – 5:30 pm
Gain control of your stress and set yourself up for a healthy, happy new lifestyle with workshops such as: Taking Charge of Stress, Listening and Being Heard, and New Thoughts, New Behaviors.
Dinner

6:00 – 7:30 pm
Enjoy an elegant, absolutely delicious four-course menu after a day of fitness, education, and fun. Here's a typical dinner menu: Orange Saffron Tomato Soup; Watercress & Fennel Salad; Grilled Bison Steak With Farro and Creamed Spinach Infused With Garlic & Sweet Onions; and Chocolate Mousse.
Night Out

7:30 pm
Join our dietitians on a field trip to a local grocery store, take part in an evening workshop or restaurant outing.
Evening Movie or Classes

7:30 – 8:30 pm
Continue learning when you attend an evening lecture or enjoy an additional fitness class.
---