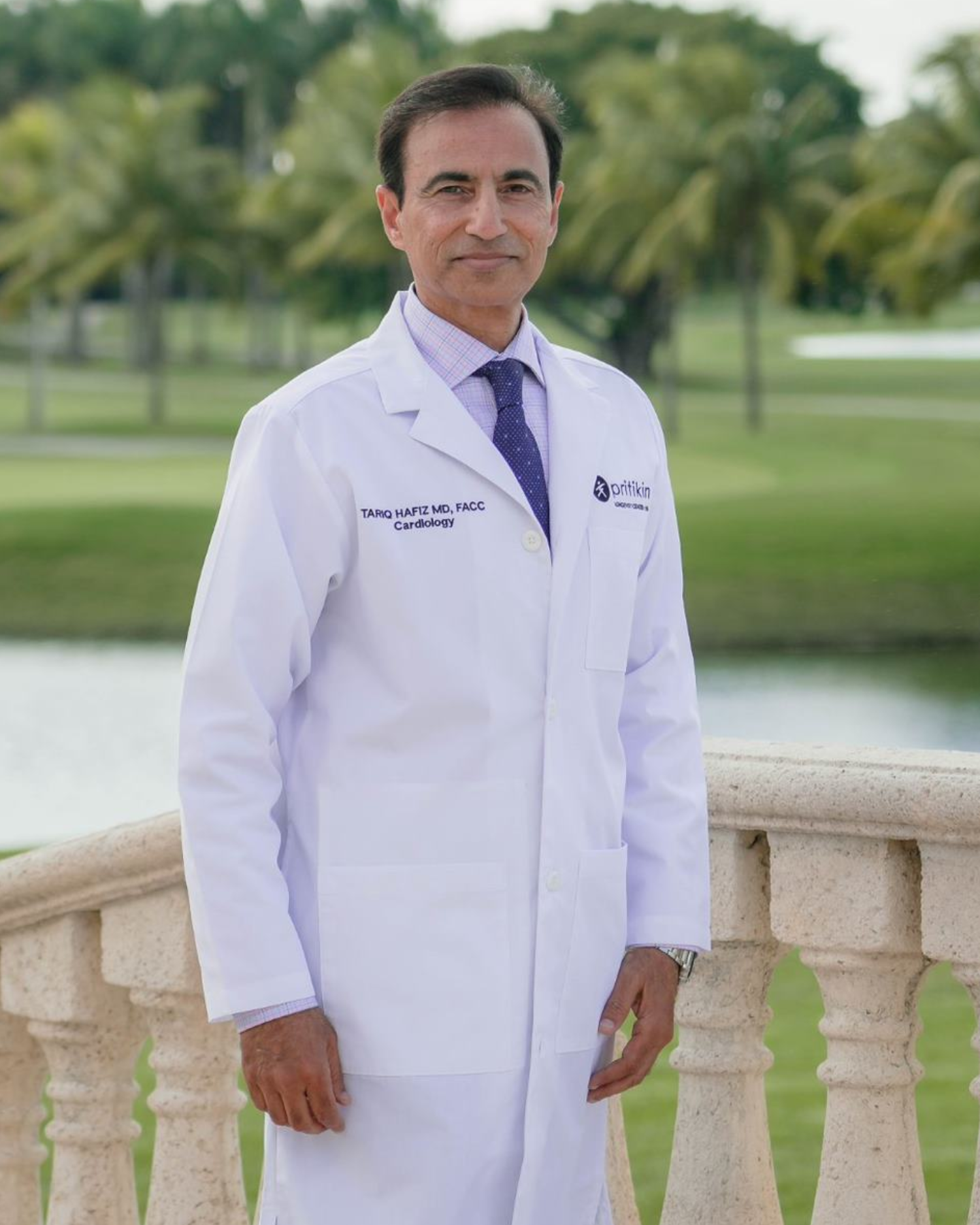 Dr. Tariq Hafiz, MD, FACC, ABIM
Medical Director, Cardiologist & Educator
Fellow of American College of Cardiology
Fellowship in Cardiovascular Disease, Heart Failure & Cardiac Imaging Allegheny University & Hahnemann Hospital, Philadelphia, PA
American Board Certified as Diplomate in Cardiovascular Disease
American Board of Internal Medicine
American Board Certified as Diplomate in Advance Echocardiography
American Board Certified as Diplomate in Nuclear Cardiology
Certification, Cardiac CT Angiography
Forbes Health | Advisory Board Member
"I believe that prevention is the cornerstone of healthcare. I am excited to be part of the Pritikin team, where we focus on lifestyle medicine and patient education to improve health outcomes."
Dr. Tariq Hafiz, MD, FACC, ABIM, now a member of the Pritikin Center wellness experts, has achieved a Diplomate status with the Certification Board of Cardiovascular Disease, Nuclear Cardiology, and the Adult Echocardiography. He has also served as an Assistant Professor at Division of Cardiology, Heart Failure & Transplant at Allegheny University Hospital in Philadelphia, PA, and as a Director of the Cardiology department, Cardiac Rehab department, Echocardiography & Nuclear Cardiology Lab at Lehigh Valley Health Network, Heart Institute in Pottsville, PA. Moreover, Dr. Hafiz has served as a Director of the Cardiac CT Angiography department at Good Samaritan Medical Center, also located in Pottsville, PA.
He has been a member of the various hospital committees most notably the Pharmacy & Therapeutics and Medical Executive Committee. Dr. Hafiz has held several notable positions in his career, including Chair of the Critical Care Committee at Lehigh Valley Hospital's Schuylkill campus. More recently, he served as a Staff Cardiologist at Einstein Healthcare Network, a leading healthcare institution affiliated with Jefferson Health in Philadelphia.
During his tenure, he has been associated with clinical research most notably, Criteria for De-listing Clinically Improved Patients Awaiting Cardiac Transplant, presented at The International Society for Heart and Lung Transplantation and Metoclopramide as a possible cause of Prolonged QT Syndrome and Torsade de Pointes, published in the Annals of Internal Medicine and has been cited in several peer reviewed journals.
Heart disease is the leading cause of death, taking the lives of approximately 700,000 people each year. It is projected that about 50% of US adults will be suffering from heart disease by the year 2035.
However, Dr. Hafiz finds hope in the fact that 80% of cardiovascular disease, including heart attack and stroke, is preventable. He believes that the treatment paradigm should involve preventive and lifestyle medicine, and this is the premise of the program at Pritikin Longevity Center. Before joining Pritikin, he found it challenging to provide the desired level of preventive cardiology due to the demanding schedule of traditional medicine.
Dr. Hafiz prioritizes knowledge as empowerment at Pritikin, where he is passionate about the model, vision, mission, and principles of managing various aspects of health by enhancing the critical concept of the mind, body, and soul connection. He strongly believes that patients benefit from the comprehensive multidisciplinary preventive and wellness tools provided to guide them in their health and wellness transformation.
Dr. Hafiz firmly believes that healthy living starts from within, and is passionate about spending ample time with his patients, focusing on their health and education, while optimally practicing preventive cardiology, both primary and secondary. He finds it immensely gratifying to witness patients' positive transformation in their overall approach to health during their relatively short stay at Pritikin. Dr. Hafiz's dedication to helping patients transform their health and wellness is a testament to his commitment to providing comprehensive care and improving the lives of those he serves.