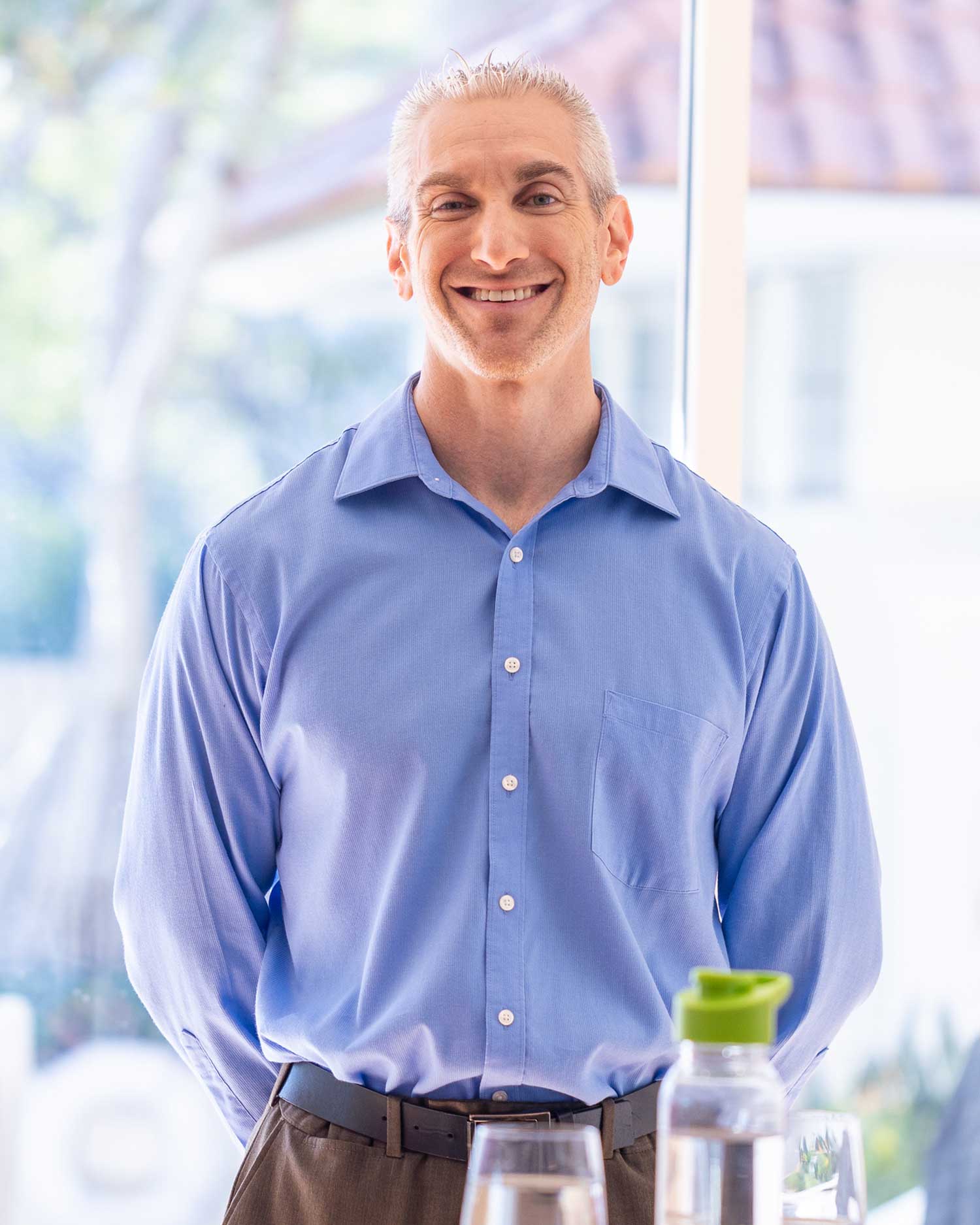 Lon Ben-Asher, MS, RD, LD/N
Registered Nutritionist & Educator
MS, Dietetics and Nutrition, Florida International University
Contributor, U.S. News & World Report
BS, Agricultural, Life, and Nutrition Sciences, University of Florida
Certificate of Training: Adult Weight Management
Delta Epsilon Iota Academic Honor Society
Member, Academy of Nutrition and Dietetics
ARAMARK Healthcare-Cleveland Clinic Florida, Assistant Director of Patient Services
Cleveland Clinic Florida, Clinical Nutrition Manager/Clinical Dietitian
YMCA, Weston, Florida, Nutrition Consultant for Weight Management in Children/Adolescents
I love seeing the results people achieve on the Pritikin Program. And to know that I'm instrumental in making that success happen, well, it's the most satisfying career self-fulfillment I could possibly have.
A decade ago, upon completion of his MS degree, Lon began his nutrition career in the hospital setting, "but my passion was always in the wellness realm."
That passion had been ignited by an internship Lon had at the Pritikin Longevity Center while in graduate school. "I walked in the door, and I immediately fell in love with the world of Pritikin," he recalls.
"I was in awe of guests who had lost 100 pounds and more. They came back to Pritikin regularly for refresher vacations, and I always asked them, 'How are you so successful? Isn't the Pritikin Program a challenge on the home front?'
"Time and again, I heard how their education at Pritikin had given them the resources and tools they needed to make healthy living work wherever they were… Plus, they genuinely enjoyed what they were eating. They never thought of it as a burden. It was simply how they lived."
So recently, when an opening for a nutrition educator become available at the Pritikin Longevity Center, Lon jumped.
Today, as an educator in classes on Pritikin's campus as well as "field trip" nutrition leader for Pritikin's restaurant and grocery store excursions, Lon is in his element.
"It's funny. My work with Pritikin is a job. But in all honesty, it's so hard for me to call it a job because every single day I get to do what I love – educate and inspire people to eat well and live well. And then, to see the results!"
This always-enthusiastic Pritikin dietitian also enjoys his work with "Pritikin On Track," a program set up by Pritikin's dietitians that provides one-on-one phone consults for guests after they leave Pritikin. It's incredibly rewarding, he says, "to keep in touch, to help our guests continue to be successful with their food choices, the amount of weight they've lost, the energy they have, and their reversal of problems like high blood pressure and diabetes."
In fact, just before this interview, Lon had gotten off the phone with a relatively new Pritikin On Track grad – "a very busy woman, an executive, who travels a lot." She'd left Pritikin six weeks ago and had been having phone consults with Lon every other week since.
"She's such a success story," smiles Lon. "Not only has she lost 25 pounds, but she feels so much better. And even when she gets in situations where she doesn't have control – where food is just given to her – she's made the best possible choices she can. And every time I speak with her, she's lost more weight.
"I love seeing the results people achieve on the Pritikin Program. And to know that I'm instrumental in making that success happen, well, it's the most satisfying career self-fulfillment I could possibly have."