For it is in these classes that you will begin to understand how the principles of the Pritikin Program impact your overall health. The power of good nutrition and exercise to heal the body is truly amazing. You will also attend "real world" courses daily, including cooking classes and restaurant dining, that will imbue you with the confidence that you can successfully continue your healthy new lifestyle when you return home.
Our coaches encourage active involvement, making each of our workshops a stimulating training experience. So invigorating is our education program that over the years many guests have described us as the "Harvard of Health Education."
Last but not least, classes are just plain fun. With other guests, you laugh. You're inspired. You learn together. You reach exciting new goals together. And you make friends for life. Whether school teacher or celebrity, our guests feel at home in a relaxed ambiance with great camaraderie. Many describe their stay at Pritikin as one of the best and most life-changing experiences of their life.
The educational workshops are distinguished by the presentation of scientific evidence that supports the principles of the Pritikin Program. Our extensive portfolio of published research provides participants with the confidence that this program has been well-documented for safety, efficacy, and proven results.
Putting the Pritikin Longevity Center Principles To Work For You
Our registered dietitians, doctors, exercise experts, and lifestyle counselors provide sound strategies for everyday living with daily workshops such as:
The Calorie Density Solution: Feeling Full While Losing Weight
Planning Your Eating Strategy
Move It! Exercise Action Plan
Designing Your Home Exercise Program
Dining Out in the Real World
Cooking Workshops
The Biology of Weight Control
Supermarket Savvy
Diseases of Affluence (The Price of Success)
Fueling the Healthy Body
Belly Fat, Metabolic Syndrome, and Diabetes
Hypertension
How To Prevent a Heart Attack
Maximizing Your Stress Hardiness
New Thoughts, New Behaviors
Women's Health (Breast Cancer, Menopause, and Healthy Choices)
Men's Health (Prostate Cancer, Enlarged Prostate, Erectile Dysfunction)
Setting Yourself Up for Success
In addition, you'll have the opportunity to participate in one-on-one nutritional and lifestyle counseling. And for those of you facing the challenge of trying to quit smoking, we offer a series of smoking cessation workshops facilitated by experienced coaches.
You'll Discover All The Answers
Our experience has shown that three components – knowledge, skills, and support – provide the most effective formula for adopting a healthy way of life and creating a lasting sense of physical and emotional well-being.
One of our guiding principles is the importance of a strong scientific foundation. We provide you with the evidence and behavioral education for all the strategies you will learn in the Pritikin Program. Workshops that focus on the right kind of carbohydrates, the calorie density of foods, and the science of managing change in our lives will help you understand the true value of the Pritikin Program.
Your long-term success depends on new skills. Developing new habits takes practice, and that's exactly what the Pritikin Program offers you. New behaviors such as regular exercise, cooking with a little fat and a lot of flavor, label reading, and healthy dining in restaurants will become second nature through our workshops, hands-on classes, and presentations.
You can't succeed without it, and it's what makes the Pritikin Program unique. From the first day of your session to the last, your entire experience takes place in an environment that specializes in helping and motivating people to make successful lifestyle changes. The entire staff of the Pritikin Longevity Center + Spa helps you at every turn. And you will be in a group of people just like you, learning, laughing, moving, and growing toward a lifetime of health and vitality.
Wellness Videos From the Pritikin Center
Reduce Inflammation and Improve Your Immunity
Boost Your Immunity the Pritikin Lifestyle
Healthy Aging and How to Make the Best Exercise Choices
Pritikin Cooking School | Healthy Butterscotch Pudding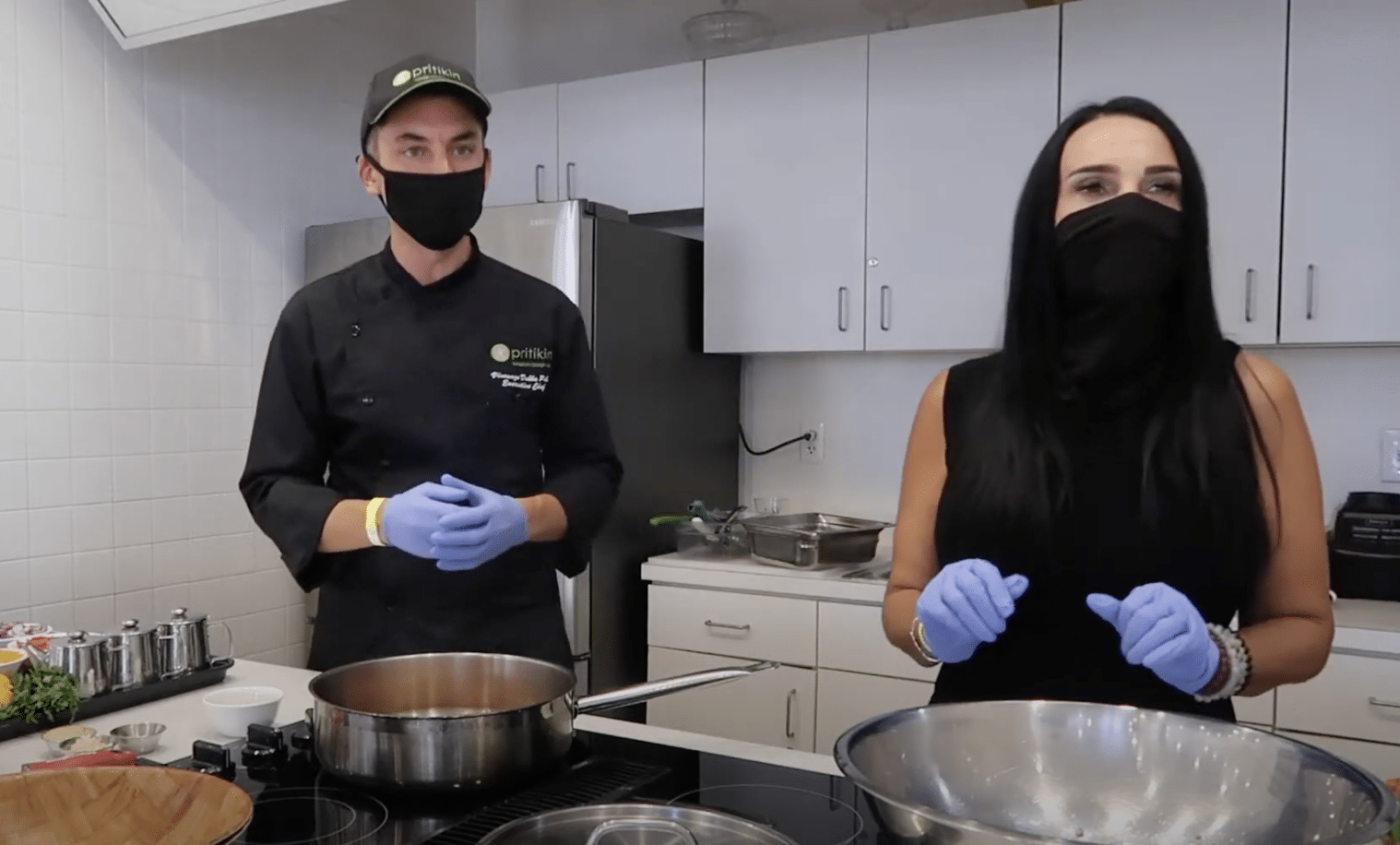 Cooking School with Executive Chef, Vincenzo Della Polla & Director of Nutrition, Kimberly Gomer
Don't Let Orthopedic Problems Impede Cardiovascular Exercise