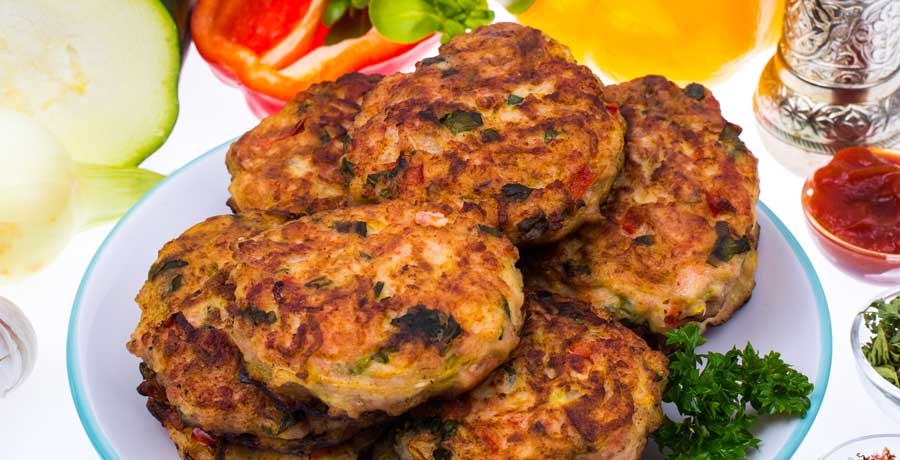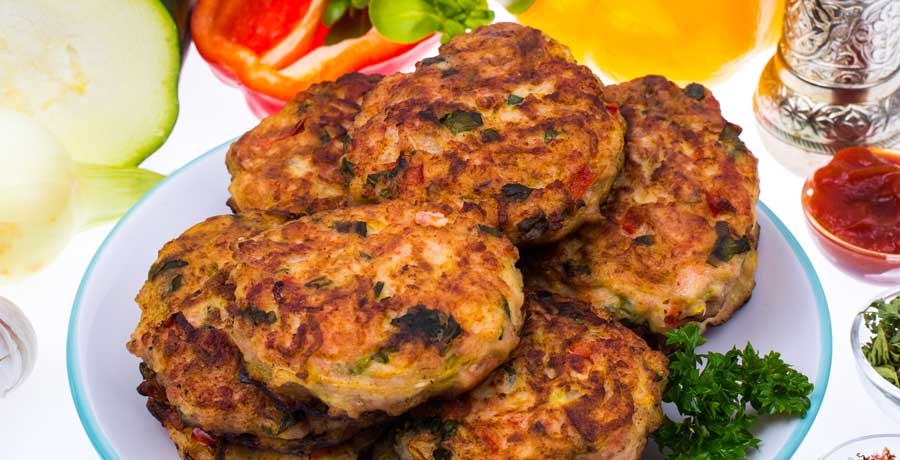 Print
Chicken Veggie Burgers
Instead of the classic hamburger or cheeseburger, loaded with artery-clogging saturated fat, opt for this delicious chicken veggie burger that has just 1/2 gram of saturated fat! Sandwich this burger between two pieces of whole grain bread or eat it without, and you've got a Pritikin-approved barbecue dinner.
Materials
1

pound

chicken breast (free-range, skinless)

1/4

cup

onion

finely chopped

1/4

cup

celery

finely chopped

1/4

cup

carrot

finely chopped

1

jalapeno pepper

finely chopped (Remove seeds for less heat.)

2

teaspoons

garlic

finely chopped

2

teaspoons

Pritikin® All-Purpose Seasoning*

Available at PritikinFoods.com

3

tablespoons

pita bread

ground, whole-wheat (optional, for the juiciest burgers - leave them out)
Instructions
Use a food processor to chop chicken until well ground.

In a nonstick skillet on medium-high heat, sauté onions, celery and carrots for about 3 minutes, until translucent. Let cool.

In a large mixing bowl, combine ground chicken, sautéed vegetables, jalapeno, garlic and Pritikin All-Purpose Seasoning.

Combine until fully incorporated. Mix in bread crumbs if desired.

Use your hands to form 8 4-ounce patties.

Grill patties, searing on each side until they've reached preferred doneness.
Notes
*Order Pritikin All-Purpose Seasoning online at PritikinFoods.com, or create a spice blend using granulated onion, granulated garlic, salt-free lemon pepper, and paprika, all equal parts except paprika (cut paprika in half).