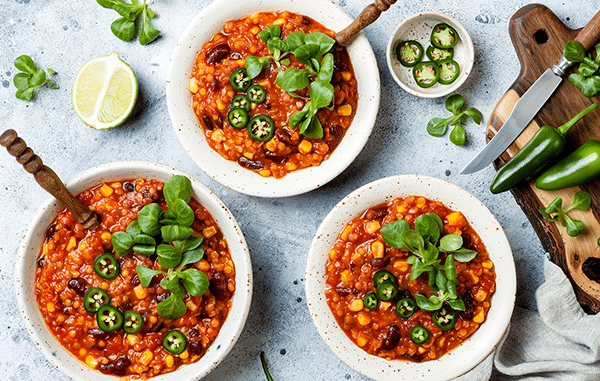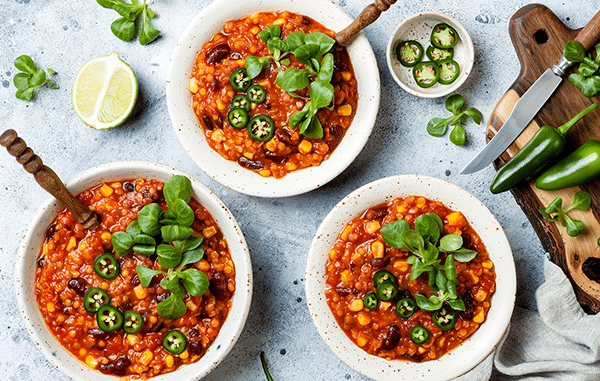 Print
Vegetarian Chili
Slow but oh-so-good cooking. That's what this vegetarian chili's all about. Want to add leftover shredded roasted chicken or turkey breast? Go right ahead. Poultry- or veggie-style, it's a wonderful one-pot dish for chilly winter evenings or party nights in front of the T.V.
Yield:
12
half-cup servings
Materials
1/4

cup

green bell pepper

diced

1

cup

red onion

diced

1/2

cup

garlic

chopped

1

cup

So Soya

ground. See Recipe notes.

2

tablespoons

All Purpose Seasoning

See Recipe notes.

1

chipotle pepper

1/2

cup

corn kernels (fresh or frozen)

3

cups

red beans

cooked, (If using canned varieties, purchase no-salt-added.)

1/4

cup

shallots

chopped

1

teaspoon

oregano , dry

3

tablespoons

thyme (fresh)

leaves picked and chopped

1

teaspoon

chili powder

1

tablespoon

balsamic vinegar

1

cup

tomato puree

no-salt-added

1/2

cup

carrots

medium-diced

1

cup

tomatoes

diced

1

quart

vegetable stock (low-sodium)

1

tablespoon

Veggie Grated Topping, Parmesan Flavor

See Recipe notes.

1/4

cup

cilantro leaves

chopped
Instructions
In a large nonstick stockpot, sauté bell peppers, onion, and garlic at medium-high heat until brown, about 3 minutes.

Meanwhile, soak So Soya in ½ cup hot water for about 5 minutes. Drain excess liquid. Add So-Soya and All Purpose Seasoning to stockpot, and cook for 3 minutes.

Add remaining ingredients, except Veggie Grated Topping and cilantro, and simmer for 1 hour.

Finish off with Veggie Grated Topping and freshly chopped cilantro. Remove chipotle pepper before serving.

Serve with whole-wheat, low-sodium pita chips, brown rice, mashed potatoes, or simply by itself.
Notes
So Soya is a dehydrated soybean product. It is available in some supermarkets nationwide as well as online at sosoyafoods.com.
Make your own All Purpose Seasoning by blending granulated onion, granulated garlic, salt-free lemon pepper, and paprika.
Veggie Grated Topping, Parmesan, is made by Galaxy Nutritional Foods. It's in grocery stores or at www.galaxyfoods.com. Don't go overboard on it because it does have added sodium.