Banana Ricotta Ice Cream Cake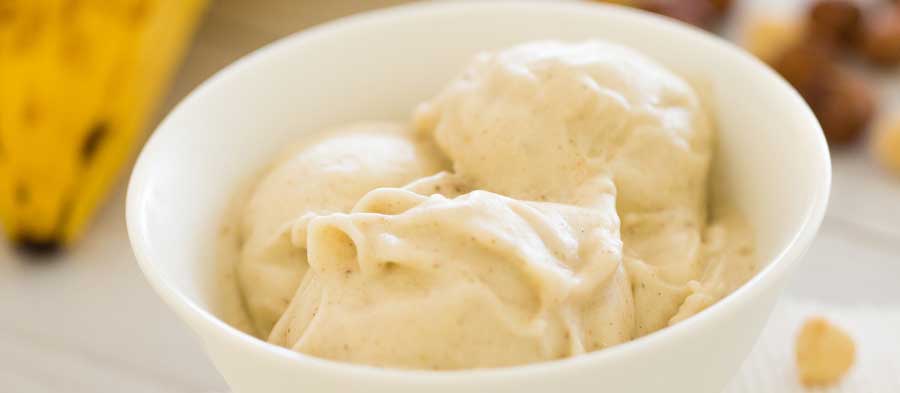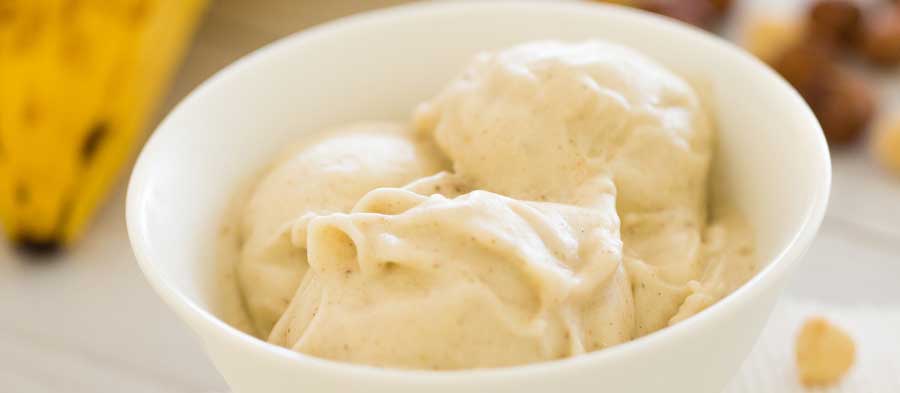 Print
Banana Ricotta Ice Cream Cake
An ice cream cake with no sugar, egg yolks, and cream? And it tastes dreamy? Absolutely! This healthy ice cream cake recipe is the brainchild of the award-winning chefs at the Pritikin Longevity Center in Miami. For 40 years, the renowned health resort has helped tens of thousands worldwide adopt healthy lifestyle habits.
Materials
CAKE
1/4

cup

egg whites

1/4

cup

sweetener "no-calorie" sucralose (Splenda) or stevia (many brands)

1

tablespoon

vanilla extract

1/2

teaspoon

baking powder

1-1/2

cups

whole-wheat flour (or quinoa)

1/4

cup

cocoa powder unsweetened

1/2

teaspoon

cinnamon

ground

1/4

teaspoon

nutmeg

ground

2

cups

milk nonfat

divided use
ICE CREAM
1

pound

bananas (very ripe)

peeled, vacuum sealed, and frozen

1

cup

ricotta cheese (fat-free )

2

tablespoons

orange juice

1

teaspoon

orange zest

1/4

teaspoon

nutmeg

ground

1

teaspoon

vanilla extract
Instructions
To Make Cake
Pre-heat oven to 350 degrees F.

In a small mixing bowl, whip egg whites and no-calorie sweetener until fluffy. Stir in vanilla.

In a medium mixing bowl, mix together baking powder, whole-wheat flour, cocoa powder, cinnamon, and nutmeg.

Make a well in the center of the medium bowl, and pour in whipped egg white mixture and 1 cup of nonfat milk.

Gently combine until smooth by cutting through the center of the mixture with a spatula and folding the mixture over on top of itself (cutting and folding). Add more milk, if needed, to achieve smooth texture. Do not over-stir. The fewer strokes made, the better.

Pour cake batter into 9" x 4½" x 2½" loaf pan. Bake for 30 minutes.

Remove from oven and cool.
To Make Banana Ricotta Ice Cream
Remove bananas from freezer and let sit for 5 minutes (until they begin to defrost around the edges).

Place ricotta cheese in a food processor and pulse.

Chop the bananas and add to the food processor along with all remaining ingredients.

Puree until smooth and creamy.

Scoop mixture into a plastic bowl and cover with plastic food wrap, making sure the plastic wrap touches the top of the mixture. Place in the freezer for 15 to 20 minutes.
To Assemble Ice Cream Cake
Remove cake from loaf pan. Slice cake, lengthwise, into three long slices. Place one slice in bottom of loaf pan.

Remove ice cream from freezer. Spread half the ice cream mixture evenly over the cake slice in the loaf pan. Cover ice cream with second slice of cake. Spread remainder of ice cream evenly over second slice of cake. Cover with third slice of cake.

Wrap the entire loaf pan with plastic food wrap, and freeze.

When ready to serve, remove from freezer, and cut into four thick slices.
Notes
If desired, garnish your ice cream cake slices with fresh strawberries and Blackberry Compote.