Ideas for Simple, Healthy Sandwiches
Everybody loves sandwiches, but a greasy burger or processed meat sub isn't going to do much for your health. Here are tips for tasty, healthy sandwiches from the chefs and nutritionists at the Pritikin Longevity Center in Miami.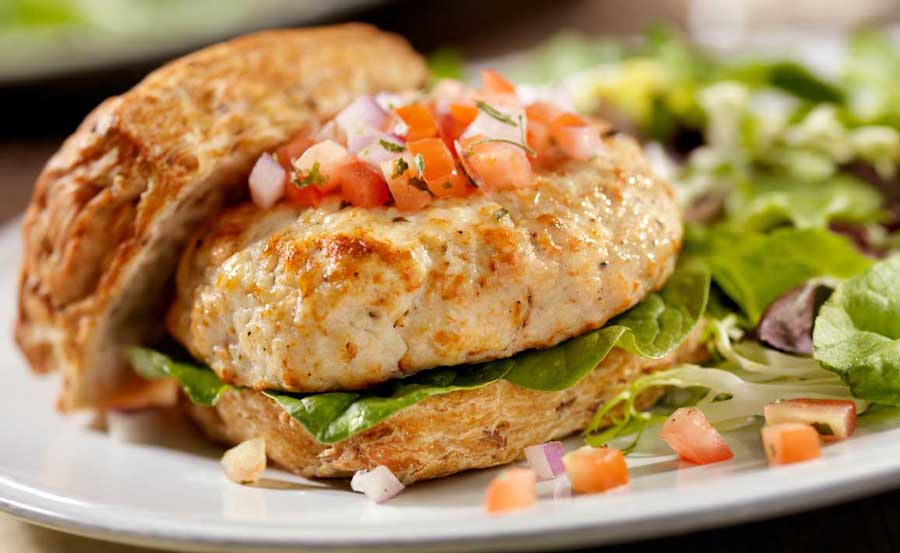 Basic Suggestions For Healthy Sandwiches:
Use whole grain bread, bagels, pita or wrap (made from 100% whole wheat flour and low-sodium).
Warm bread in a toaster or oven to enhance the flavor of the sandwich.
To flavor bread, use low-sodium mustard, non-fat mayonnaise, non-fat salad dressing, non-fat cream cheese or yogurt cheese (made from non-fat yogurt).
Include lots of vegetables such as lettuce, tomato, onions, cucumber and sprouts.
For a gourmet touch, include a layer of fresh basil, rosemary or other herb to your sandwich.
Serve healthy sandwiches with a bowl of hearty vegetable soup and/or salad. Include fresh fruit and your meal is complete.
Filling Suggestions For Healthy Sandwiches:
Tuna fish, packed in water, low-sodium. Drain and add 1 or 2 tablespoons of non-fat mayonnaise, onions and celery.
Grilled or broiled fish
Grilled or broiled chicken breast

Turkey breast, fresh or oven-roasted
Salmon, canned in water, low-sodium. Add fresh dill, cucumber and onion.
Egg whites or Egg Beaters
Roasted Bison
Pritikin Hummus
Mashed beans or a salt-free mashed bean spread (i.e. Eden Foods)
Grilled portabella mushroom
Grilled vegetables
Fresh vegetables (from a salad bar) stuffed into a 100% sodium-free pita bread or wrap.
Veggie burger (A good lower-sodium choice is Garden Vegan by Gardenburger)
Grilled Tofu
Grilled Tempeh
5 Tips for Perfect Chicken Burgers
Mix veggies into your chicken patties, as we do with our Pritikin Chicken Veggie Burgers. "The vegetables are naturally high in water and will add moisture and texture to your burger," says Pritikin Executive Chef Vincent Della Polla.
Add even more juice by tucking fresh, crunchy vegetables into your whole-wheat, low-sodium hamburger buns or pita breads, such as sliced red onions, chopped Romaine lettuce, and sliced tomatoes.
If you're making our Chicken Veggie Burgers, leave out the bread crumbs for maximum juiciness. "The bread will soak up some of the moisture, especially if you don't follow careful cooking techniques [see below]" explains Chef Vincent. "The patties will hold together perfectly well without the bread crumbs."
To make sure the ground chicken you're using is truly lean, low in saturated fat, and healthy – choose "99% fat free" ground chicken breast.
"You can easily end up with dry and rubbery chicken burgers if you cook them to death," warns Chef Vincent. His advice: Start with a high temperature to create a sear on both sides (probably only about one minute per side). Then, if you're using a skillet on the stove, immediately lower the flame, cover, and finish cooking. If you're searing on the grill, finish cooking your patties on a low-heat part of the grill, or on low heat in a skillet or oven.
---