The Best Exercises for Weight Loss & Your Health
Are you exercising right? This will change the way you think about exercising, and help you achieve results faster (while actually feeling like you're doing less).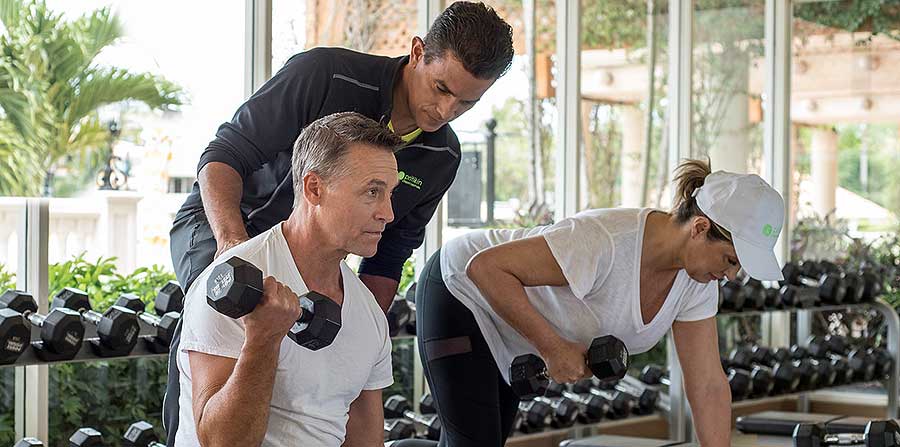 What's the healthiest workout?
You've done the difficult workouts: struggled through painful motions that leave your joints sore, yet don't seem to get you closer to your goals. You may have even found yourself thinking, I hate exercise. "We have this negative mental concept that exercise should hurt," says Jamie Costello, VP of Sales and Fitness at the Pritikin Longevity Center and Spa. "Anxiety, guilt, trying to take short cuts – it all leads to injury and burn out." Exercising can be rewarding and fun! "We are picking up heavy things just to put them down, and running on a machine but never going anywhere," sympathizes Jamie. The healthiest workout is one that is done correctly, at the right intensity for your current abilities, and in the appropriate amounts. The best exercises focus on improving your daily life motions.
4 Tips for Exercise Weight Loss from the Expert
Here are Pritikin's Exercise Expert, Jamie Costello's, top 4 tips on the best exercise for weight loss:
Go for a walk after work, even if you did a workout this morning.
If you have trouble committing to exercise, do it in the morning at home.
Overtraining and undereating doesn't promote weight loss – eat well.
Aim for greater frequency and consistency with workouts, not duration.
What are the best exercises for weight loss?
Hitting the pavement with your running shoes on for a grueling hour, or clumsily struggling to keep up in a high-paced gym class are not the best exercises for weight loss. Overtraining is a common mistake people make when they want to lose weight. Yet, overtraining and undereating will cause your body to burn muscle, not fat.
What's the best exercise to lose fat?
If you want to know how to burn more fat, Jamie explains that consistency in your exercising is key. Consistency leads to more confidence and better results. It's best to focus on the frequency of your workouts, not the duration of a single workout. He adds, "if you want to burn more weight off, you should workout in two 30-minute bits, instead of a longer 60 minutes."
How to build more muscle faster
Can the best exercises for weight loss really be fun and easier than you think? Lifting heavy weights can seem silly – you don't lift your grocery bags 8 to 12 times in a row. This isn't necessarily the best way for you to become a stronger, leaner, healthier version of you according to researchers. Results reported in the Journal of Physiology suggest you can build more muscle faster if you use time under tension, instead of a pre-set number of 'reps' (repetitions). In the study, adult men lifted a lighter weight than typically used in heavy reps, and went through the range of motion more slowly (up to 6 seconds in contraction, and 6 seconds to relax). The study suggests that this increase in the time a muscle is under tension optimizes muscle growth.
What's the most effective workout?
An effective workout is not painful, miserable, or long. You can "…do more exercise, but have it feel like less," declared Jamie. It's very exciting what's happening at Pritikin! A team of leading medical experts and exercise specialists, along with Jamie's expertise as an exercise scientist has given the Pritikin Exercise Plan a modern makeover. It's more effective than ever! "Some guests comment that the classes felt easy… when you think it's too short, I'm happy – because that means you have confidence that you can do it!" explained Jamie. Not only is the Pritikin Exercise Plan enjoyable, it's effective – it focuses on the best exercises for weight loss and your health.
The Most Effective Pritikin Exercise Program yet:
Does more, but feels like less
Maximizes results
Avoids overtraining or injury
Builds strength for real-life motions
Helpful video demonstrations
Easy at home exercise plans
The Pritikin Exercise Program
From Zumba to aquatic classes, weight training to yoga, there's no lack of fun ways to be active. Pritikin experts (personal trainers, exercise physiologists) will help you discover what is the best exercises for your ability. "A wide variety of guests come to Pritikin at different places in their health journey, and we tailor the program to match your personal needs and goals," explains Jamie. The program helps teach you the appropriate intensity based on your ability. You are placed in a group that is based on your current conditioning. There are three groups: move, active, and sport. Plus, video demonstrations make it easy for you to learn how to do exercises correctly, stay healthy, and avoid injury while at Pritikin and back at home.
Designed to help you become stronger and healthier, the Pritikin Exercise Program focuses on functionality to help maximizing your abilities in motions used in everyday life. Morning classes effectively get you warmed up, moving, building muscle using time under tension, and burning fat. After some cooking classes and informative lectures, an afternoon class gets you out of your seat and moving (because we all know sitting is the new smoking). The Pritikin Exercise Program* will have you feeling more confident, powerful, and energized.
"Pritikin isn't a quick fix thing – it's a healthy lifestyle program," notes Jamie. Creating a routine that integrates more daily activity into your day can improve your sleep, energy, strength, and mood. To help promote a more active lifestyle, Jamie gets guests to aim for a specific activity target of at least 7500 steps a day which can be accomplish easily – just 10 minutes of moderate intensity movement after meals will go a long way!
The Pritikin Exercise Program focuses on functionality in three ways:
Strength training that focus on improving everyday motions 4-5 times per week.
Daily cardiovascular workouts, including moderate to higher intensity training classes
Flexibility classes, including stretching and yoga, are incorporated at least 3 times per week.
Is Pritikin Good?
Passionate medical experts, such as board-certified physicians and exercise physiologists, are endlessly incorporating scientifically-backed advancements in health and wellness into the Pritikin Program to ensure it is not just good, but the most effective health program. Come experience the modern, streamlined Pritikin Exercise Program and let the experts show you the best exercises for weight loss and your health. If you're new to Pritikin, or haven't visited in a while, there's never been a better time to come and discover a healthier you.
*The Pritikin Exercise Program is aligned with the recommendations set in the guidelines by the American College for Sports Medicine and the Department of Health for exercise duration.
References