Dr. Michelle Gonzalez-Neely, DO
"Our health care system in America needs a rebirth, a powerful new focus on prevention," asserts Dr. Michelle Gonzalez-Neely, physician and educator at the Pritikin health and wellness resort. "Prevention is the wave of the future, and Pritikin is way ahead of the curve. What we teach here at Pritikin should be used as a model for the rest of private practice and medicine in general."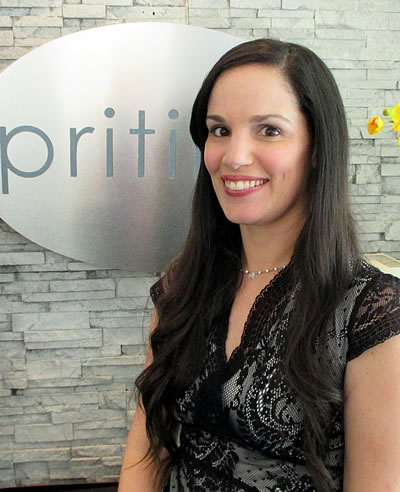 American Board of Family Medicine
Practical Portion Completed
Written Portion Pending, October 2015
Family Medicine Training Program, Palmetto General Hospital, Hialeah, Florida
Doctor of Osteopathy, Nova Southeastern University College of Osteopathic Medicine
BS, Dietetics and Nutrition, Florida International University
Research, Women's Health Initiative, at University of Miami, Jackson Memorial Hospital
Fluent in Spanish
Dr. Neely's passion for medicine and helping others began as a child, when her sister was struggling with health issues. "We were in and out of doctors' offices and traveling to different states to seek medical opinions and get her the appropriate care she needed. I was always intrigued by the doctors' recommendations, and I believe they ignited a spark in me to one day serve in the medical profession."
In undergraduate school, Dr. Neely majored in Dietetics and Nutrition. After graduating, she combined her love of nutrition and biology with her second passion, teaching, and taught science in junior high school for a year. "That was a great experience!" she laughs. "If teaching middle school doesn't prepare you for everything else in life, I don't know what will!"
After finishing medical school and her residency in family medicine, Dr. Neely renewed her enthusiasm for nutrition and health education as Medical Director at Melange Health Solutions in Charlotte, North Carolina. She developed and launched a new wellness program and also taught in it, "giving my patients healthy lifestyle education very similar to the Pritikin Program."
Dr. Neely's new position as Pritikin physician is fueled by her desire to teach. Just before coming to Pritikin, she had worked in a health center where she did not have the time to give her patients quality education. "It was what I term 'factory-style medicine,' in and out, in and out. There was no time for wellness education."
She witnessed superb results. "My patients who were motivated to improve their lifestyles did amazingly well. We were able to get their cholesterol down, their blood pressure down, and their medications reduced. Our results mirrored what the Pritikin Longevity Center has been documenting over the past three decades."
Dr. Neely's new position as Pritikin physician was, once again, fueled by her desire to teach.  Previously, she'd been practicing in a health center in Miami where she did not have the time to give her patients quality education. "It was what I term 'factory-style medicine,' in and out, in and out.  There was no time for wellness education.
"It's pervasive in our current medical system, and it's such a shame. The sad fact is, very few physicians in America ask their patients: "What do you eat?"  Yes, the thing that is most influential, most basic, in whatever may be wrong with us is rarely discussed."
Pritikin is the best of both worlds, Dr. Neely feels, because she is allowed to be both clinician and educator. Her curriculum at Pritikin includes a new lecture she has developed on alternative medicine – what is good and what is simply hype in the world of vitamins, minerals, supplements, acupuncture, chiropractic care, and other modalities.
"We need more centers like Pritikin in America," sums up this physician, wife, and mother of two young girls.
"We need to have a rebirth, a powerful new focus on prevention. It's the wave of the future, and Pritikin is way ahead of the curve. What we teach here at Pritikin should be used as a model for the rest of private practice and medicine in general."


Wellness Resort
Weight Loss Retreat