6 New Ways to Eat More Vegetables…and Lose More Weight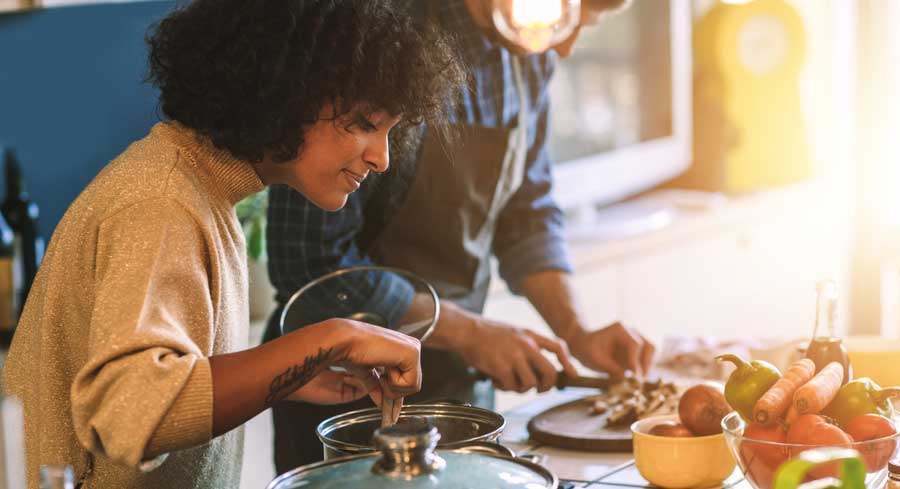 "First, there's the nutritional consideration, meaning what we can get from vegetables in terms of the micro nutrients, the vitamins and minerals that have anti-cancer and blood sugar benefits," says Kimberly Gomer, MS, RD, LDN, the Director of Nutrition at Pritikin Longevity Center + Spa in Miami, FL. "And second, given that the calorie density of vegetables is so low, there's the weight-loss piece. When my clients eat more vegetables, their weight loss accelerates."
To incorporate as much veg as possible throughout your day, Gomer has a little trick. "A strategy that we use at the Center and that we encourage people to take home is the idea of something called the 'front load.' The idea is to eat a first course that's entirely vegetable. This could a salad, it could be gazpacho or another vegetable-based soup, it could be a roasted veggie mix, it could be zucchini noodles and tomato sauce. You can get creative. The reason it's so powerful is that we tend to start our meal hungrier and eat our meal faster. But when we're eating vegetables, we have to slow our eating because vegetables require chewing. It's a way to give you something that will help make you feel full with the lowest caloric and the highest nutritional hit, especially since when you're the hungriest that's when the food will taste the best."
Another reason to get creative in the kitchen? Eating the rainbow of vegetables offers varied health benefits, naturally. "For example, the cruciferous family, which includes cabbage, broccoli and cauliflower, is known for its cancer-fighting benefits," Gomer explains. "But if all you eat is cauliflower, you're not getting the antioxidants from onions and the beta carotene from carrots. Eating more color gives you diversity in nutrients." She adds that it's especially important to eat dark leafy greens, such as in a salad, because they offer a high anti-inflammatory benefit.
So how much is enough? "If you're looking for nutritional health, go for five servings equal to 1 cup raw or ½ cup cooked vegetables," Gomer advises. "For weight loss, we increase that number depending on the person's appetite." (A word of caution: If you're new to high-veggie eating, make sure to slowly increase the quantity of vegetables so the fiber doesn't upset your stomach or cause gas or bloating, per Gomer.)
To help you eat more quantity and variety of vegetables, turn to these delicious new ideas below. (Don't worry, we won't even mention cauliflower rice!)
#1 Cucumber Noodles
You've heard of squash noodles, and maybe even the sweet potato variety, but have you ever tried spiralizing cukes? Crisp, refreshing cucumber noodles are especially delicious when used as the base of a cold salad. Try tossing in some grilled chicken strips, thinly sliced red onions, sun-dried tomatoes and chopped red bell peppers with your favorite Pritikin dressing, such as a bottle of the Tuscan Sunshine. Or go Asian with a combo of edamame, shredded cabbage and carrots, mango, scallions, cilantro and Pritkin Outrageous Asian Salad Dressing.
Don't have a spiralizer? You can make cucumber ribbons with a regular vegetable peeler.
#2 Zucchini Oatmeal
Yes, you read that right. A staple at the Pritikin breakfast buffet, oatmeal is a filling, high-fiber option for your morning meal. To decrease the calorie density of your bowl, simply add ½ a zucchini, grated, and cinnamon to your stovetop oats, once the oats and milk come to a boil. Continue cooking per package instructions.
Make it sweet: Add ½ a mashed banana with the zucchini.
#3 Eggplant Pizza
Although there's nothing wrong with a good cauliflower pizza crust, making your own can be time-intensive and the boxed varieties can be high in salt and other sneaky additives. To make eggplant "crust," slice an eggplant lengthwise for larger pizzas or into rounds for an appetizer version. Spray the eggplant slices with cooking spray, place on a prepared baking sheet, and roast in an oven preheated to 375°F for about 10–15 minutes, until almost tender. Meanwhile, sauté your favorite pizza-topping veggies (such as onions, garlic, broccoli, spinach, peppers and mushrooms) in a pan with some Pritikin All Purpose Seasoning, until just tender. Remove the eggplant slices from the oven when done, increasing the oven temp to 400°F. Top the eggplant slices with tomato sauce, the sautéed veggies and a sprinkle of low-fat cheese, if desired. Return to the oven and bake until the cheese is melted, about 5 minutes.
#4 Collard Wraps
Love wraps? We feel you! Try subbing your traditional whole-wheat version with a sturdy collard green to amp up the antioxidants and cut the calorie density. Filling suggestion: Lay a collard green on a clean surface. Spread on a layer of hummus, which will act the "glue" to bind the whole thing together, and arrange quinoa (or your favorite Pritikin-approved grain and/or protein) and roasted veggies on the end of the wrap closest to you. Top with some sriracha sauce for a little kick. Starting from the end closest to you, roll up the collard green, tucking in the sides midway, as you would a burrito.
#5 Hasselback Zucchini
Using the same technique as the classic hasselback potato, hasselback zucchini makes for a hearty first course. To prepare it, slice off the ends of your zucchini, and then cut deep horizontal slits into the flesh, leaving about ½ inch between eat cut. Place on a baking sheet lightly coated with cooking spray. Top with sautéed onions and garlic (if desired) and tomato sauce. Bake, covered, in an oven preheated to 400°F for 35 minutes, until tender.
#6 Hearts of Palm Noodles
Have you heard of Palmini, the new hearts of palm spaghetti and linguini? Make sure to rinse, to shed any excess salt, and then use in lieu of regular pasta. Try it hot (such as with a turkey bolognese) or cold (such as in a salad with shredded kale, artichoke hearts, cherry tomatoes and Pritkin Tangy Mustard Dressing).