Making Healthy Food Tasty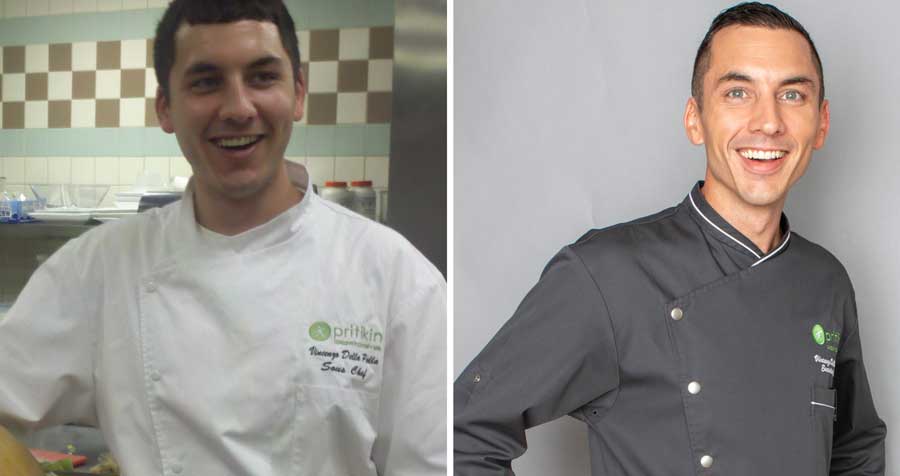 A Passion for Creating
Chef Della Polla has a passion for being creative. He transforms healthy foods that some would deem boring into extraordinary experiences. "Since I was a young boy, I have been listening and learning. I tried to prep anything I could in the kitchen to help my mom. She was a single mother who worked long shifts, but always made home cooked meals from scratch. It's truly a team effort to bring a meal together."
In one of his first jobs as a prep cook, Chef Della Polla had to slice 50 pounds of onions every day. "By the time I was halfway into it, I was crying and barely able to see what I was doing. It really gave me an appreciation for what goes into creating a dish." Later, while working under Executive Chef, Ted Peters of Acqualina Resort, Chef Della Polla discovered the significance of having pride in a dish. "Every dish should go out with the same attention to detail." A cook should have ownership and pride in the food they put out. It is these philosophies that Chef Della Polla encourages among the cooks in the Pritikin Center kitchen. You will be able to taste the results of his inspired creativity and passionate attention to detail on your plate at the Pritikin Center. Your taste buds are probably getting excited about a wellness retreat at the Pritikin Center! Come enjoy foods worthy of descriptive words like robust, flavourful, moist and delectable.
Learn healthy cooking skills
During your stay at the Pritikin Longevity Center and Spa you will enjoy many culinary delights inspired by Chef Della Polla and his team in the luxurious dining room. A nutrition-centered wellness resort, each beautiful plate of food is an example of how it is possible to make healthy food taste superb. "I love when people who are apprehensive about trying something new, actually love the dish." You will do more than eat healthy food. You will cook it too! Guests at the Pritikin Center learn healthy cooking skills under the motivational guidance of chefs. For a more in-depth cooking experience, check out the Pritikin Cooking School.
"If you can stir a pot, you can cook! The only person holding you back is yourself," says Chef Della Polla. During your stay at the Pritikin Center you will put an apron on and put your own culinary knife to work under the guidance of Pritikin's chefs. They inspire you to cook dishes that include more vegetables and whole grains using a teaching approach that is fun, motivational and stress-free. "Always realize mistakes happen, even with the best chefs. Sometimes that's how the best things are created – from a happy mistake!"
You can cook healthy food every day! You don't have to have the time or skills. If it's been a busy day, Pritikin's Chefs have lots of tips on how you can make fast-healthy meals at home. You don't have to be skilled with these 6 healthy dinners with 6 ingredients or less. Bon appetite!
Braised Orange Ginger Sea Bass
Under Chef Vincenzo Della Polla's entertaining, no-nonsense tutelage ("If you can chop, you can cook!"), Pritikin guests learn the special secrets that add gourmet flavor and richness to even the most basic of dishes. Try one of Chef Vincenzo's new recipes for yourself, and see how simple healthy cooking can be.
Get the Recipe