6 Healthy Dinners With 6 Ingredients Or Less
Here are 6 healthy dinners, each with 6 ingredients or less, created by the chefs and dietitians at the renowned Pritikin Longevity Center in Miami, Florida. These dinners keep home cooking real simple but also deliver loads of nutritious, whole food goodness. They're great for weight loss, too.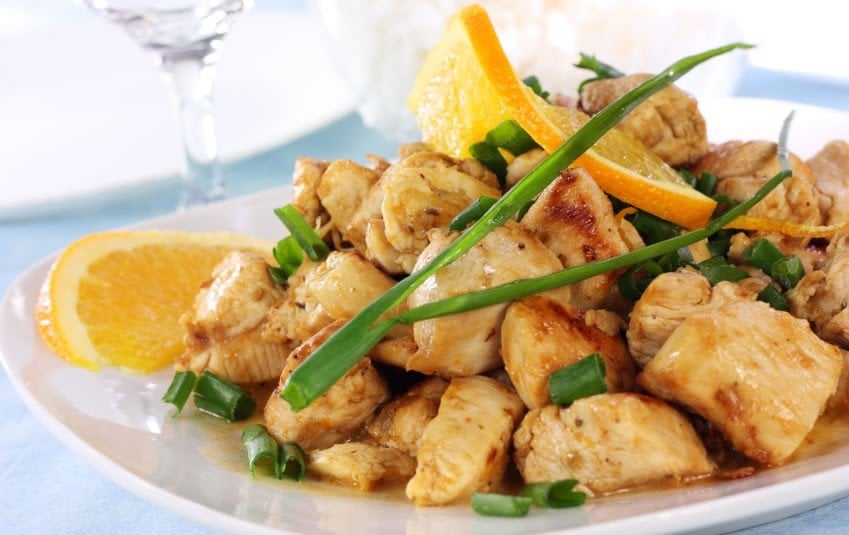 Each meal has just 6 ingredients or less. And all are low in calorie density, which means they're fabulous for weight loss, too.
Add a big green salad to each of these healthy dinners, like the big luscious bowls of greens you enjoyed in the dining room at Pritikin, and you're well on your way to meeting your Pritikin quota of 5 or more veggie servings a day, and in just one meal.
Healthy Dinners – 1
"Meaty" Spaghetti & Sautéed Spinach
Here's a protein-packed dinner with absolutely no animal protein. The ground veggie burger delivers 20 grams of protein per ¾ cup, but 0 dietary cholesterol, 0 saturated fat, and 0 sodium.  And so easy to whip up!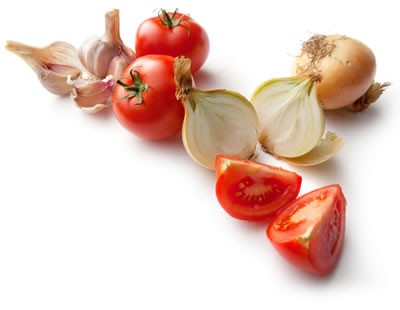 Serves 4 to 5
1 package (5.5 ounces) So Soya+ Ground Veggie Burger (available in many health food stores in Canada and the U.S., and online at So Soya Foods.com)
1 pound whole-wheat spaghetti
1 cup chopped onions
5 garlic cloves, minced, divided use
3 cups bottled, no-salt-added marinara sauce (good brand choices are Enrico's, Walnut Acres, Francesco Rinaldi, and some store brands)
12- to 16-ounce carton of pre-washed baby spinach
Rehydrate the ground veggie burger by soaking it in hot water in a medium bowl for 15 minutes. Drain excess water.
Fill a pasta pot with water, heat to boiling, and boil pasta till al dente (Read package for recommended cooking times).
While pasta is cooking, sauté on high heat in a large nonstick skillet the onions, 4 of the minced garlic cloves, and the ground veggie burger, about 3 minutes. Add marinara sauce, bring to a boil, then lower heat and simmer for another 3 minutes.
While the marinara sauce is simmering, mist a large nonstick pan with a bit of canola oil spray. Add remaining minced garlic clove, sauté briefly, then add spinach and stir frequently till wilted, usually only about 1 to 2 minutes. If you have a lemon, squeeze a little juice onto your spinach.
---
Healthy Dinners – 2
Radicchio-Wrapped Salmon & Baked Potatoes
You'll love the fantastic play of flavors in this entrée – the pure, strong taste of the salmon combined with the bracing bite of the radicchio and balsamic vinegar. It's gourmet eating, yet prep is simple enough for weekday fare.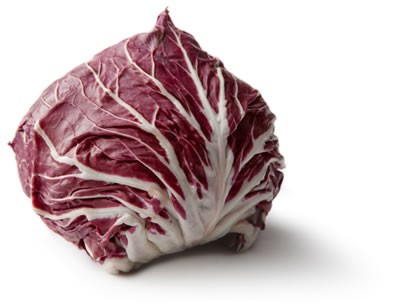 Serves 2
2 baked potatoes, scrubbed, each wrapped in aluminum foil
2 salmon fillets (4 ounces each)
1 head of red radicchio
Black pepper, ground fresh
2 teaspoons balsamic vinegar
As soon as you get home, pop your baked potatoes in a 450-degree oven and bake them till soft, about 1 hour. (Yes, microwaving your baked potatoes is a quick alternative, and do so if you need to, but nothing beats the creamy texture and flavor of conventionally baked potatoes.)
While your potatoes are baking, bring a large pot of water to boil. Detach 8 leaves from the head of radicchio. Drop the leaves in the boiling water for 20 to 30 seconds. Drain and submerge them in a bowl of ice water (to keep their color). When cooled, lay them out on a cutting board.
Sprinkle the salmon fillets with liberal grindings of black pepper. Wrap each fillet in 4 radicchio leaves. (Just fold your leaves around the salmon till the fish is firmly covered.)
Bring water in a steamer to a simmer. Gently place your radicchio-wrapped salmon into the steamer, and cook for about 20 minutes. Or bake your salmon in a Pyrex dish in a 350-degree oven for about 20 minutes.
Transfer fillets to a platter. Mist each fillet with a quick spray of olive oil spray; then dress each fillet with one teaspoon of balsamic vinegar. Serve with your baked potatoes topped, if you'd like, with fat-free sour cream or fat-free plain Greek yogurt, plus a sprinkling of black pepper or chili pepper flakes.
---
Healthy Dinners – 3
Easy Tacos & Fiesta Corn Salad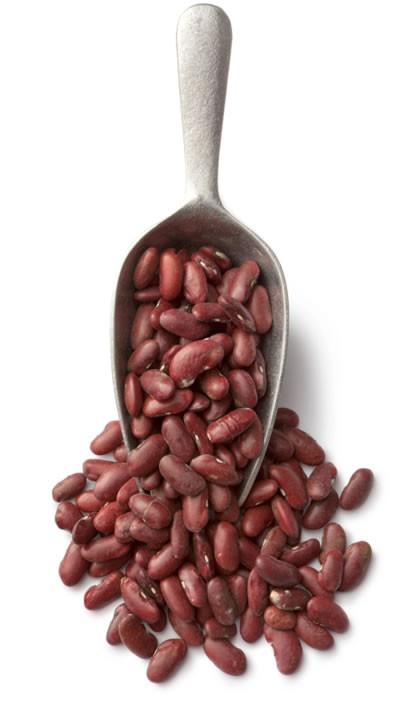 Enjoy a little south-of-the-border fun in just minutes with this super-easy meal. For the Fiesta Corn Salad, we've made a big batch (about 4 cups in total) so that you'll have plenty left over for lunch the next day or as a side dish for another dinner later in the week.
Serves 2
1 15-ounce can kidney beans, cooked, no salt added
1 10-ounce package frozen corn kernels, thawed
2 cups chopped green bell pepper, divided use
1.5 cups no-salt-added salsa, divided use (There are many good no-salt-added brands, including Enrico's and Tomatillo Garlic Salsa from The Garlic Surival Company.)
1 cup chopped onions
4 corn tortillas (size: 6 inches in diameter)
For the Fiesta Corn Salad: Combine in a large mixing bowl the kidney beans, corn kernels, ½ cup of the chopped green bell peppers, and 2/3 cup of the salsa. Mix well. (You can refrigerate this salad for up to 1 week.)
For the Easy Tacos: In a hot nonstick skillet, sauté the chopped onions and remaining chopped bell peppers till they soften a bit, about 2 minutes.
Place the tortillas between two moistened paper towels. Microwave them on HIGH for 1 to 1½ minutes. Top your warmed tortillas with the sautéed veggies and remaining salsa. Fold.
---
Healthy Dinners – 4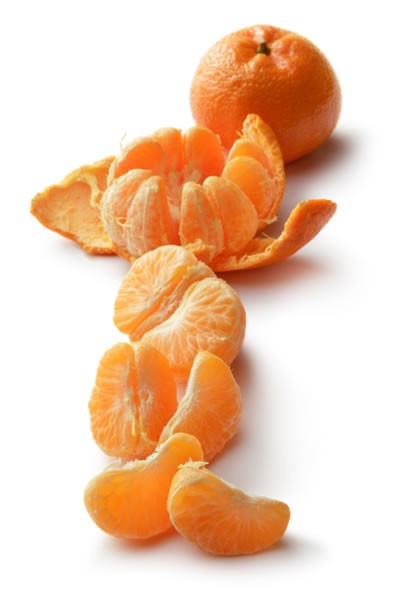 Chicken A L'Orange & Brown Rice
Here's a faster, much healthier spin on the classic French recipe for Duck A L'Orange. We're betting you'll like it just as much. You'll be making more rice than you need for this dinner so that you can store the leftovers in the fridge for another type of rice dish tomorrow night.
Serves 2
2 cups brown rice, uncooked
8 ounces chicken breasts, boned and skinned (or 8 ounces chicken breast tenders)
1 teaspoon low-sodium Dijon mustard
¼ cup orange marmalade (no added sugar)
¼ to ½ cup dry white wine
½ cup sliced onion
Prepare rice according to package directions.
While your rice is simmering on the stove, cut chicken breasts into long thin strips or 1-inch chunks.
In a small bowl, thoroughly combine mustard, marmalade, and white wine. Add to a hot nonstick skillet. Stir for 30 seconds. Add onions and chicken. Cook for 1 minute, then lower heat and simmer till desired doneness, about 5 to 7 minutes.
Serve over your cooked rice.
---
Healthy Dinners – 5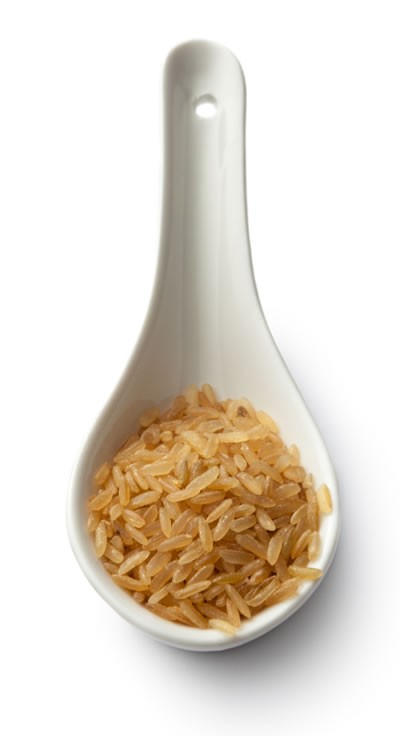 Crab-Topped Tilapia & Zesty Brown Rice
Guests at the Pritikin Longevity Center love this Crab-Topped Tilapia. It's full of flavor and so simple to make. Serve it with a green salad and brown rice, and you have a very healthy and filling meal in minutes.
Serves 2
2 4-ounce tilapia fillets
1 teaspoon Pritikin Fish Seasoning or salt-free lemon pepper, divided use
4 ounces crabmeat
½ cup finely diced combination of onions, carrots, and red bell pepper, plus ¾ cup of diced red bell pepper (for the rice)
2 tablespoons sour cream, fat free
2 tablespoons white balsamic vinegar (or any vinegar of your choice)
Pre-heat oven to 375 degrees F.
Season fillets with half the Fish Seasoning. Place fillets on nonstick baking sheet.
In a small bowl, combine crabmeat, the ½ cup of combined veggies, fat-free sour cream, and remaining ½ teaspoon of Fish Seasoning. Mix well.
Divide crab mixture in half and spoon onto center of each tilapia fillet.
Bake for 10 minutes.
To make Zesty Brown Rice:
Take out of the fridge the extra brown rice you'd cooked for last night's dinner. Mix the white balsamic vinegar into the rice. It blends beautifully because the grains really absorb it. Then stir in the ¾ cup of chopped red bell pepper.
---
Healthy Dinners – 6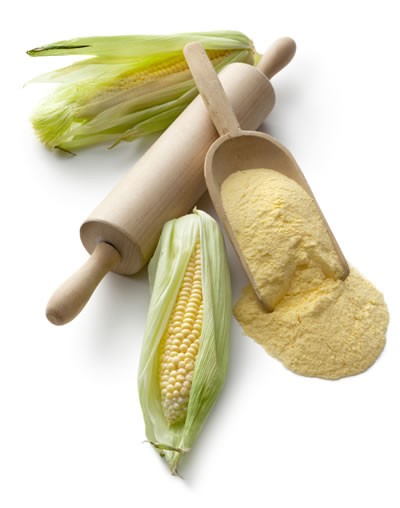 Polenta Cakes & Ready-Made Soup
Polenta (Italian for cornmeal) cakes are so easy to make and can be prepared in advance, up to several days. Top with our sautéed mushrooms and you have a wonderfully earthy, filling dish.
Serves 4
1 cup cornmeal
1 pound assorted mushrooms, sliced
1 tablespoon chopped fresh thyme
1 tablespoon Pritikin All-Purpose Seasoning*
¼ cup white wine
1 tablespoon minced garlic
* You can purchase our popular Pritikin All-Purpose Seasoning, made in-house at the Pritikin Center, in the Pritikin Online Store, or call 305-935-7131. Or make your own all-purpose seasoning by blending together your favorite herbs and spices, such as paprika, garlic powder, onion powder, dried oregano, and dried basil.
In a medium saucepan pour the cornmeal and slowly whisk in 3 cups of water, keeping your mixture as lump-free as possible. Bring the cornmeal to a boil, then reduce heat to simmer, stirring frequently until your mixture is thick, usually about 10 minutes. You want a consistency like thick oatmeal.
Immediately, pour your hot polenta into a large casserole or Pyrex dish lined with parchment paper or lightly sprayed with oil spray, like Pam. Use a spatula to spread your polenta evenly. Cool it; it will get nice and firm like a cake.
When your polenta has cooled, heat a large nonstick skillet over medium-high heat. Add mushrooms, thyme, and all-purpose seasoning, and sauté, stirring occasionally, until the mushrooms are tender, about 4 minutes. Add the wine, let it bubble for a minute, then add the garlic and turn the heat to medium-low. Simmer till wine evaporates.
Cut your cooled polenta cake into squares and top with mushrooms.
Ready-made veggie-rich soup:
There's nothing wrong with opening up a can of soup as part of dinner, or heating up a frozen package of soup. Good no-salt-added canned choices include Pritikin and Health Valley Organic. For frozen varieties, try Tabatchnick, available at many supermarkets nationwide, or Pritikin Frozen Soups, available online at pritikin.com.
For an extra-hearty soup, just microwave any kind of baking potato – a red skin potato, a yellow potato – dice it up, and add it to your soup.


Wellness Resort
Weight Loss Retreat