Search online for "healthy recipes," and you'll get a lot of recipes. But how healthy are they, really? A quarter cup of olive oil in the ingredient list? Many people think olive oil is a "healthy" fat, but how healthy and weight-reducing can something be if a quarter cup is a whopping 477 calories? That's the equivalent of 10 cups of strawberries. Or 3 whole cantaloupes. Or 4 ears of corn.
Whole natural foods like strawberries, cantaloupes, and corn on the cob are the focus of this 5-Day, Super-Simple Meal Plan For Blood Pressure and Weight Loss.
Weight Loss
Fiber- and water-rich whole foods are not only high in healthful nutrients, they're low in calorie density, which means that bite by bite, they deliver only about 5 to 10 percent the calories of very-high-calorie-dense foods like butter or olive oil. That means we can enjoy many more bites without going overboard on calories.
Lowering Blood Pressure
Another thing that's a killer, literally, about a lot of "healthy" recipes is the massive amounts of salt (sodium chloride) used. We're told to shake "generous amounts," but generous shakes can lead to generous stiffening of our poor arteries, high blood pressure, and dramatically increased risk of heart attacks, strokes, dementia, and other crippling conditions.
Our Pritikin Meal Plan is incredibly low in sodium, but delish. Because when you think about it, what's better than the natural flavors of fresh, whole foods? Peaches at their ripest? Fresh basil? Big, plump blueberries?
There's more good news. Many fruits and vegetables are not only naturally low in sodium, they're rich sources of potassium, magnesium, and calcium. Many studies have found that foods rich in these minerals help blunt some of the toxic effects of sodium.
And, as we said earlier, this plan is real simple. Rarely are you in the kitchen for more than a few minutes. We've even included tips for quick bites while traveling.
Pritikin Program
Get healthy. Get thin. Take good care of your blood pressure.
And get out of the kitchen in no time.
Start now with ideas from Pritikin's 5-Day, Super-Simple Meal For Blood Pressure and Weight Loss.
---
5-Day, Super-Simple Meal Plan For Blood Pressure and Weight Loss
DAY 1
Breakfast
Half a Cantaloupe with 1 Cup of Vanilla Greek Yogurt (fat free, no sugar added)

Scoop out the cantaloupe's seed-filled center, and drop in the yogurt.

Whole-Wheat English Muffin (good brand choice is Food For Life®) spread with Applesauce (no-sugar-added varieties)

Afraid this big-sized breakfast is big on calories? No way! It tallies up fewer calories than a single typical muffin at Starbucks and other coffeehouses, and that includes the low-fat muffins.

Coffee or Tea, if desired

If you'd like, add a little nonfat milk or soymilk and/or a packet of sugar substitute (good choices are sucralose or stevia).
Mid-Morning Snack (enjoy only if hungry)
1 Cup of Sugar Snap Peas and 1 or 2 Apricots

Go for peas and beans whenever you can! They're filling, nutrient rich, low in calorie density, and packed with fiber. You'd have to eat about 6 slices of whole-wheat bread to get the same amount of fiber that's in 1 cup of beans or peas.

If you'd like to fire up your sugar snap peas a bit, dip them in a little wasabi (Japanese horseradish).
Lunch
Gigantic Chopped Salad with Pritikin-style Thousand Island Dressing

Throw in just about any veggies already in the crisper, especially the crunchy ones. Here's a combination that guests love at the Pritikin Longevity Center.

Cauliflower florets
Broccoli florets
Carrots
Red Onion
Radishes
Romaine lettuce greens
Cucumber
Tomato

In a large bowl, chop up all your veggies into bite-size pieces using a knife or salad chopper.

Chill your veggies till ready to serve.

Meanwhile, whip up your Pritikin-style Thousand Island Dressing (and watch the pounds disappear).

Servings

Prep Time

Cook Time

16

2-tablespoon servings

10

minutes

0

minutes

Servings

Prep Time

16

2-tablespoon servings

10

minutes

Servings:

2-tablespoon servings

Units:

Servings:

2-tablespoon servings

Units:

Blend all ingredients until smooth and creamy.

Store in refrigerator for about 4 days, depending on the expiration dates of your dairy ingredients.

½ Whole-Wheat Bagel Smeared with Nonfat Ricotta Cheese and Topped with a Sliced Pluot

Never tried a pluot? You're in for a treat! This yummy fruit (it starts arriving in markets in mid-summer) looks and tastes like a plum but with apricot overtones. Other fruits (choose one of your favorites) can work equally well).
Mid-Afternoon Snack (enjoy only if hungry)
Dinner
Big Salad of Baby Greens, Fresh Basil, and Strawberries

For a dressing, blend up your own creation of fresh berries, champagne vinegar, and a teaspoon of apple juice concentrate.

Seared Salmon (4 oz) with Blueberry Balsamic Bliss and Quinoa

Our Blueberry Balsamic Bliss is so easy to make. In a saucepan on the stove, simply bring to a boil ¼ cup of balsamic vinegar and 1 cup of fresh or frozen (thawed) blueberries. Reduce heat and stir regularly until reduced by half. Ladle over your salmon. If you'd like, top with a few blueberries and raspberries.

Quinoa is real easy, too. For this scrumptious whole grain, you don't even need the stove. Just combine 1 part quinoa with 2 parts water in a microwave-safe bowl. Stir in onion flakes and your favorite salt-free seasoning, and microwave on high for about 4 minutes.
Dessert (enjoy only if hungry)
Watermelon Snow Cone

Here's a fun version of a fruit favorite. The night before, puree about 6 cups of rough-chopped watermelon (seedless) in a blender until smooth. Pour into a shallow airtight container and freeze. Before serving, let it thaw a little, then mash with a fork and spoon into paper cones or cups.
---
DAY 2
Some days are you on the road practically all day long? We've got you covered. We've devoted Day 2 to healthy, slimming choices while traveling.
Breakfast
Steel-Cut Oatmeal at Starbucks

Ask that your oatmeal be made with nonfat milk or soymilk. Tell your Starbucks server to keep the packets of calorie-dense nuts, brown sugar, and raisins. They'll lead to packets of fat on you. Instead, buy a banana and slice it into your oatmeal. Some Starbucks locations also have blueberries for your oatmeal.

Orange or Apple

Starbucks sells other whole fruit like oranges and apples. Pick one up for breakfast. If you're not hungry, buy one anyway for a great snack later in the day.

Vanilla Latte

Request your latte be unsweetened and made with nonfat milk or soymilk. Never tried soymilk? Give it a whirl. Many guests at Pritikin love its nutty, delicious flavor.
Mid-Morning Snack (enjoy only if hungry)
Salad Bar at the Supermarket

Many markets, particularly upscale ones like Whole Foods, sport big colorful salad bars. Load up a large container with baby greens, other fresh veggies, and fiber-rich beans like garbanzos. Splash with lemon wedges, balsamic vinegar, or fat-free salad dressing.
Lunch
Veggie Sandwich at Subway

Ask that your bread be scooped out (it's a great way to slash your salt and white flour intake). Then have the shelled toasted, and ask that it be loaded with just about every veggie available – lettuce, tomatoes, banana peppers, spinach, onions, and cucumbers.

Say "no" to the salt-drenched olives, artery-damaging cheese, and calorie-dense avocados.

For spreads, steer clear of the fatty mayos and oils. Instead, ask for mustard, vinegar, and sprinklings of black pepper and oregano.

You've just created a sandwich full of excellent nutrition and flavor, and so big you can barely close it, but for less than one-third the calories of many other Subway sandwiches.
Mid-Afternoon Snack (enjoy only if hungry)
Baked Potato at Wendy's

Yep, Wendy's. Their potatoes are hot and tasty, a satisfying, slimming snack any time of time. Top your potato, not with waist-busters like sour cream and butter, but with snappy, calorie-light toppings like Wendy's pico de gallo.

Many people think potatoes are a no-no food. "Potatoes are actually very good for us, especially for losing weight. Ounce for ounce, potatoes are one of the most filling and low-calorie foods we can eat," affirms Dr. Danine Fruge, Associate Medical Director at Pritikin. "We just have to watch what we add to them."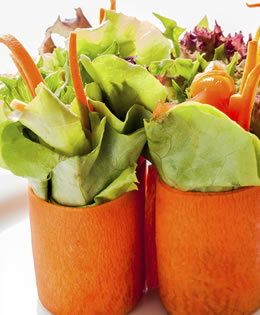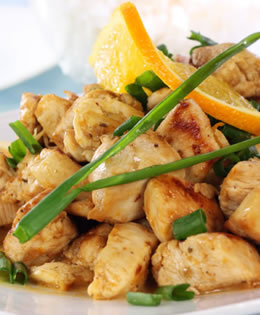 Dinner
Seafood at a Steakhouse

Steakhouses are often great places to find healthy entrée choices like grilled fish or chicken breast, and it's usually pretty easy to get them pure (no greasy batters or salty sauces smothering them).

Steamed Vegetables

At steakhouses, too, you'll often see steamed vegetables on the menu. Ask for triple the normal serving size. Yes, pile up your plate with veggies! There's no better way to get full without getting fat.

More Sides (if you're hungry for more)

The "sides" section of menus is usually the best place to find healthy, low-calorie-dense choices, not only steamed veggies but also baked potatoes, sweet potatotes, corn on the cob, side salads, and more. At steakhouses, too, you'll often be treated to nice, big salad bars.
Dessert (enjoy only if hungry)
Basket of Fresh Fruit

Staying at a hotel for the night? Before setting out on your trip, order a basket of fresh fruit that will be waiting for you in your hotel room when you arrive. A piece of fruit is a perfect after-dinner dessert, and certainly, your basket is a great way to ensure you have healthy fruit snacks by your side all the next day.
---
DAY 3
Breakfast
Oatmeal with Fresh Berries and Nonfat Milk or Soymilk

For weight control, go for hot rather than cold cereal. That's because cold, dry cereals are far more calorically dense. Per bite, you're taking in about three to four times the calories of cooked cereals like oatmeal.

Coffee or Tea, if desired

If you'd like, add a little nonfat milk or soymilk and/or a packet of sugar substitute (good choices are sucralose or stevia).
Mid-Morning Snack (enjoy only if hungry)
Heirloom Gazpacho

Want to shed pounds? Enjoy soups, hot or cold. They tend to be low in calorie density, and research, particularly from Penn State University, has found they do a great job of filling you up.

Servings

Prep Time

Cook Time

4

people

25

minutes

0

minutes

Servings

Prep Time

4

people

25

minutes

In a large bowl, combine all ingredients except basil.

Refrigerate for 20 minutes.

Pour into serving bowls. Sprinkle ribbons of basil on top.
Lunch
Tomato and Peach Salad

This exquisite salad was inspired by a recipe in a 19th century cookbook from Tuscany. If you can't get good peaches, nectarines work well. All you do is slice up 2 peaches and 2 ripe but firm large tomatoes. Combine in bowl and lightly drizzle with aged balsamic vinegar, a teaspoon of walnut oil, and fresh lemon juice. Add freshly ground black pepper and a small handful of chopped walnuts. (If weight loss is a goal, leave out the walnuts and oil because they're very dense with calories.)

1 Corn on the Cob
Mid-Afternoon Snack (enjoy only if hungry)
1 Cup of Plain Nonfat Greek Yogurt with Fresh Raspberries and ½ Banana

Feeling thirsty?

Lemonade's a favorite any time of year, but did you know that a 12-ounce glass of regular lemonade has about 150 calories? Drinking one every day could add up to a 15-pound weight gain in one year. Get 0 calories and lots of fresh lemon flavor by squeezing several wedges of lemon into a tall glass of ice water. Pour in a packet of Splenda (sucralose) or stevia, and stir.
Dinner
Cook it all on the grill! Veggie Burgers, Whole-Wheat Buns, Grilled Veggies

Veggie patties have only about half the calories of red meat patties, and 0 artery-clogging saturated fat. A good lower-sodium choice is Gardenburger® (Garden Vegan).

For whole-wheat buns, look for lower-sodium brands, such as Food For Life®. It's so important to watch sodium intake. The more sodium, or salt, we eat, the greater our risk of hypertension. Having hypertension means we're 4 times more likely to develop heart disease.

Grilled vegetables have great smoky flavor. Cut up a bunch of veggies in thick, grillable slices. Excellent choices for the grill include bell peppers, zucchini, summer squash, asparagus, red onions, and portobello mushrooms. Spray them very lightly with oil spray and sprinkle with a salt-free all-purpose seasoning. Grill enough veggies so that you have leftovers for egg white omelettes, sandwiches, or pasta the next day.

Top your veggie burger with your grilled veggies along with crisp Romaine lettuce and a smear of low-sodium Dijon mustard, and enjoy a nice hefty serving of veggies on the side.
Dessert (enjoy only if hungry)
Use the Grill for Dessert, too! Grilled Pineapple Slices

Sprinkle pineapple slices with cinnamon about a half hour before grilling. Grill about 5 minutes on medium-high heat on both sides. Top with a creamy dollop of fat-free sour cream mixed with a touch of vanilla extract and sucralose or stevia.
---
DAY 4
Breakfast
Scrambled Egg Whites with Grilled Veggies and Nonfat Ricotta Cheese

Use the grilled veggies left over from last night's dinner. So easy! For a little kick, sprinkle on hot sauce. Good low-sodium choices are Pritikin varieties, Bone Suckin'® Sauce, Dave's Gourmet, Tabasco, and Pukka.

1 or 2 Slices Whole-Wheat Toast

If you're running late, make breakfast-in-a-bowl by breaking your toast into a bowl and topping with the egg whites, veggies, and nonfat ricotta cheese. You're out the door!

We don't use yolks at Pritikin. Regardless of public relations campaigns saying "eggs are the perfect food," yolks are far from perfect. They're loaded with dietary cholesterol, which research has repeatedly found raises blood cholesterol.

Coffee or Tea, if desired

If you'd like, add a little nonfat milk or soymilk and/or a packet of sugar substitute (good choices are sucralose or stevia).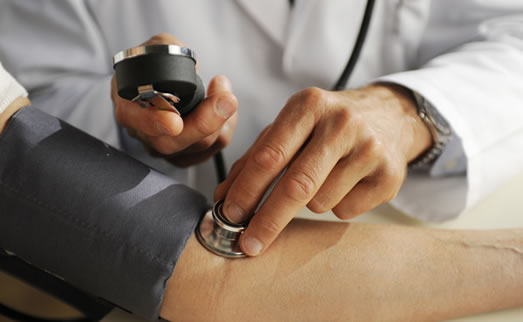 The Pritikin Program for Lower Blood Pressure
Get your blood pressure down – and keep it down – without the need for medication. Lower Blood Pressure Naturally
Mid-Morning Snack (enjoy only if hungry)
Fruit Salsa

Use whatever fruits you already have. Great choices are melons, mangos, and berries. Chop them up. Put them in a big bowl. Then add chopped onions, chopped fresh cilantro, and freshly squeezed lime, to taste. Enjoy alone as a snack, and if you have extras, use as a fat-free, no-salt salad dressing. It's also fantastic spooned over grilled fish.

Numerous studies have found that eating foods rich in water, like fruits, vegetables, hot cereals, and soups, helps keep you satisfied on fewer calories. Yes, they're great weight-loss foods!
Lunch
Big Farmer's Market Salad

Throw in a variety of fresh seasonal produce, veggies as well as fruit. For a dressing, enjoy the fruit salad you made for your mid-morning snack, or use really good balsamic vinegar. Our guests at Pritikin have found that with top-quality balsamic vinegar, they don't need any oil on their salads. A brand they buy by the case is Roland Diamond Balsamic Vinegar. It's expensive but worth it, they resoundingly agree.

Curry Hummus Dip and Cucumbers in a Whole-Wheat Pita

Make up a batch of Curry Hummus Dip and refrigerate for enjoyment all week long.

This Curry Hummus Dip makes a fabulous spread for pitas and sandwiches. And what a difference for your waistline and blood pressure! A schmear has about one-seventh the calories of butter or mayo – and about 20 times less sodium than most store-bought hummus.

Prep Time

Cook Time

20

minutes

17

minutes

Servings:

1/4 cup per serving

Units:

Servings:

1/4 cup per serving

Units:

In a medium nonstick saucepan, sauté on medium heat for 3 minutes onion, garlic, and tomato.

Add ginger, cumin, coriander, Caribbean curry powder, thyme, and Pritikin All-Purpose Seasoning. Cook over low heat for 8 minutes. (The consistency should be like paste.)

Add garbanzo beans and cook for 5 minutes, stirring regularly.

While still hot, pour mixture into food processor and puree. Cool.

Optional: Garnish with sliced apples.
Mid-Afternoon Snack (enjoy only if hungry)
½ Cup Cottage Cheese with Sliced Nectarines

For cottage cheese, look for nonfat, low-sodium varieties, such as Friendship (1%, No Salt Added). A half-cup of many cottage cheeses contains nearly a third the sodium most of us should have for the entire day.
Dinner
Mahi Mahi Ceviche

No need to heat up the stove! In a large glass bowl, simply combine 1 pound of mahi mahi (this dish serves 4) cut into short thin pieces, ½ cup lime juice, ½ cup chopped and seeded tomatoes, a seeded and finely minced habanero pepper, 1 teaspoon minced garlic, and freshly ground black pepper. Toss well, and sprinkle a finely sliced small red onion on top. Cover with plastic wrap and refrigerate for 1 hour. Then, stir to incorporate the onions, and refrigerate 1 hour more.

Whole-Wheat Pasta Alla Checca

Another easy favorite! The only thing you have to cook is the pasta. In a big pasta serving bowl, toss in about 2 pounds of fresh, diced, richly flavored tomatoes, crushed garlic, crushed red pepper flakes, dried oregano, and a big handful of torn fresh basil leaves. Add the cooked pasta. Stir. If desired, top each individual bowl with a little reduced-fat Parmesan cheese (Kraft®) or soy/veggie-based Parmesan (Galaxy Nutritional Foods®)
Dessert (enjoy only if hungry)
Perfectly Pritikin "Ice Cream"

There's a counter-top appliance called Yonanas, sold at stores like Target and Bed Bath & Beyond, that turns fruit into a frozen dessert that tastes like soft serve ice cream. You freeze really ripe bananas, let them thaw just slightly, then feed them into a Yonanas and add any other frozen fruit, like mango. "It's perfectly Pritikin ice cream," smiles Pritikin RD Kimberly Gomer. Top with fresh berries, if desired.
---
DAY 5
Breakfast
Polenta With Berry Puree

Okay, you've got to turn the stove on, but not for long! Pour one-half cup of water in a small saucepan and bring to a boil. Meanwhile, pour a half cup of polenta (Italian for yellow cornmeal) into a small mixing bowl, and whisk in a half cup of cold water. When combined, add to boiling water. Reduce heat and simmer for 3 to 4 minutes, stirring often. Top with raspberries and blueberries that have been slightly pureed in a blender. It's a sweet, creamy, morning treat.

Cup Of Nonfat Plain Yogurt (Greek Or Regular) With Sliced Fruit Swirled In

Want it a tad sweeter? Stir in a packet of sucralose or stevia.

Coffee or Tea, if desired

If you'd like, add a little nonfat milk or soymilk and a packet of sugar substitute (sucralose or stevia).
Mid-Morning Snack (enjoy only if hungry)
Hefty Handful Of Grapes

High-fiber, high-water foods like fruit give you stomach-filling satisfaction, but at a very low calorie cost. Three big bunches of grapes are the caloric equivalent of one small energy bar (which, let's face it, is gone in three bites, so is one bar ever enough?).
Lunch
Ready-Made Soup Extraordinare

Make lunch super easy! Open up a can of veggie-and-bean soup, or nuke a frozen package. Just make sure you're staying away from the many salt-slugged brands on the market. Good, very-low-sodium alternatives include Pritikin, Health Valley Organic, Tabatchnick, and some of Trader Joe's soups, like Low-Sodium Minestrone.

While your soup is heating up, toss in any other fresh veggies or herbs you have sitting in the refrigerator bin, plus, if you'd like, seasonings like red pepper flakes or garlic.

For an extra-hearty soup, microwave any kind of baking potato – a red skin potato, a yellow potato – dice it up, and add it to your soup.

Applesauce, No Sugar Added

Good brand choices are Mott's, Tree Top, Santa Cruz Organic, and many store brands.
Mid-Afternoon Snack (enjoy only if hungry)
Edamame

In markets now (even Costco), you can find in the frozen food section edamame (young soybeans in their pods) packaged in single-serving packets that you simply toss in the microwave and cook on HIGH for about 3 minutes. They're nutty and creamy-crunchy. You just pop them out of their shells, like eating peanuts. Plus, they're packed with fiber (9 grams for a half-cup shelled).

And because you need to peel open the pods, you slow down your food intake – always a good thing.
Dinner
Easy Chicken Tacos

In a hot nonstick skillet, sauté for about 2 minutes 1 cup of chopped onions, 1 cup chopped green and red bell peppers, and 1 to 2 teaspoons of no-salt-added Mexican Seasoning (many companies, like Lawry's and McCormick, make good no-salt varieties of seasonings).

Add a bag of pre-cooked chicken breast strips (low-sodium choices include Trader Joe's Just Chicken and Nature's Rancher Grilled Strips), and stir till warm, about 1 minute. Dollop into corn tortillas (microwave them on HIGH between moistened paper towels for 1 to 1½ minutes). Top with low-sodium salsa.

To keep your saturated fat intake low, keep your chicken intake low – 4 ounces or less.

Fiesta Corn Salad

You'll likely have plenty of this zesty, filling dish left over for lunches and/or side dishes tomorrow.

In a large mixing bowl, combine 1 can kidney beans (no salt added), 1 bag (10 oz) of frozen white corn kernels (thawed), ½ cup chopped green bell pepper, and 2/3 cup no-salt-added or very-low-sodium salsa, like Enrico's or Casa Sanchez (located in the refrigerated section).
Dessert (enjoy only if hungry)
Dark Chocolate Pudding

A good fat-free, no-sugar-added brand, packaged in single-serving, 60-calorie cups, is Jell-O. Dress up your pudding, if you'd like, by scooping it into a little ice cream dish and topping it with a dollop of fat-free Greek vanilla yogurt topped with fresh raspberries.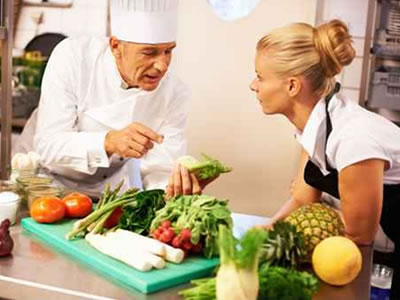 Love to eat? You'll love how easy and super healthy Pritikin cooking can be! Get the details »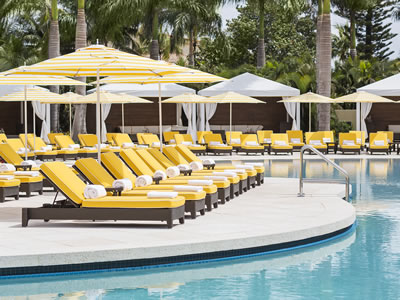 Wellness Resort
Weight Loss Retreat