Tips for the Perfect Chicken Burger
Do your chicken burgers turn out dry and rubbery? Try these 4 simple tips.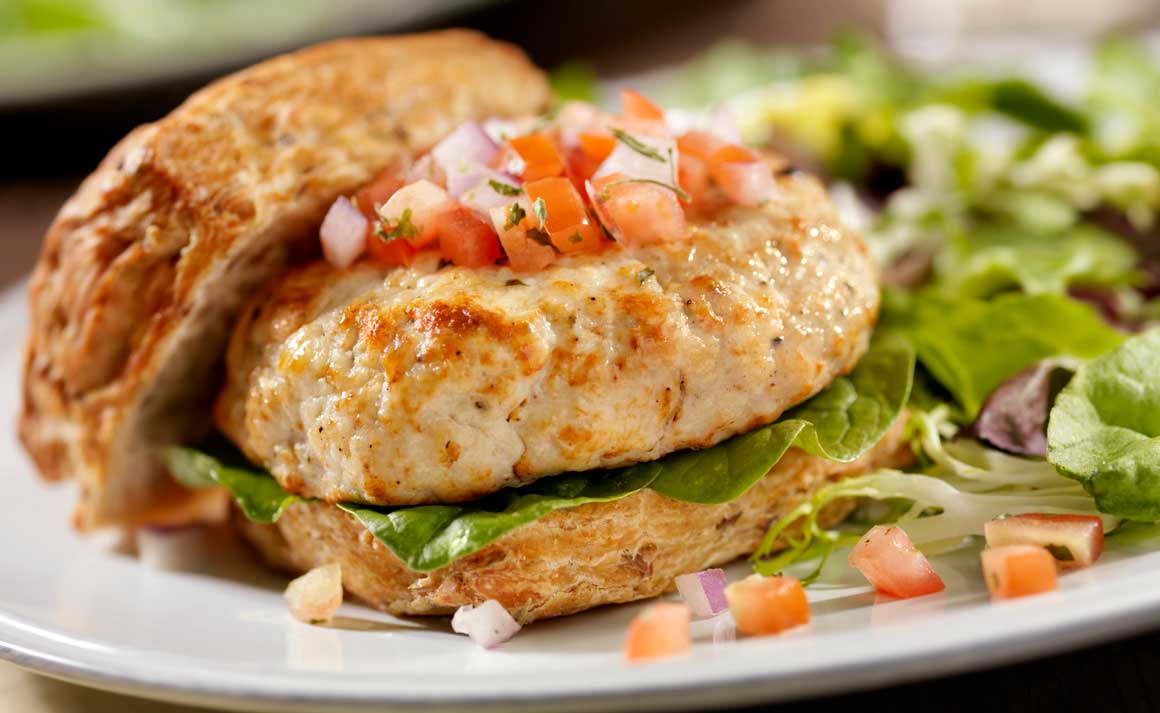 Mix veggies into your chicken patties, as we do with our Pritikin Chicken Veggie Burgers. "The vegetables are naturally high in water and will add moisture and texture to your burger," says Pritikin Executive Chef Vincent Della Polla.
Add even more juice by tucking fresh, crunchy vegetables into your whole-wheat, low-sodium hamburger buns or pita breads, such as sliced red onions, chopped Romaine lettuce, and sliced tomatoes.
If you're making our Chicken Veggie Burgers, leave out the bread crumbs for maximum juiciness. "The bread will soak up some of the moisture, especially if you don't follow careful cooking techniques [see below]" explains Chef Vincent. "The patties will hold together perfectly well without the bread crumbs."
To make sure the ground chicken you're using is truly lean, low in saturated fat, and healthy – choose "99% fat free" ground chicken breast.
"You can easily end up with dry and rubbery chicken burgers if you cook them to death," warns Chef Vincent. His advice: Start with a high temperature to create a sear on both sides (probably only about one minute per side). Then, if you're using a skillet on the stove, immediately lower the flame, cover, and finish cooking. If you're searing on the grill, finish cooking your patties on a low-heat part of the grill, or on low heat in a skillet or oven.
Chicken Veggie Burgers
Instead of the classic hamburger or cheeseburger, loaded with artery-clogging saturated fat, opt for this delicious chicken veggie burger that has just 1/2 gram of saturated fat! Sandwich this burger between two pieces of whole grain bread or eat it without, and you've got a Pritikin-approved barbecue dinner.
Best Burgers for Vegetarians
Burgers are an essential dish served at any successful barbecue; they are a comfort food, and one found on most menus. But nowadays many of us are choosing to avoid animal protein or adopt a plant-based diet. Unfortunately, many store-bought veggie burgers may be plant-based, which sounds good in theory, but they tend to be loaded with sodium and unhealthy fats, which you may not even realize. It can be challenging to find truly healthy plant-based burgers that are also delicious. Lucky there's a new burger on the block, and in our humble opinion, they're not only the healthiest, but the tastiest veggie burgers money can buy. And they're available for delivery!
Best Black Bean Burgers
Black bean burgers are blended with vegetables and flavorful seasonings resulting in one hearty- and heart healthy- burger! A touch of chipotle pepper sauce ensures that these burgers pack a spicy punch!
Best Veggie Burgers
Your mom told you to eat your vegetables, and she was right. But bet you she wasn't picturing a burger when she uttered those words! These healthy Veggie Burgers are packed with a variety of beans and vegetables and taste delicious!
---
Edited by Kell Wynn, August 27, 2019