Well, if Nathan thought pizza was unhealthy back then, he'd shudder if he were here today. The food industry has pumped pizza up with whole new levels of artery-clogging saturated fat, salt, and calories.
One popular pizza chain's Chicago Classic Deep Dish Pizza (individual), for example, has 2,220 calories, 49 grams of saturated fat, and 4,410 milligrams of sodium. Egad! This "personal" pizza has as much saturated fat as five premium fast food burgers. And it's packed with three day's worth of sodium. Shall we rename it Deep Stroke Pizza?
Watch out for frozen food choices, too. one popular supermarket pepperoni pizza has such a thick layer of cheese and pepperoni that it's bound to layer your coronary arteries with plaque. Just two slices will deposit seven grams of saturated fat in your blood (more saturated fat than most of us should have in two days) plus 770 milligrams of blood-pressure-spiking sodium. That's right, a mere two slices contains half our day's quota of sodium.
Now for some good news | Healthy pizza recipes
You can make delicious pizza that's also healthy using fantastic whole-wheat pizza crust, refreshingly low amounts of sodium, and, best of all, innovative toppings. It's all about thinking outside the pizza box, "which allows you to create a whole new world of flavors and fun," smiles Pritikin's Executive Chef Vincent Della Polla.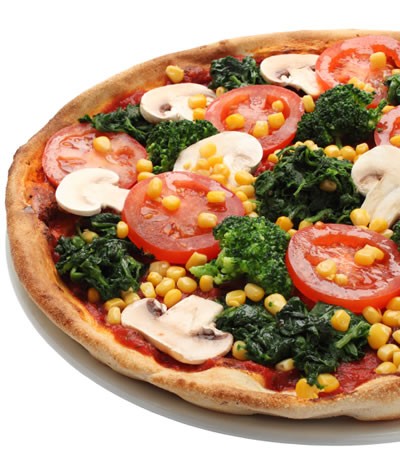 Always keep in mind that if you're trying to lose weight, you don't want to go overboard on pizza eating, even Pritikin-style pizzas, "because dry pizza crust and cheese are calorie-dense foods," reminds Pritikin Director of Nutrition Kimberly Gomer, MS, RD, LDN. One suggestion: To keep your pizza portions small, pair your pizza with a nice big salad full of the season's finest veggies.
Here are tips for scrumptious Pritikin pizzas, many from people who are frequent vacationers at the Pritikin health resort and soak up all the secrets of healthy cooking in Pritikin's cooking classes. Watch out, Giada De Laurentiis!
Pritikin Pizza Crust
Recently, Pritikin alum "4ever" wrote Pritikin's Executive Chef Anthony Stewart: "I ordered a dozen of your pizza crusts, and I've been having a ball creating new Pritikin Pizzas."
Pritikin alum "jj" agreed: "The Pritikin Pizza crust is really good….even my kids love it."
Other healthy, yummy crusts include toasted whole-wheat pita bread and toasted whole-wheat English muffins. "Do make sure you're finding low-sodium varieties. You want whole-wheat and low-sodium," says Kimberly.
Caribbean Pizza
"4ever" described his new discoveries. The best by far, he says, is a pizza with a Caribbean twist. For toppings, "I added plantains, mangos, kale, and fire-roasted red onions with a small amount of fat-free mozzarella cheese. I also sweetened your Jerk Seasoning Recipe with some sweet guava. You could also add chicken, but I wanted to keep it vegetarian."
Mexicali Black Bean
For south-of-the-border fun, "4ever" whipped up a novel new pizza sauce. He blended Chef Vincent's recipe for Black Bean Sauce for Ravioli Recipe with tomato sauce. He then layered it with a bit of fat-free mozzarella and "a mouth-watering combination of fire-roasted corn, tomatillos, and peppers." Ole!
Chef Vincent's Favorites
After congratulating these culinary free spirits for their absolutely delicious ideas, Chef Anthony chimed in with some savory suggestions. His pizza combo-topping favorites are:
Grilled pineapple, sliced banana, and chopped mint
Roasted eggplant and fat-free ricotta
Wild mushrooms marinated in puree of pineapple and grilled fruit salsa
Says Chef Vincent: "We all have our favorite fruits and vegetables. It's a treat to turn them into something brand new as pizza toppings. Especially tasty is adorning your pizzas with in-season produce."
White Pizza
For those with creamy cravings, Pritikin alum "juno" recently had a flash of genius, all because of leftovers! "One of my favorite foods," she confesses, "is White Pizza with its creamy, cream-based sauce, but I know it's bad. Well, I accidentally created a totally Pritikin White Pizza out of leftovers, and it's pretty darn good. I used the Pritikin Creamed Spinach recipe as my white sauce. I had extra sitting in the fridge."
Here are juno's step-by-step directions for her White Pizza:
Spread the Creamed Spinach and a little fat-free cheese on a pizza crust. Toast until the crust is ready.
Then, top the pizza with fresh tomato slices and a few slices of Bermuda onion.
Shake on a spice blend.
Done!
"I can't wait to experiment with the Creamed Spinach 'sauce' and other toppings, like caramelized onions and fresh herbs," says juno.
"I'm going to have a happy kitchen tonight!"
Other pizza toppings that juno is eager to try include:
Sautéed spinach
Pre-packaged bag of grilled chicken breast
Grilled veggies
Jalapenos
Portabella mushrooms
Corn and red pepper medley
"I suddenly have a new use for leftovers!" says juno.
And so do you, thanks to these many tasty ideas from Chef Anthony and Pritikin pizza fans. Make your own happy and healthy pizza party tonight!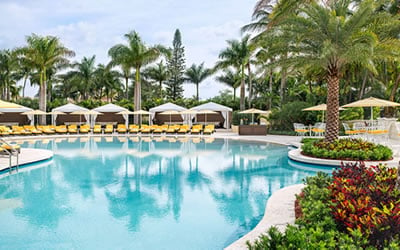 Health Resort
Take life to the next level, and be all that you can be. That's what a vacation at Pritikin is all about. Live better. Look better. Best of all, feel better.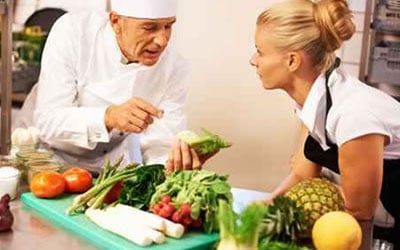 All-Inclusive Program
Since 1975, 100,000+ people have come to Pritikin. We are the longest-running, most scientifically documented health resort in America.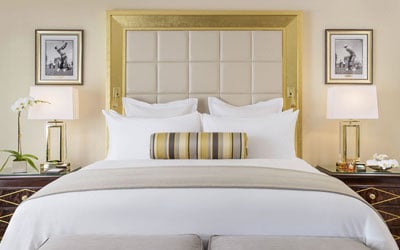 Rooms and Suites
Our newly renovated guest rooms at the health resort are spacious, serene, and amenity-rich. Each has a gorgeous garden view.
---