Spaghetti Squash Recipes – Healthy, Easy, Yummy
Spaghetti squash is delicious and a dieter's dream! One cup, cooked, is just 43 calories. It'll fill you up but not out. And it's so versatile. You can top spaghetti squash with just about any sauce you'd use for pasta.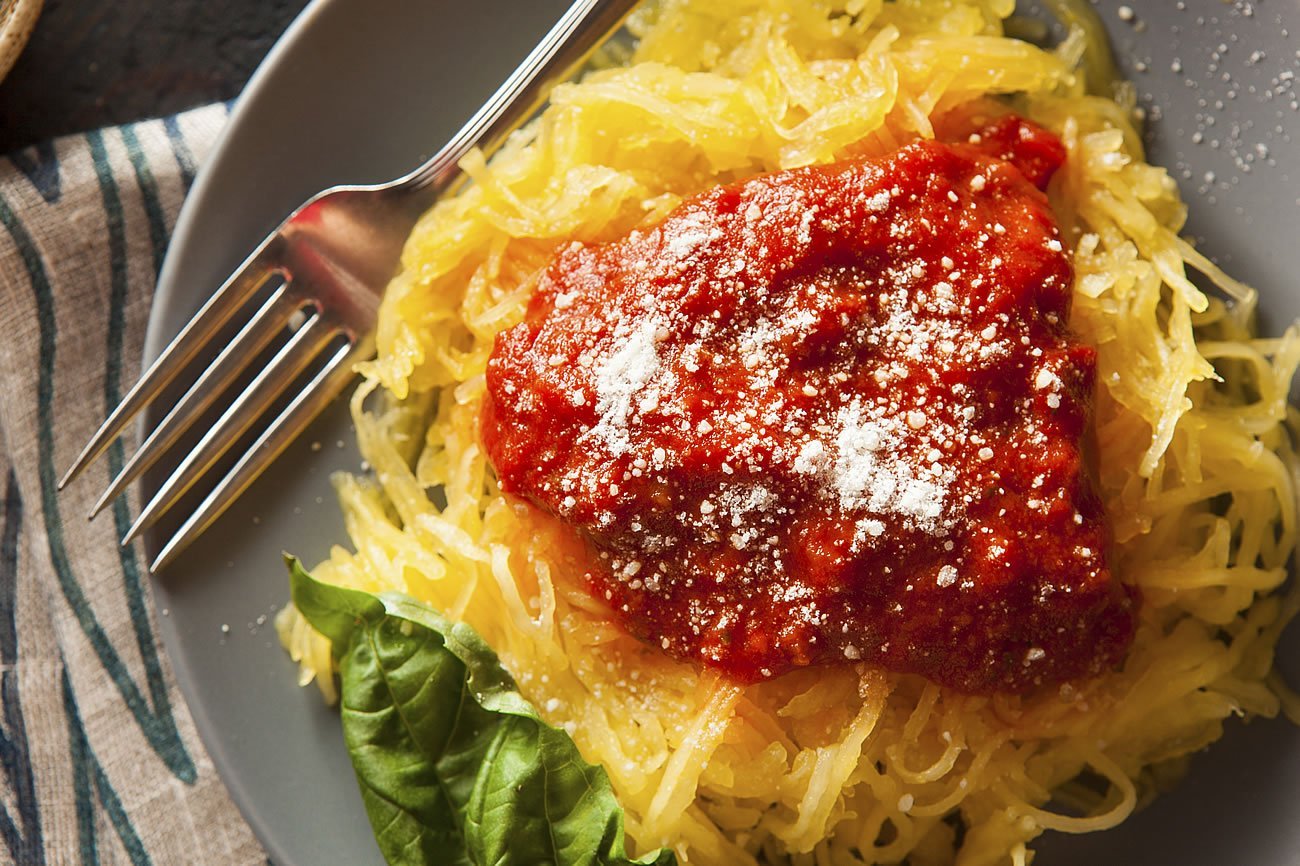 I followed Jon to the kitchen to watch the show. Within five minutes, all prep work was done. He simply: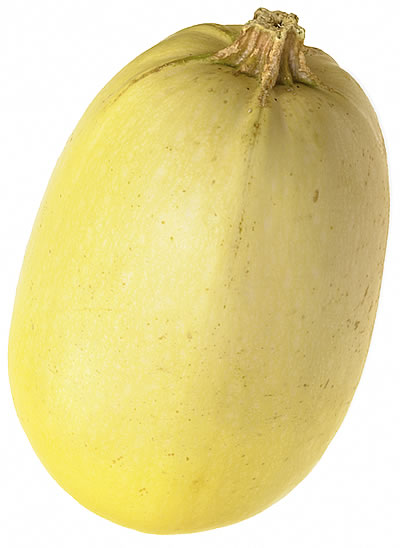 Set the oven to 350 degrees F.
Cut the spaghetti squash in half length-wise.
Scraped out the seeds and guts, just as you'd scrape out the guts of a pumpkin.
Poured about a quarter-inch of water into a glass baking dish.
Put the squash halves in the baking dish, cut sides facing down.
Put the dish in the oven.
In about one hour (when the skin was tender to the touch), Jon took the squash out of the oven. After letting it cool a little, he used a fork to scrape out the insides, which oh-so-easily came out in the form of spaghetti-like strands – soft, buttery, delicious!
Spaghetti Squash Recipes
Now for the really fun part.  In a nonstick pan on the stove, Jon whipped up his own sauce – a savory (and surprisingly healthy) blend of sautéed garlic and onions, plus crushed red pepper flakes, a quarter-teaspoon of Johnny's Garlic Seasoning (60 milligrams of sodium and 0 grams of fat) and halved cherry tomatoes.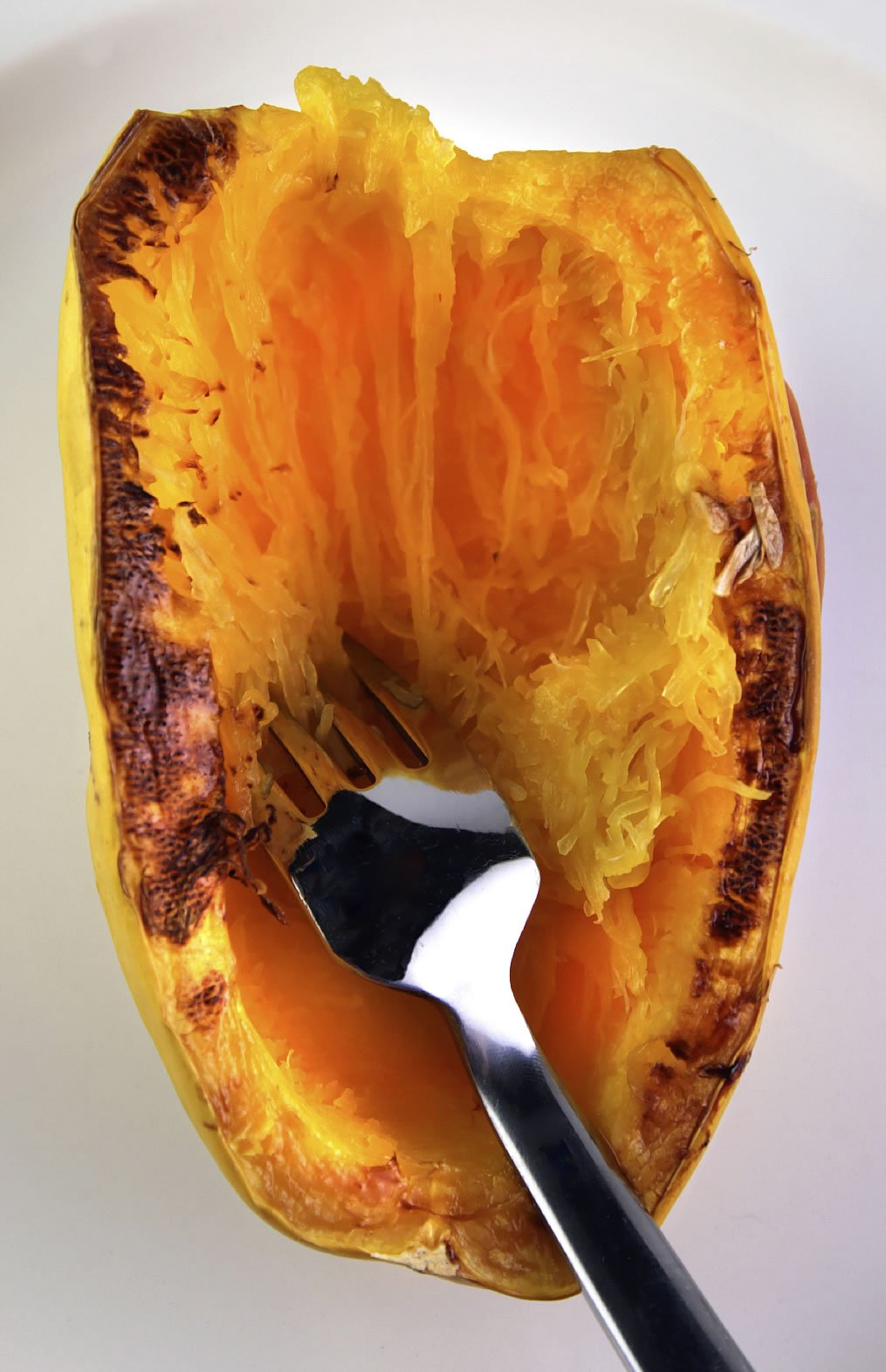 Dieter's Dream
Who knew?! We sat down to this fabulous dish of pretend pasta, great as an entrée (it's very filling) or a side dish. What's more, spaghetti squash is a real waist trimmer because it's low in calorie density. One whole cup, cooked, is just 43 calories. It's food that will definitely fill you up, but not out.
Plus, this winter vegetable is packed with nutrients, including potassium, folic acid, beta carotene, and vitamin A.
Quick Cooking
You can also microwave spaghetti squash. Like the baking method, cut your squash in half lengthwise and remove the seeds and guts. Then place squash, cut sides down, in a microwave dish. Cover with plastic wrap, leaving the wrap a little loose on the ends to let steam out. Cook on high for 7 to 12 minutes, depending on the size of the squash. Add more cooking time if necessary. Let stand, covered, for 5 minutes. With a fork, "comb" out the strands.
More Spaghetti Sauce Recipes and Foodie Tips
A well-known restaurateur in Los Angeles, Piero Selvaggio, once described pasta as "the blue jeans of food…with different toppings, you can wear it every day and never get tired of it." The same can be said of spaghetti squash. Here are Pritikin-style ideas, but don't stop here. Experiment! Create your own dishes.
Simple Stir Fry
Heat up a teaspoon of dark sesame oil in a large wok and toss in sliced mushrooms, diced zucchini, any other veggies you have on hand, a little grated fresh ginger, and a half teaspoon of chili garlic sauce (pick brands that have no more than 50 mg of sodium per half teaspoon). Cook until done. Add to your cooked spaghetti squash strands.
Middle Eastern Fun
Add to your cooked spaghetti squash the following: chickpeas, ground cumin, ground coriander, cayenne, garlic, and some freshly chopped cilantro or Italian parsley. Or top your squash with Chef Anthony Stewart's fabulous Curry Sauce.
Ratatouille
Spoon freshly made ratatouille over cooked spaghetti squash strands. Need a ratatouille recipe? Here's one from the book The Pritikin Principle: The Calorie Density Solution. It makes about four ½-cup servings. Each serving is just 67 calories.
2 cups diced eggplant
2/3 cup chopped red onion
1 teaspoon minced garlic
1 cup diced zucchini
1/3 cup red wine
2/3 cup diced tomatoes
1 tablespoon balsamic vinegar
½ teaspoon dried oregano
¼ teaspoon crushed red pepper flakes
1½ tablespoons chopped fresh basil
In a large nonstick skillet over medium heat, simmer the eggplant, red onion, garlic, and zucchini in the red wine, covered, for about 10 minutes, stirring frequently. Add the tomatoes, veggie juice, balsamic vinegar, oregano, pepper flakes, and basil. Mix well and simmer for 5 minutes, covered. Remove the lid and if the mixture is too liquidy, simmer for an additional 5 minutes, uncovered.
Go Southwestern
Make a southwestern spaghetti squash salad by combining cooked spaghetti squash strands (cooled) with a can of no-salt-added black beans, 2 cups of frozen no-salt-added white corn (thawed), two to three chopped tomatoes, a chopped green bell pepper, and a handful of chopped fresh cilantro. For dressing, combine 2 tablespoons lime juice, 2 teaspoons white balsamic vinegar, 2 teaspoons cumin, and freshly ground black pepper to taste. Ole!
Salmon and Squash
Bake your spaghetti squash halves, cut sides up, sprayed lightly with a little Pam and sprinkled with a little black pepper, paprika, onion powder, and garlic powder. Cook for about one hour at 350 degrees F (until the insides are tender).
After your halves are cooled a little, scrape out your noodle-like strands and serve as a side dish with Chef Anthony's award-winning Mustard Coated Salmon, or with any seafood, white poultry, or bison entree.


---