How To Cook Fava Beans
They are nutty. They are creamy. They are so delish they're addictive. Fresh fava beans are in season right now, so pick up a big bunch from your farmer's market. And get super-simple tips for how to cook fava beans right here.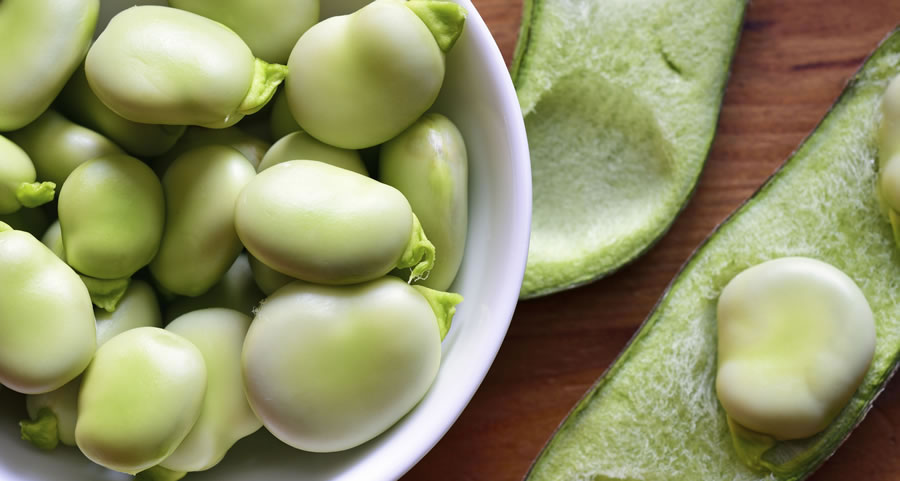 But you've got to act fast, because fava season is sweet but short. The beans, tucked in big floppy green pods, are generally only around in April, May, and June.
Farm-Fresh Fava Beans
Trying growing your own. Planting season for the Northeast and Midwest is right now – early spring. For warmer areas, it's fall and winter. They're so hardy they practically shoot up all by themselves. I know. Everything in my backyard vegetable garden here in Los Angeles withered up except the favas, and they took over! I could set up a farm stand with the bounty I've harvested.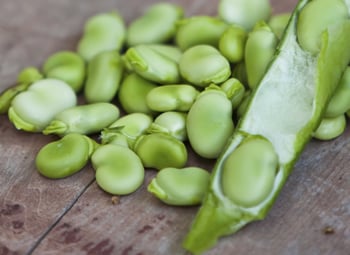 Fava beans are also nutritional giants. They're a superb source of fiber, folate, and low-fat protein, as well as copper, vitamin C, vitamin A, manganese, and potassium.
And favas, though as filling as nuts like cashews, are not dense with calories. A whole pound of cooked fava beans is 700 calories. A pound of cashews is 2600 calories, nearly four times the calorie density.
I can assure you, you won't need a pound of these rich bean babies to fill you up. One cup (187 calories) or even a half-cup is very, very satisfying.
What's more, fresh favas have just 18 milligrams of sodium per cup.
How To Cook Fava Beans
There's one downside to fresh favas. They can be a chore. The traditional way of cooking fava beans involves peeling open their big fuzzy pods, emptying out the four or five plump beans within, tossing all the beans in boiling water for a minute, plunging them into a bowl of ice water, and then peeling off the outer whitish skin of each bean to get to the shiny green bean within. Phew!
But who needs tradition?
We have really good news. You can actually skip the whole boiling-and-plunging-in-ice-water process by roasting your pods.
Whole Roasted Fava Beans
Simply pre-heat your oven to 450 degrees. Spread out your whole pods, single layer, on nonstick baking sheets. Put them in the oven for about 20 minutes, or until they're tender. You don't even need to turn them.
Got your barbecue out and ready to go? You can also grill whole fava pods. Place them single layer on the grill at about medium-high heat (any hotter and you risk having the pods char before the beans inside are fully cooked). Grill each side about 4 to 5 minutes. To test doneness, simply open up a pod and sample a steamed bean within.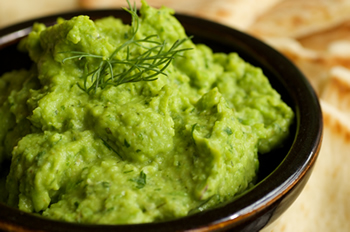 Party Food
Have fun with favas with dinner guests. Make them your party appetizers.
As your friends walk in, place your just-roasted pods in a big bowl in the middle of your kitchen table. Sitting around the table, your guests will laugh, make a mess, and bond as they rip open pods and enjoy the buttery little gems within.
(And yes, all you movie buffs, these are the very same beans relished, among other things, by Hannibal Lecter.)
Your guests can remove the outer skins of each bean, or not. The skins soften up nicely in the roasting oven, so they're edible, though many people prefer the pure sweet flavor of the inner bean alone.
And because it takes a little time to peel open each pod, and there are only a few beans in each one, calorie consumption just naturally slows down, which is a nice benefit for people (like me) who tend to overeat at appetizer time.

Get ready for oohs and ahhs. Smoky and sweet, meaty and tender, these beans sing all on their own. No sugar, salt, or any other gussying up needed.
Got any leftover favas after your guests leave? (We doubt it.) But in case you do, here are a few other simple but sensational suggestions for how to cook and enjoy fava beans.
Keep in mind that generally 2 pounds of pods yields 1 cup of beans.
Foodie Tips For Cooked Fava Beans
Salad Toppers

Toss a hefty handful of favas into a big green salad along with sliced onions, celery, and a little fresh mint.

Dips

Mash fava beans and combine with chopped shallots and a little water for a dip for fresh veggies like radishes and cucumbers. Season your dip with a bit of cumin and Italian parsley.

Tangy Side Dish

Make a lovely side dish for, say, salmon by combining fava beans with halved cherry tomatoes, chopped green onions, freshly ground black pepper, and a splash of your favorite vinegar. (I use a pomegranate-tangerine vinegar. Perfecto! Rich yet refreshing.)

Learn to cook fava beans the easy way with these foodie tips.

Sautéed Spinach

Enjoy spinach? In a large skillet over medium heat misted with a bit of oil spray, sauté 3 or 4 minced garlic cloves till fragrant, only about 1 minute. Then add a pinch of cayenne and stir in a bag of pre-washed ready-to-eat baby spinach. Flip around till wilted, about 1 minute. Toss in fava beans, and if you have some, a little lemon zest.

Pasta Primavera

Make a pasta primavera with several of spring's delights – not only fava beans but also asparagus, baby artichokes, and morel mushrooms. As you're tossing your cooked whole-wheat pasta with the roasted veggies, add Pritikin All-Purpose Seasoning and chopped fresh herbs like basil, Italian parsley, and/or mint.
Now that you know how to cook fava beans, get out in the gorgeous spring sunshine and get some. Favas truly are one of the very best things about spring.
Once you've sampled them, we're sure you'll be asking, "Where have you been all my life?"
Wellness Resort
Weight Loss Retreat