Day Eight | Bison: The Better Red Meat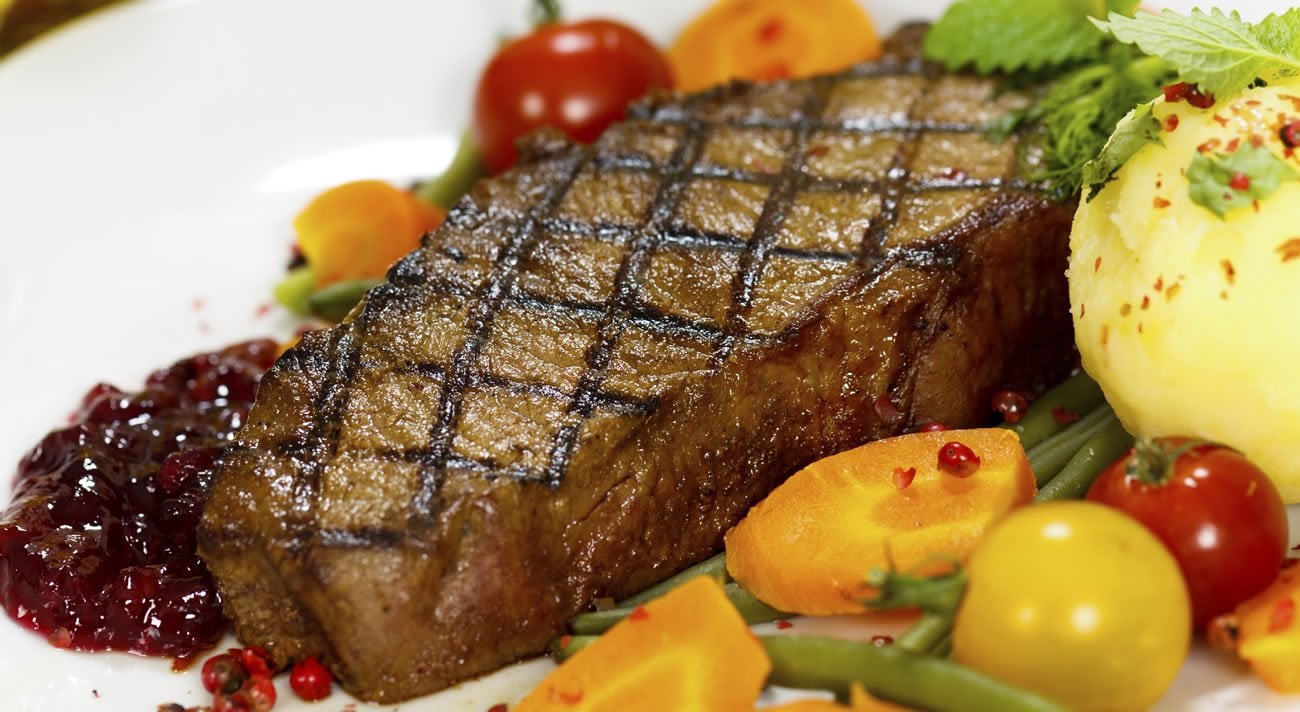 Breakfast
Shredded wheat or crisp brown rice cereal, no salt added, such as Erewhon, with 1 cup nonfat milk or soymilk and 1 cup fresh or frozen (and thawed) blackberries
1 cup tea or coffee with 1 tablespoon nonfat milk or soymilk and 1 packet of sugar substitute
Midmorning Snack
[sociallocker id="16433″]
2 cups fresh, pre-washed, pre-cut veggies such as baby carrots, broccoli florets, and cauliflower florets, with ½ cup pinto bean dip. To make bean dip, combine 1/3 cup no-salt-added canned pinto beans, 2 tablespoons chopped red onion, fresh cilantro leaves, and lime juice, to taste. Blend in a food processor.
Lunch
1 to 2 cups sautéed spinach. Pour a 6-ounce bag of pre-washed baby spinach in a hot wok sizzling with 1 teaspoon of peanut oil, 1 tablespoon of lemon juice, and minced garlic. Stir spinach till wilted.
1 big sweet potato. Use the microwavable, individually shrink-wrapped varieties or take a regular sweet potato and just pierce it with a fork and microwave it. Or, when you have more time, wrap a sweet potato in aluminum foil and bake in the oven at 400° F for 45 minutes, or until soft. To give it a tangy flavor, mash your sweet potato and mix with grated orange peel or cinnamon.
1 bunch of grapes
Midafternoon Snack
1 cup nonfat vanilla yogurt, no sugar added. A good brand is Dannon Light & Fit.
1 cup of fresh fruit.
Dinner
2 cups lettuce greens with 2 tablespoons creamy-style dressing. To make dressing, mix together 3 ounces of plain nonfat yogurt, ¼ cup fat-free sour cream, ¼ cup nonfat milk, 3 ounces of low-sodium ketchup, ¼ teaspoon dried oregano, and ¼ teaspoon granulated garlic. Yields about 1½ cups. Refrigerate.
Roasted Bison. Grass-fed, free-range wild game such as buffalo (bison), elk, and moose are low in saturated fat and are therefore better options than traditional red meat.
1 cup roasted potato spears and ½ corn on the cob with horseradish cream. To make cream, combine 1 tablespoon horseradish with 1 tablespoon fat-free sour cream or fat-free plain yogurt.
Optional: Garnish your dinner dish with cherry tomatoes stuffed with steamed broccoli blended with lemon juice, garlic, and fat-free sour cream.
Dessert
[/sociallocker]
Wellness Resort
Weight Loss Retreat