Beautiful Vegetables: Everything You Need to Know About Beets
Bright and colorful, the beet is packed with vitamins, nutrients and minerals. Get cooking with beets today!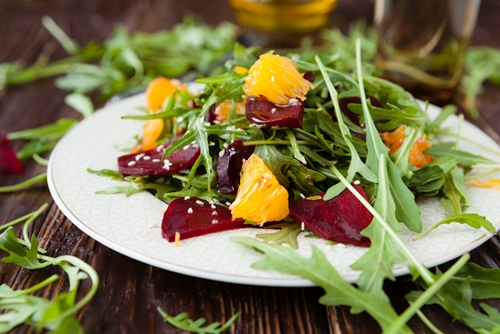 The beetroot may have made a recent comeback among foodies, culinary artists and health gurus, but our experts at Pritikin Longevity Center have always boasted about this immune-strengthening, antioxidant-rich root vegetable.
Beautifully colored and fun to cook with, this bright purple beet is a real treat to enjoy during the wintertime.
Health Benefits of Beets
Just like all vegetables, beetroots – known simply as beets – are low in calorie density, nutritious and filling, making them a great food to incorporate into your Pritikin Diet and Eating Plan. As our experts have explained, low-calorie-dense foods often have higher contents of fiber and water which will help you to feel full and satisfied with fewer calories. Beets contain numerous vitamins and minerals including vitamin C, manganese, potassium, iron and folate (vitamin B9).
"Beet juice has been found to improve athletic performance."
Beets have been found to lower blood pressure, fight inflammation and help with regularity thanks to the high fiber content. Rich in antioxidants, beets are also thought to help fight certain cancers as well as diabetes. The beet is also attributed to another unique health benefit. Researchers have found that beet juice can help to improve stamina and performance during physical activity. If you're feeling sluggish before your next workout, consider fueling up with a glass of beet juice.
How to Buy Beets
Beets are typically available year-round, though some will argue that the best time to buy is during the winter. This is when the smaller baby version of this deep purple or golden root vegetable is in season. These tinier beets are not only more tender, but have a naturally sweeter flavor as well. Some beets are even red, white or dark red-and-white-striped. Regardless of color, the skin of the beets should be free of any cuts or blemishes when you are purchasing.
Beets should be relatively heavy considering their size and firm to the touch. The roots should be sturdy as well and if you plan to cook with them rather than toss them, they should be a bright, lush shade of green.
How to Store Beets 
Before storing your fresh beets, it's important to remove the roots but leave a small section of the stem attached. Keeping part of the stem helps to retain the color of the beet as well its nutrients as you start to cook. The leaves of the beet should generally be used within two to three days though the beet itself has a shelf life closer to two to three weeks when stored properly. Place beets in plastic bags, unwashed, in your refrigerator.
How to Cook Beets 
Today, the culinary adventures you can take with beets go far beyond the canned version your grandmother used to serve at her house. One of the easiest ways to enjoy all that the beet has to offer is to shred or grate the purple veggie and spread it on top of your salad. Beets are great for juices and smoothies, as well as sandwich toppings and side dishes. Diced beets are a great addition to grain dishes such as quinoa, couscous or wheat berry. Beets can be roasted, steamed, boiled, baked or sautéed. Beets pair great with cheese, work well as slaws and taste delicious when glazed.
It's difficult to remove the skin of the beet before cooking, as it is very tough and raw. Once it begins to boil or bake however, the skin will peel off much easier. Once cooked, you can slice, dice, chop, cut, grate or blend beets however you'd like.
The Best Beet Recipes from Pritikin
Trying out these tasty and nutritious recipes is a great way to ensure you are getting the Pritikin-recommended five or more servings of vegetables each day. Eating recipes packed with a variety of vegetables is a great way to naturally consume fewer calories too!
Pickled Beets, Mache, Roasted Peppers & Belgian Endive Salad
Marinated with pickling spice and vinegar, pickled beets are rich and flavorful and help give this fresh salad some zing. The recipe serves four people.
Ingredients:
2 cups water
1/3 cup cider vinegar
1 tablespoon pickling spice, salt-free
4 cloves garlic, peeled
2 golden beets, peeled and sliced
4 bunches mache
1 1/3 cup red peppers
1 1/ green peppers
1 head Belgian endive
1/6 cup fat-free yogurt
1/3 cup fat-free sour cream
2/3 tablespoon horseradish
Dash ground black peppercorns
1/3 teaspoon Splenda
Directions
Bring water, vinegar, pickling spice and garlic to a boil in a medium saucepan over high heat.
Add beets and cook until tender.
Strain and reserve water and beets, discard garlic and pickling spice. 
Heat oven and roast red peppers on baking sheet until dark.
Once cooked, remove skins and seeds and slice.
Cut the roots of endive out and wash leaves.
On a plate or in a bowl, combine beets, endive leaves, red peppers and mache.
To make the dressing, combine yogurt, sour cream, horseradish, black peppercorn, Splenda and 1 cup of reserved cooking water from beets in a food processor or blender.
Blend until smooth and pour over salad. 
Serve chilled.
Beet and Potato Puree
Rather than eating an entire side of plain mashed white potatoes, opt for something not only more nutritious, but more wholesome and savory as well. Combining beets with potatoes is a great balance that packs even more flavor and zest.
Ingredients:
1 pound red beets, peeled and chopped
1/2 pound russet potatoes, peeled and chopped
1/2 medium onion, chopped
1 teaspoon garlic, chopped
1 pint water
Directions
In a large pot, bring water to a boil.
Combine all ingredients in cooking pot, reduce heat and simmer for about 20 minutes, until beets and potatoes are tender.
Drain and remove all water.
Blend all ingredients in a food processor or by hand with a whisk.
Spoon into large bowl for serving.
Wellness Resort
Weight Loss Retreat