Many people ask: "Why bother with diet? I can lower my cholesterol with pills alone."
Sure, drugs like statins can reduce cholesterol. But following a heart-healthy diet like the Pritikin Eating Plan, or adding Pritikin to statin meds, may lower your cholesterol even more. Down shoots LDL (bad) cholesterol as well as all forms of bad cholesterol, known as non-HDL.
In research1 on men and women who had reduced their cholesterol on average 20% via statins, adding the Pritikin Program of diet and exercise to their lives knocked down cholesterol an additional 19%, and in just three weeks.
Equally important, studies2 have shown that a healthy Pritikin lifestyle can help clean up virtually all the lifestyle-related problems that damage your arteries, not only cholesterol but also high blood glucose3, high triglycerides4, high levels of inflammation5, and high blood pressure6, and once again, in just two to three weeks.
That's right, for clean arteries through and through, a plan like Pritikin is the way to go.
Losing Weight
Here's another big plus about this meal plan to lower cholesterol. It will likely help you shed excess weight. That's critical for heart health because losing weight, in and of itself, has been found to decrease cholesterol levels.
You shed pounds on the Pritikin Program because it emphasizes regular exercise and an eating plan that does a great job of filling you up with food, but not calories. Hunger is never an issue. Or, as guests at the Pritikin Longevity Center often say, "I had no idea I could eat so much and lose weight at the same time." It's called low-calorie-density eating.
Best Meal Plan To Lower Cholesterol
This Pritikin menu plan for reducing cholesterol focuses on 4 key goals:
Goal #1 | Meal Plan To Lower Cholesterol
Maximize your intake of foods that lower blood cholesterol.
Foods proven to lower blood cholesterol are whole foods that are naturally rich in fiber, especially soluble fiber.
What Soluble Fiber Does
Soluble fiber forms a gel that helps bind cholesterol in the gut, preventing its re-absorption into the body. There's less cholesterol that ends up in the blood, which means lower cholesterol numbers for you.
Foods Especially Rich In Soluble Fiber Are:
Beans (also known as legumes) such as lentils, peas, kidney beans, lima beans, black beans, red beans, pinto beans, and so on
Yams (Sweet Potatoes)
Oats
Barley
Berries
Brussels Sprouts
Or, as our doctors and nutritionists at the Pritikin health resort like to abbreviate: "BYOBBB"
Repeat After Me. Beans. Beans. Beans.
Beans are soluble fiber superstars… all beans, from lentils to pintos.
Eating a cup of beans each day, such as kidney, navy, pinto, black, chickpeas, or butter beans, can lower cholesterol by as much as 10% in six weeks. A review7 of 26 studies recently found that one serving of beans per day was linked to lower levels of LDL cholesterol as well as healthier arteries, especially in men.
Beans are also very good for weight loss. They help people feel fuller and reduce food cravings, research8 has shown.
No Single Magic Bullet
"But as fabulous as beans are, don't think that lowering cholesterol is about one single superfood," cautions Kimberly Gomer, MS, RD, Director of Nutrition at the Pritikin Longevity Center. "What's best is adding many foods to your daily food plan that fight high cholesterol."
Portfolio Of Foods
Indeed, scientists have repeatedly found9 that a "portfolio" of various soluble-fiber-rich foods was incredibly successful in decreasing cholesterol – as effective, in fact, as statins.
In addition to BYOBBBs, other good sources of soluble fiber include: passion fruit, apples, pears, oranges, grapefruit, cantaloupe, bananas, cherries, dates, figs, grapes, pineapples, prunes, apricots, nectarines, asparagus, carrots, parsnips, spinach, squash, cabbage, string beans, kale, zucchini, turnips, broccoli, and flaxseeds.
"Essentially, you can't go wrong with fruits and vegetables," sums up registered dietitian Kimberly Gomer.
Fruits, Vegetables, Beans, Whole Grains
"And there's really no need to count up fiber grams. If you fill half of your plate with fruits and vegetables at every meal, as we teach at Pritikin, you're well on your way to getting enough. Add in whole grains like barley and brown rice and at least one serving every day of beans or bean-derived foods like tofu, and you're there!"
Goal #2 | Meal Plan To Lower Cholesterol
Minimize foods that raise blood cholesterol.
Eat far fewer (none is optimal):
Saturated-fat-rich foods such as butter, tropical oils like coconut oil, fatty meats, and dairy foods like cheese, cream, and whole/low-fat milk
Organ meats
Processed meats such as hot dogs, bacon, and bologna
Partially hydrogenated vegetable oils (also known as trans fats)
Cholesterol-rich foods like egg yolks.
Have you recently heard in the news that egg yolks are okay? "Don't believe it," cautions Dr. Jay Kenney, PhD, RD, FACN, Nutrition Research Specialist and Educator at Pritikin. "Egg yolks are not okay," as this review by faculty at Pritikin elucidates.
Goal #3 | Meal Plan To Lower Cholesterol
Most of the time, choose plant proteins such as beans and tofu over meat.
We all know that eating lean meat like skinless chicken breast is better for our hearts than fatty meats like prime rib. And certainly, lean meats like white poultry and game meat are part of the Pritikin Eating Plan.
But is your goal ratcheting down your blood cholesterol as much as you can? Are you trying to not only halt but reverse the build-up of plaque in your arteries?
If so, it's a good idea to choose plant proteins over meat most of the time. That's because leaner cuts of meat, including skinless white poultry, still contain some saturated fat and dietary cholesterol. For optimal cholesterol lowering, limit lean meat to no more than once weekly, and to a 3.5-ounce serving or less.
Plant Proteins
Plant proteins like beans and tofu are not only free of artery-clogging saturated fat and dietary cholesterol, they're also high in soluble fiber, which lowers blood cholesterol.
Fish
Another excellent choice is fish, particularly fish high in omega-3 fatty acids, such as salmon, sardines, herring, mackerel, and trout. Choose at least 2 times weekly. If you're using canned fish, such as canned sardines, select very-low-sodium or no-salt-added varieties.
Omega-3-rich foods generally do not lower LDL cholesterol levels, but they may reduce cardiovascular events by reducing blood clotting, lowering levels of inflammation, stabilizing heart rhythm, and/or lowering triglyceride levels.
Other types of fish do not contain as many omega 3s, but they're still good choices, preferable to land animal meat.
Goal #4 | Meal Plan To Lower Cholesterol
Cut down on SIS (Salt, Industrialized Foods, and Sugar)
Salt: Lowering your salt intake will not directly lower cholesterol, but it can help tremendously in keeping your blood pressure in check. That's important because high blood pressure is a major risk factor for heart attacks and strokes.
Industrialized Foods: Similarly, industrialized, processed foods, from white-flour muffins to potato chips, and highly sugared foods and drinks are not necessarily cholesterol-raisers. But they can damage our arteries in a myriad of other ways, such as raising triglyceride fats, blood glucose, and inflammatory levels, not to mention packing on the pounds.
Sugar: Many people don't realize that having type 2 diabetes, the all-too-common result of our highly processed American diet and sedentary lifestyle, dramatically increases the risk of a heart attack. What's more, the chance of dying from heart disease for people with diabetes is two to four times higher compared to those who do not have diabetes.
---
5-Day Meal Plan To Lower Cholesterol
Need ideas to get started on the best food plan for lowering cholesterol?
That's what this 5-day meal plan is all about. What's more, many of the tips and recipes are so simple that even noncooks will feel, "I can do this!"
Enjoy to your heart's content.
DAY 1
Breakfast
Oatmeal with Fresh Berries and Nonfat Milk or Soymilk

Oats are high in cholesterol-lowering soluble fiber. So are berries, all berries – blackberries, raspberries, strawberries, blueberries. How tasty!

Tea or Coffee, If Desired

If you'd like, add a little nonfat milk or soymilk and/or a packet of sugar substitute. Good, proven-to-be-safe choices are sucralose (Splenda) and stevia (many brands are available, such as Truvia and SweetLeaf)
Mid-Morning Snack (If you're hungry)
Baby Carrots and Broccoli with Greek Yogurt Dip

To make this dip, combine in a small mixing bowl ¾ cup plain nonfat Greek yogurt, 1 minced garlic clove, 2 tablespoons chives, 1 tablespoon lemon juice, and a few grinds of black pepper. Use leftovers as a creamy, tangy, totally healthy topping for your baked potato on Day 2.
Lunch
Sweet Potato with a Dollop of Dijon Mustard (Low-Sodium)

No time to bake a sweet potato? No worries! Microwave it. Simply pierce the skin 5 or 6 times. Then nuke for about 6 minutes, depending on the size of your sweet potato, rotating halfway through. It's done when the skin puffs to a crisp finish and is soft to the touch. The flesh should be sweet and pillowy.

Big Salad of Romaine Lettuce, Red Onions, and Cherry Tomatoes Tossed with Aged Balsamic Vinegar and Grilled Tofu Cubes
Mid-Afternoon Snack (If you're hungry)
Dinner
Big Salad of Baby Greens Tossed with Pritikin's Tuscan Sunshine Italian Dressing

Unlike many other salad dressings, Pritikin's dressings are genuinely low in added sodium, sugars, and fats, and bursting with flavor from savory ingredients like ginger, herbs, and mustards. They're developed by Pritikin's chefs right in the kitchen at the Pritikin Longevity Center. Order them online in the Pritikin Market.

Salmon with Sweet Chili Sauce

Garlic-Roasted Brussels Sprouts

Vegetables are great sources of soluble fiber, with Brussels sprouts topping the list. Use the leftovers as a wonderfully "meaty" addition to tomorrow afternoon's green salad.
Dessert (If you're hungry)
Vanilla Yogurt (Nonfat, No-Sugar-Added, 1 Cup) with Fresh Raspberries
DAY 2
Breakfast
Egg-White Omelet with Fresh Salsa and Chopped Green Onions

Even simpler than making an omelet: Cook your eggs in the microwave. Lightly spray the inside of a microwaveable bowl with oil spray like Pam. Scramble your egg whites in the bowl. Add veggies, black pepper, or no-salt-added seasoning like Pritikin All-Purpose Seasoning. Nuke, covered, for about 1 to 2 minutes, depending on the heat of your microwave.

Half of Cantaloupe Filled with Cottage Cheese (Fat-Free, Low-Sodium)

A good brand choice for fat-free, low-sodium cottage cheese is Friendship. There are also store brands.

Coffee or Tea, If Desired

If you'd like, add a little nonfat milk or soymilk and/or a packet of Splenda or stevia.
Mid-Morning Snack (If you're hungry)
Pear

Keep a big bowl full of fresh fruit – apples, bananas, pears, grapefruits, tangerines, grapes, and more – on your kitchen counter. Recent research10 found that people who have bowls of fruit on their kitchen counters weigh significantly less than people who do not.
Lunch
Big Salad of Baby Spinach and Roasted Brussels Sprouts (saved from last night's dinner)

"Homemade" Barley Soup for the NonCook

Yes, you can do this! In the freezer section of the grocery store, pick up a box of Tabatchnick Barley and Mushroom Soup – Low Sodium. While it's heating up on the stove, toss in ½ to 1 cup of sliced fresh mushrooms and ½ cup chopped celery. Ladle your soup into a bowl and top with freshly diced green onions, if desired. So gourmet! So easy!
Mid-Afternoon Snack (If you're hungry)
Big Handful of Grapes

Fresh fruit every day helps your heart, a large, 500,000-person study11 recently found. Those who ate fresh fruit every day had about one-third reduced risk of dying from a heart attack compared to those who rarely or never ate fruit.
Dinner
Meatless Burger Topped with Slices of Roasted Red Pepper

Veggie patties have only about half the calories of red meat patties, and 0 artery-clogging saturated fat. Good low-sodium, high-soluble-fiber choices are Engine 2 Pinto Habanero and Tuscan Kale White Bean, available at Whole Foods Markets.

Top your burger with slices of roasted red bell pepper. So smoky and savory! Roast 5 or 6 peppers at a time so that you can use them throughout the week on salads, in soups, or as a side dish.

Here's how: Preheat your broiler to high and roast your whole peppers under the broiler on an aluminum-wrapped tray for 15 to 20 minutes, turning every 5 minutes as their skins darken to black. Remove. Cool. Then remove skins, stems, and seeds, and slice. Refrigerate leftovers.

Baked Potato with the Greek Yogurt Dip Saved from Yesterday's Mid-Morning Snack

Or top your baked potato with nonfat sour cream and chives.
Dessert (If you're hungry)
DAY 3
Breakfast
Homemade Muesli

Grate 1 apple or pear. Mix with ¼ cup of dry rolled oats and ½ cup of nonfat, plain Greek yogurt. Allow to stand for 15 minutes or refrigerate overnight. Stir in a packet of Splenda or stevia, and top with a tablespoon of flaxseeds.

Coffee or Tea, If Desired

If you'd like, add a little nonfat milk or soymilk and/or a packet of Splenda or stevia.
Mid-Morning Snack (If you're hungry)
Navel Orange or 2 to 3 Tangerines
Lunch
Asian Edamame Salad

This salad is "heavy" enough to serve as a one-dish meal. It also packs some nice tang, nuttiness, and crunch. You can often find edamame (soybeans) in both the refrigerated and frozen sections of supermarkets.

For the dressing, whisk together a tablespoon of rice vinegar, a pinch of wasabi, and a teaspoon of freshly grated ginger. Toss with ¾ cup edamame, ¼ chopped cucumber, ¼ cup chopped celery, and a handful of sliced radishes.

Steamed Asparagus
Mid-Afternoon Snack (If you're hungry)
Corn on the Cob

Microwave, husk and all, for 3 to 5 minutes. Alternatively, microwave a husked ear of corn by wetting a paper towel and wringing it out. Wrap the ear in the moist towel and cook for 3 to 5 minutes.
Dinner
Trout Fillets with Mango Salsa

Serves 2.
Season two 4-ounce trout fillets with Pritikin Fish Seasoning or other salt-free seasonings, such as lemon pepper. Place in a 350-degree oven and bake till meat is opaque and flakes easily with a fork, about 20 minutes.

Top with Mango Salsa. What flavor! To make it, combine 2 cups chopped mango, 1 cup chopped cucumber, 1 cup halved cherry tomatoes, ¼ cup finely chopped cilantro leaves, 2 tablespoons of lime juice, and half of a very finely diced jalapeno, seeds removed.  Leftovers make superb toppings for veggie burgers or other fish, such as salmon and tilapia.

Big Salad with Kale and Sliced Apple, Tossed with Pritikin's Heavenly Horseradish Balsamic

Order Heavenly Horseradish Balsamic in the online Pritikin Market.

Super-Simple White Bean Soup

Lightly mist a heavy nonstick pot with oil spray. Over high heat, sauté a half-pound of diced carrots till they start to brown, stirring constantly. Add 4 cloves of minced garlic, a teaspoon of salt-free Italian seasoning, and a pinch of red pepper flakes (more if you like it hotter). Stir for another minute. Add a 15-ounce can of no-salt-added diced tomatoes and 1-1/2 cups of water. Simmer till carrots are tender, about 10 minutes. Stir in a 15-ounce can of white beans (no salt added) and heat through. Finish with black pepper. Refrigerate or freeze leftovers.
Dessert (If you're hungry)
Chocolate Nonfat Frozen Yogurt (1/2 cup)

A good brand choice is Stonyfield Nonfat After Dark Chocolate. Do keep your serving to a half cup. Any more and you're swallowing a lot of added sugar.
DAY 4
Breakfast
Tofu Scramble

The night before, press 4 to 6 ounces of extra-firm tofu to drain water. In a small bowl, combine a little balsamic vinegar, dry oregano, and minced garlic. Pour over tofu. Marinate overnight. Come morning, sauté sliced onions and green bell pepper in a nonstick skillet until softened. Add tofu, crumbling it into bite-sized pieces. Cook till slightly browned, about 5 minutes.

1/2 Whole-Grain Bagel, Toasted

Top with nonfat ricotta cheese and sliced strawberries

Coffee or Tea, If Desired

If you'd like, add a little nonfat milk or soymilk and/or a packet of Splenda or stevia.
Mid-Morning Snack (If you're hungry)
Lunch
Toasted Barley Salad with Mixed Veggies

Dry-toasting barley adds a nutty taste and helps the barley retain its chewy texture.

Place ½ cup of pearl barley in a heavy, large saucepan. Cook over medium heat until pale golden, shaking pan occasionally, about 10 minutes. Add 1-1/2 cups of low-sodium vegetable broth to pan. Bring to boil. Reduce heat to medium-low. Cover and simmer till barley is tender and broth is absorbed, about 35 minutes. Uncover. Let barley cool.

Toss cooked barley with romaine lettuce, sweet onions, fresh mushrooms, and red bell pepper, all chopped. Mix in a zesty dressing that's low in fat, sugar, and sodium, such as Pritikin's Tangy Mustard Dressing.

Vanilla Yogurt (Nonfat, No-Sugar-Added, 1 Cup) with Fresh Blueberries
Mid-Afternoon Snack (If you're hungry)
Celery Sticks with Pineapple Hummus Dip
Dinner
Black Bean Soft Tacos

Light mist with oil spray a small, nonstick pan. Saute 1 diced onion until soft, about 3 minutes. Stir in a teaspoon of minced garlic and a teaspoon of chili powder. Add one 15-ounce can of no-salt-added black beans, including liquid. Simmer for 5 minutes. Spoon about a third of your beans into 2 warm corn tortillas. Top with shredded cabbage and fresh lime juice. Save remaining beans as a delish addition to your next green salad.

Roasted Red Peppers and Browned Onions

Use the extra peppers you roasted on Day 2 and combine with a big, sliced onion that you've sautéed on the stove. Season with black pepper and garlic powder.
Dessert (If you're hungry)
Watermelon Cooler

Combine 2 cups of chopped watermelon, 1 cup of crushed ice, ½ cup of chopped cucumber, a few fresh mint leaves, and 1 tablespoon of fresh lime juice in a blender. Blend till smooth.
DAY 5
Breakfast
Oatmeal with Fresh Berries and Nonfat Milk or Soymilk

Whatever type of oatmeal you buy, always read the Ingredient List to make sure there is no added sugar or sodium. Instant oatmeal (especially single-serving packets) are often high in added sugars and sodium.

Coffee or Tea, If Desired

If you'd like, add a little nonfat milk or soymilk and/or a packet of Splenda or stevia.
Mid-Morning Snack (If you're hungry)
Salad in a Second

At the market, pick up bags of pre-washed, pre-cut salad greens and veggies. When hunger hits, just pour the whole bag into a big bowl and toss with really good aged balsamic vinegar or a savory dressing low in fat, sugar, and salt, such as Pritikin's Outrageous Asian Dressing.
Lunch
So-Easy Veggie and Red Bean Soup

At the market, buy a bag of Mann's Power Blend Veggies. It's 10 ounces of shredded, ready-to-use veggies full of cholesterol-reducing soluble fiber, such as Brussels sprouts, Napa cabbage, broccoli, carrots, and kale. Pour the whole bag into a stockpot along with a can of red beans (no salt added), 1 to 1.5 quarts of low-sodium vegetable broth, minced garlic, and 2 teaspoons of salt-free seasoning like Pritikin's All-Purpose Seasoning. Bring to a boil, then simmer for about 20 minutes. That's it! Delicious homemade soup.

Can't find Mann's? Your supermarket may carry its own brand of assorted, shredded veggies. One good choice is Trader Joe's Cruciferous Crunch (Brussels sprouts, kale, broccoli, and cabbage varieties).

Brown Rice

Don't want to spend 40 minutes cooking brown rice? You don't have to anymore. Many stores carry freshly cooked brown rice (usually in the deli section) or single-serving bowls in the rice/pasta section that need just 60 to 90 minutes in a microwave. Just make sure you're getting pure rice (no sodium or other ingredients in the Ingredient List).
Mid-Afternoon Snack (If you're hungry)
Baked Sweet Potato with Nonfat, Plain Greek Yogurt Swirled In
Dinner
Pritikin Caesar Salad

Vegetarian Chili
Dessert (If you're hungry)
Cup of Fresh Pineapple with 2 Tablespoons Thinly Sliced Fresh Basil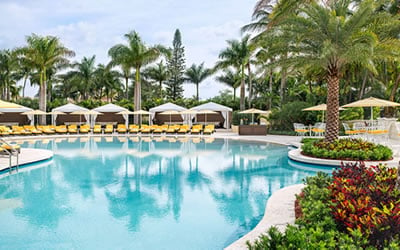 Health Resort
Take life to the next level, and be all that you can be. That's what a vacation at Pritikin is all about. Live better. Look better. Best of all, feel better.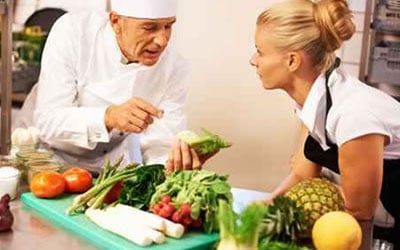 All-Inclusive Program
Since 1975, 100,000+ people have come to Pritikin. We are the longest-running, most scientifically documented health resort in America.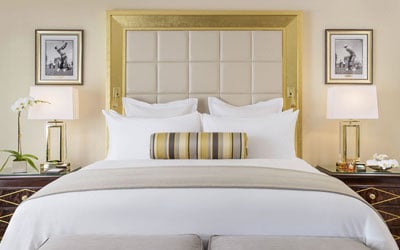 Rooms and Suites
Our newly renovated guest rooms at the health resort are spacious, serene, and amenity-rich. Each has a gorgeous garden view.
Sources
Wellness Resort
Weight Loss Retreat