Is Greek Yogurt Healthy?
Move over, omega 3s. The new darling of health food culture is Greek yogurt. So the food industry is rolling out tons of Greek yogurt mash-ups – dips, desserts, cereals, and more. Are they healthy? Free of ugly things like saturated fat? Find out.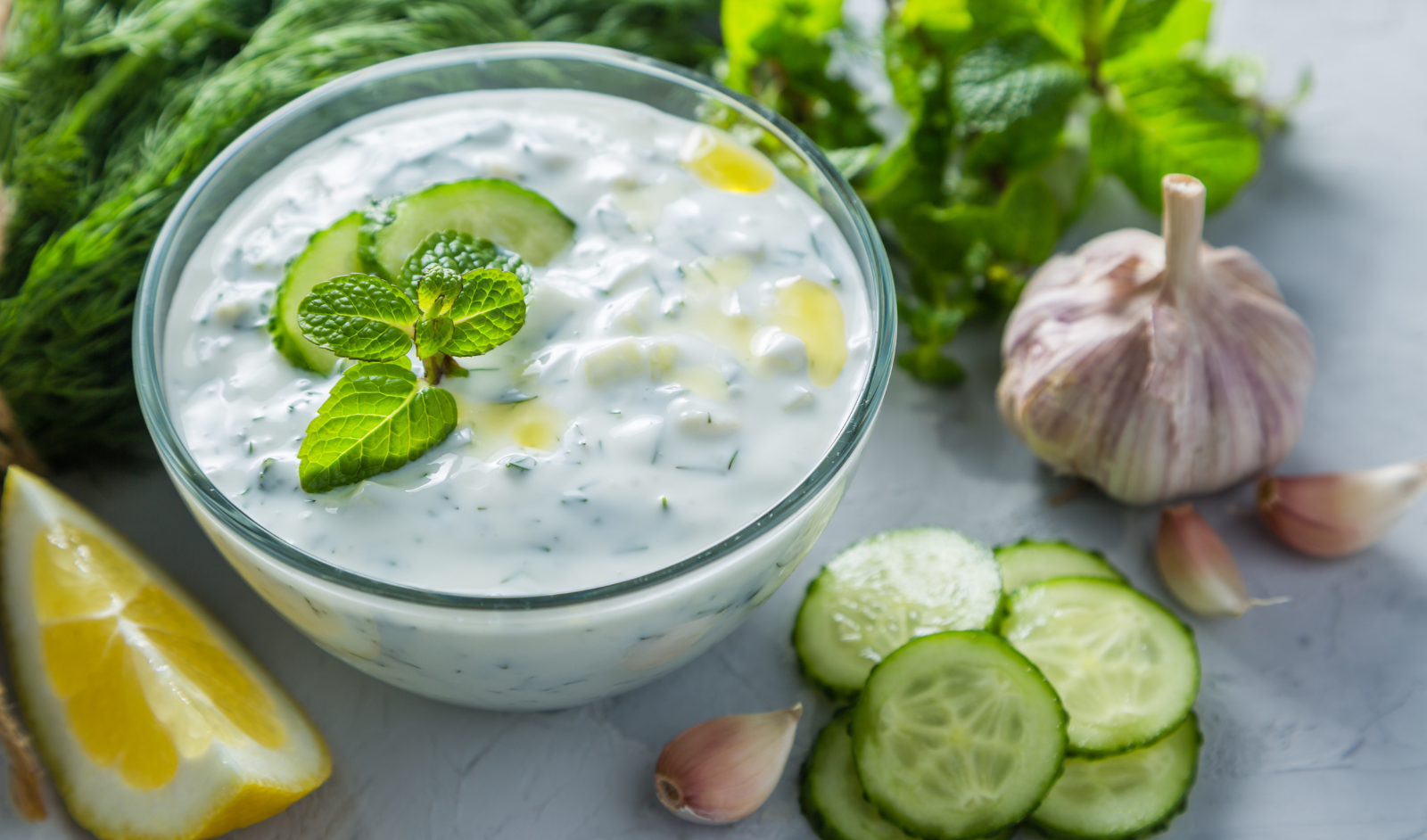 Is Greek yogurt healthy?
Nonfat plain Greek yogurt is. It has 0 total fat and 0 saturated fat, yet it's so thick and creamy you'd swear you're spooning out sour cream. In cooking school, our chefs demonstrate how to whip up all kinds of lusciously rich delights using nonfat plain Greek yogurt, from salad dressings to soups to yummy desserts like Banana Ginger Parfait.
Our registered dietitians give nonfat plain Greek yogurt a big thumbs up because it's not only fat free, it has no added sugars. Plus, it's low in calorie density and sodium, and high in protein, calcium, potassium, and other healthful things.
Another excellent choice is nonfat Greek yogurt flavored with real fruit or vanilla, but with no added sugar. A safe no-calorie sweetener is sucralose (Splenda).
Greek yogurts that sound healthy…
But lately, as Greek yogurt has emerged as the new health darling of trendy foods, the food industry has rushed in, as it often does, and manufactured products that aren't so healthy anymore.
Check out what's really in some of the new hyper processed Greek yogurt products now appearing on supermarket shelves.
Otria® Caramelized Onion Greek Yogurt Veggie Dip
Sounds healthy, right? Onions, veggies, Greek yogurt. But let's turn this 8.75-oz tub around and check out the Ingredient List.
The first ingredient is in fact Greek yogurt, but the second ingredient this yogurt is made of is cream. As our dietitians point out in their education workshops, you've got to be extra mindful of ingredients that show up near the top of the Ingredient List because they're the ones showing up the most in the product itself.
And, of course, none of us needs more saturated-fat-rich cream showing up in our arteries.
But that's exactly what you'd get in this Greek yogurt dip. Its Nutrition Facts label shows that for every 2-tablespoon serving (yep, that's just one small dollop for many of us), you're taking in 1.5 grams of artery-clogging saturated fat.
And that's only the beginning. This tiny 2-tablespoon serving also packs in 60 calories (45 of which are pure fat), egg yolks, beef fat, 180 mg of sodium, and, amazingly, just 2 grams of protein. What happened to all the protein-rich goodness of Greek yogurt? Looks as if it were replaced by saturated fat, salt, and cholesterol in this product.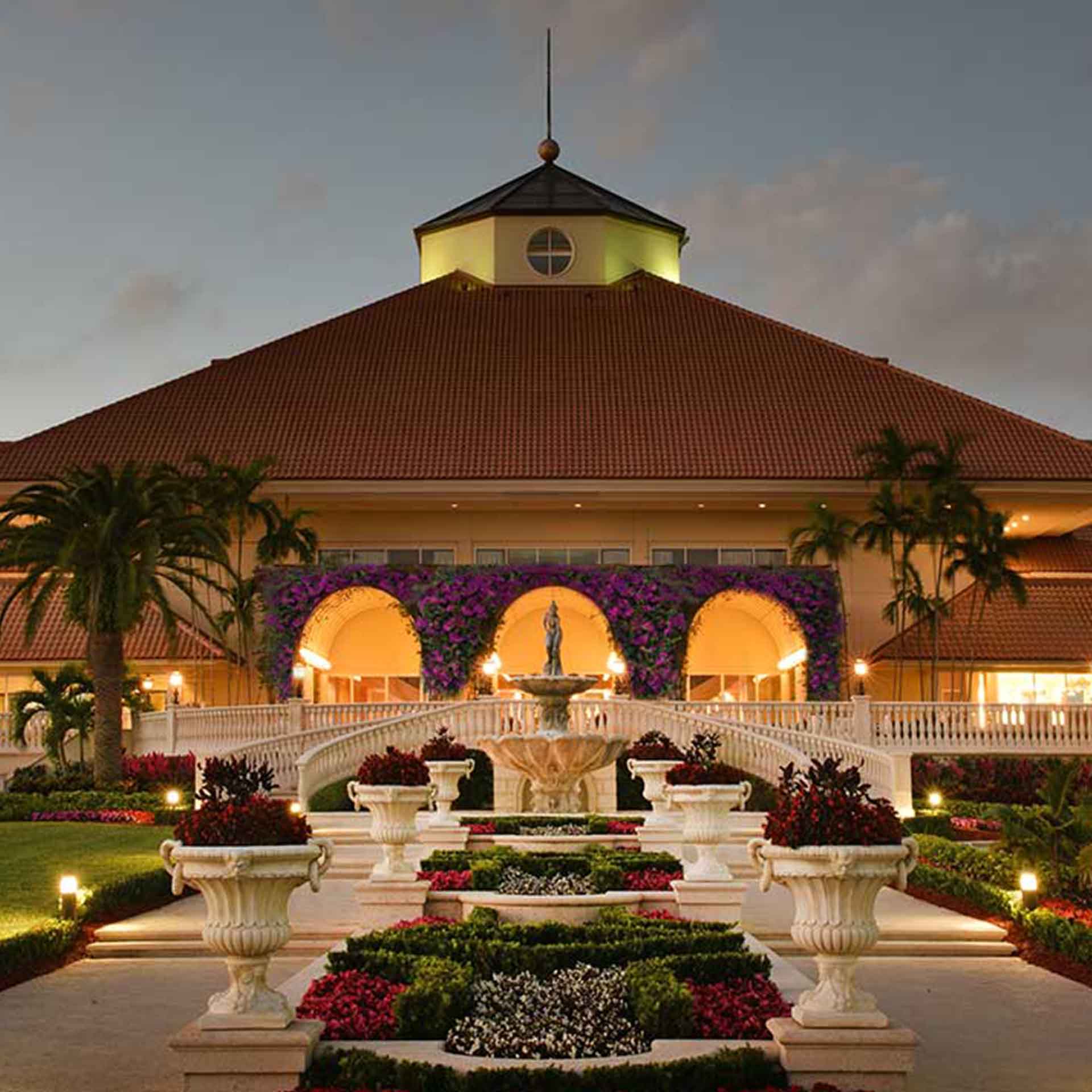 Learn More About Pritikin
Popular cereal brand with honey oats and greek honey added
On the outside of this cereal box is the claim "made with real Greek yogurt," but the Ingredient List tells us that within is just about everything but Greek yogurt, including saturated-fat-rich palm oil and palm kernel oil as well as bunches of added sugars like corn syrup, honey, and yes, plain old white sugar.
And the Greek yogurt in this cereal isn't really Greek yogurt. It's Greek yogurt powder, and just a pinch. What's more, it's been heat treated, which means the active yogurt cultures are killed.
And the protein bounty of natural Greek yogurt? Forget about it in this cereal. One cup gets you just 5 grams of protein, and most of that protein comes not from the Greek yogurt but from whey, milk protein isolate, and nonfat dry milk solids.
For a delicious and naturally protein-packed breakfast, enjoy a simple cup of nonfat plain Greek yogurt, which has about 15 to 20 grams of protein, topped with sweet fresh berries or other season-fresh fruit.
Your weight will benefit, too. As our Pritikin dietitians point out, the more you stay away from fatty and/or dry foods (such as dried cereals), the quicker and more easily you'll reach your weight-loss goals.
A cup of honey oats cereal with nonfat milk tallies up 270 calories. A cup of plain nonfat Greek yogurt with fresh fruit is only about 150 calories. A deficit of 120 calories each day may not seem like much, but over the course of a year it could easily add up to a 12-pound deficit on you.
Greek frozen yogurt mini cups of ice cream
This ice cream brand has the right idea for us (but unfortunately, not for the environment) by selling single-serving mini-cups of its desserts because we're more likely to stop at one serving.
But, oh, what this ice cream brand can pack into each little 3½-ounce mini-cup of Greek Frozen Yogurt. Who knew such a tiny so-called "healthy" dessert could ratchet up 3½ grams of heart-damaging saturated fat, not to mention 200 calories, plus other unhealthy things like egg yolks, salt, cream, and sugar?
Whoops! If we're polishing off one of these mini-size cups every night, we'll likely be maxi-size by summer's end.
Bottom Line:
Be extra cautious about food products boasting that they're "made with Greek yogurt." Many are also made with saturated fat, other fats, salt, sugar, and/or refined flours.
That's, unfortunately, what the food industry tends to do. Foods that start out genuinely healthy end up, after all the processing and additions, as foods that are fattening and unhealthy. Remember potato chips made with oat bran? Or egg yolks with omega 3s added? Now, food marketers and producers are hoping to cash in on Greek yogurt's aura.
To get Greek yogurt's full goodness – without the mega-processing that can bust both heart and waistline – it's best to stick with Greek yogurt, plain and simple. No industrialized dips, desserts, cereals, energy bars, etc. Just plain old yogurt.
And when buying Greek yogurt (or any food product, for that matter), always turn the product around and read the Nutrition Facts Label, and Ingredient List.
On the Nutrition Facts Label, look for yogurts that have 0 total fat and 0 saturated fat.
In the Ingredient List, steer clear of any form of added sugar. And keep in mind that "sugar" has many names, such as corn syrup, sorghum, rice syrup, maple syrup, molasses, honey, malted barley, barley malt, or any term that ends in "ol," such as sorbitol or maltitol, or "ose," such as dextrose, glucose, or fructose.
If you see no sugar in the Ingredient List, but you do see sugar (in grams) in the Nutrition Facts label, that's okay. The sugar in the Nutrition Facts label is sugar that is naturally occurring in the yogurt itself, just as fruit and other healthy whole foods have naturally occurring sugar.
When purchasing nonfat fruit-flavored yogurts, be especially careful that no sugar is showing up in the Ingredient List.
If the yogurt has been sweetened with calorie-free sucralose (Spenda), that's fine. Sucralose has been widely tested over the last two decades as safe in dozens of studies on both humans and animals that have been published in peer-reviewed journals
A recent article in the Nutrition Action newsletter by the Center for Science in the Public Interest reported on a mice study from Italy which suggested that mice fed sucralose had increased risk of leukemia, "but this particular study is unconvincing," states Kara Burnstine, RD & Diabetes Educator at the Pritikin Longevity Center.
"First of all, it isn't even published, and may never be. Secondly, it was done on mice, and they were given very high doses of sucralose, so it is hard for me to get too excited about this particular study."
Greek yogurt, plain and simple
We do recommend you get excited about Greek yogurt – varieties that are nonfat and plain, or nonfat and flavored with fruit, not sugar.
Keep it lean and clean (no saturated fat, sugar, salt, and other additives), and you'll stay lean and clean, too.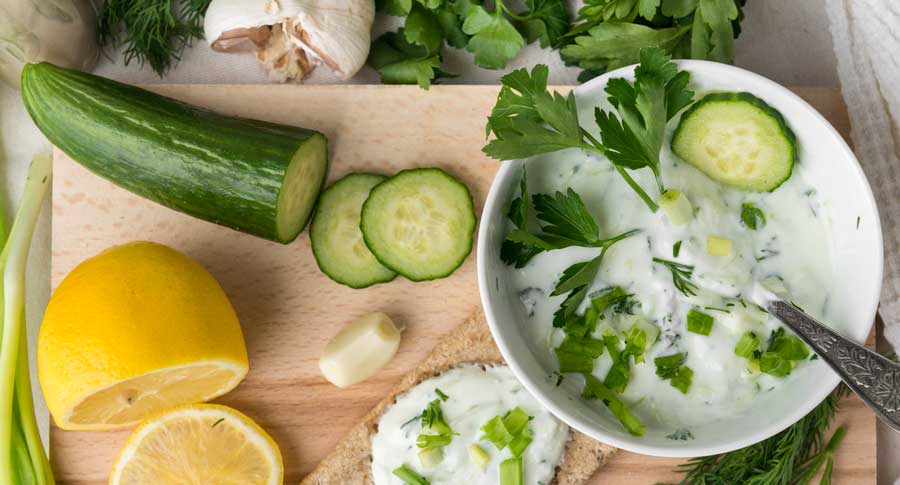 Print
Cucumber Yogurt Dill Sauce
This creamy cucumber and dill sauce is ideal for fish. The lemons give it a burst of added flavor.
Materials
1

cup

yogurt (fat-free plain Greek)

1/2

cup

sour cream, fat free

1

cucumber

peeled & de-seeded

1

teaspoon

garlic

minced

1/2

teaspoon

black peppercorns

ground to taste

4

lemons

juiced

1

teaspoon

fresh dill

finely chopped (or to taste)
Instructions
Mix all ingredients in a blender or cuisenart until well pureed & smooth.

Garnish with fresh herbs like dill or parsley.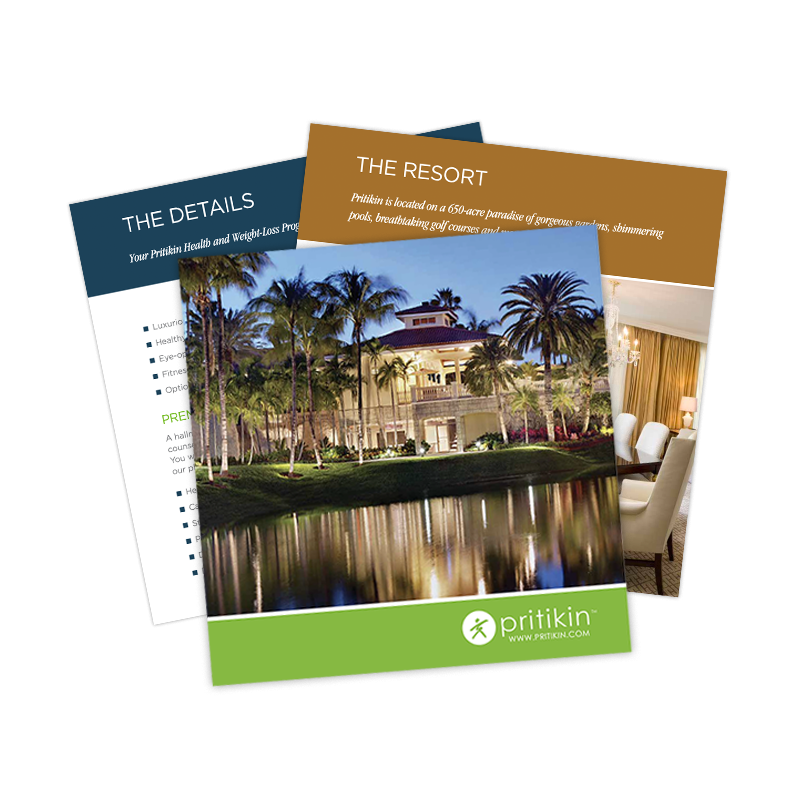 Get All the Details of a Stay at the Pritikin Center in Your Inbox