Healthy Salad Dressing Recipes
Did you know that many salad dressings have more calories than a cheeseburger? Here are 3 great alternatives from our talented Pritikin chefs – healthy salad dressing recipes that sing with flavor (and will have you singing when you get on the bathroom scale).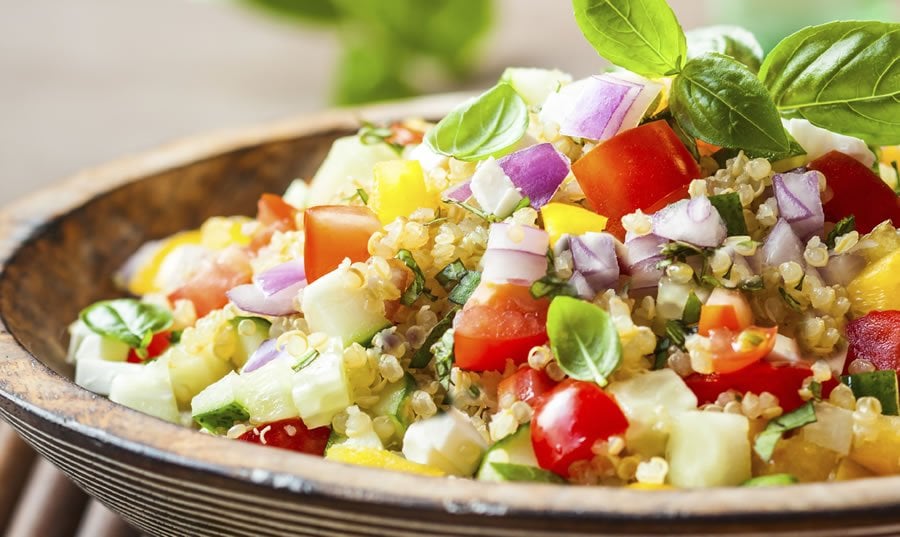 Summer's a great time for sensational salads.
Summer-fresh tomatoes and lettuces are wonderful, but think beyond typical salad fare and toss into your bowl flavor-bursting seasonal delights like: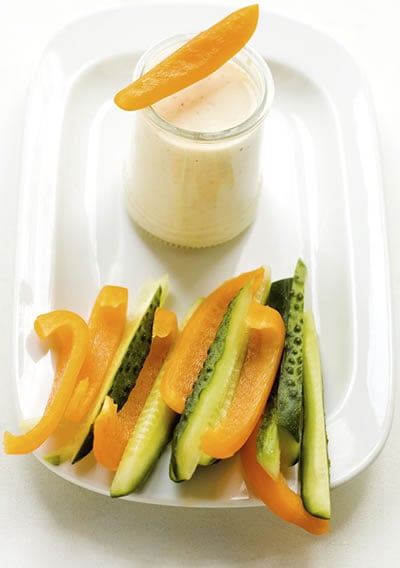 Summer fruits – nectarines, peaches, melons, and more
Freshly grilled corn shucked from the cob
Fresh herbs like basil and cilantro
Sweet onions (sauté them a few minutes for even sweeter richness in your salad)
Hot-off-the-grill veggies like zucchini, asparagus, and red bell peppers
They're all delish! Plus, they're low in calorie density and packed with nutritional riches.
Just be careful not to ruin the healthfulness of your salad with fatty dressings. Pour a hefty serving of many store-bought dressings onto your salad and you might as well be topping your salad with a cheeseburger.
Think we're exaggerating? Keep reading.
Healthy Salad Dressing Recipes
In this article, we'll also show you superb alternatives created by our talented chefs at the Pritikin Longevity Center – healthy salad dressing recipes that are packed with flavor rather than fat.
---
Caesar Salad Dressing
Newman's Own® Caesar Dressing
The Nutrition Facts label of Newman's Own Caesar Dressing doesn't look too terrible. Calories per serving are 150, but look closer and you'll realize it's a small serving – just 2 tablespoons.
Let's be real. Most of us pour out double or triple that amount, and that's certainly what restaurant chefs do. When you ask for dressing on the side, what's delivered is not 2 tablespoons. It's often half a cup, which is 8 tablespoons.
So with Newman's Own Caesar Dressing, many of us are tipping the bottle and getting at least 4 tablespoons, or 300 calories. That's the caloric equivalent of a cheeseburger at McDonald's. Add just 2 more tablespoons (easy to do when pouring) and you're up to a double cheeseburger. What a quick way to double up in weight!
Get loads of Caesar dressing flavor for less than one-tenth the calories of Newman's Own with Pritikin Caesar Dressing. You heard us right. A 2-tablespoon serving of Pritikin Caesar Dressing is just 10 calories.
---
Pritikin Caesar Dressing
Makes 12 servings
2 tablespoons per serving
1 tablespoon cider vinegar (or any white vinegar)
12 ounces silken tofu
¼ cup lemon juice, freshly squeezed
1 – 2 tablespoons garlic, chopped
1 tablespoon shallots, chopped
1 tablespoon no-salt-added stone ground mustard
½ teaspoon dried oregano (optional)
½ teaspoon orange juice concentrate, undiluted
¼ to ½ teaspoon lemon zest
2 tablespoons water
Place all ingredients in blender container.
Blend until smooth and creamy. Store in refrigerator.
Tip: Add a pinch of curry powder to create Curry Caesar Dressing.
Thousand Island Dressing
Marie's® Thousand Island Dressing
Ready-made salad dressings aren't just dangerous for your waistline. They can do awful things to your heart as well.
Just 2 tablespoons of Marie's Thousand Island Dressing packs in 2.5 grams of artery-clogging saturated fat. Coat your salad with 4 tablespoons, and you're coating your arteries with more saturated fat than a slice of Pizza Hut pepperoni pizza. Ouch!
Here's a tasty Thousand Island-style dressing from our clever Pritikin chefs that has 0 saturated fat, 0 total fat, and less than 15% the calories of regular Thousand Island dressings. Marie's clocks in at 150 calories per serving; Pritikin is 20 calories. What a gift for your health and weight!
---
Pritikin Thousand Island Dressing
Makes 16 Servings
2 tablespoons per serving
¾ cup plain fat-free Greek yogurt
½ cup fat-free sour cream
¾ cup low-sugar, low-sodium ketchup (Good choices are Heinz® No Salt Ketchup, Hunt's® No-Salt-Added Ketchup, and Westbrae® Unsweetened UnKetchup)
½ teaspoon dried oregano
½ teaspoon garlic powder
Place all ingredients in a blender container.
Blend until smooth and creamy. Store in refrigerator for about 4 days, depending on the expiration dates of your dairy ingredients.
---
Italian Dressing
Wishbone® Light Italian Dressing
Certainly, food companies know we're concerned about the healthfulness of salad dressings. That's why supermarket shelves are full of reduced-fat and fat-free varieties.
But once again, we've got to be careful. Often, the fat in these reduced-fat products has been replaced by other ingredients, like sugars and salt, which also sabotage our health.
Wishbone Light Italian Dressing, for example, may only have 35 calories per 2-tablespoon serving, but it tallies up 340 milligrams of sodium. That's right, a mere 2 tablespoons of this dressing has nearly one-quarter the sodium most of us should have for the entire day.
Pour out 4 tablespoons and you're up to 680 milligrams of sodium. That's how much sodium is in 2 large bags of McDonald's French Fries. Yes, 2!
For a dressing that's big on zest but light in sodium, sugar, fat and calories, try our Pritikin Horseradish Balsamic Dressing.
"I just want to pour from a bottle!"
Time-strapped? Tired? Hey, a little lazy? That's okay! A no-prep salad dressing that many of our guests at Pritikin love is Tuscan Sunshine Italian Dressing. The flavor is so lush and intense that no oil is needed, or missed.
Truly Healthy Salad Dressings
Eating big salads full of low-calorie-dense foods like veggies and fruit can't be beat for overall health and weight control. Topping them with Pritikin healthy salad dressings is great insurance that our salads stay healthy and slimming.
Outrageous Asian Dressing
Savor this piquant dressing and marinade. It will have you dreaming of Asia. Great tasting, and guilt-free!
Heavenly Horseradish Balsamic
Kick your taste buds into high gear with this sharp and spicy dressing.
Tangy Mustard Dressing
Enjoy this sweet and tangy dressing while avoiding thee high fat, salt and calroies fround in so many others.
Wellness Resort
Weight Loss Retreat