Ron Holley pre-Pritikin: 260 pounds, size 44 waist. (This photo was taken on the day Ron flew to Pritikin.) Watch this video and learn how Ron returned got back to his high school weight.
No more belly fat
"A year ago, I had a huge stomach, and I remember thinking that there's no way I'll ever get rid of it. It's solid. Well, it's gone now," he says, in awe. "It's disappeared.""It's hard for me to believe that I did it. But just one day at a time, over the course of six months, and it happened."
Equally pleased is Ron's wife, Natasha, a cardiologist with a PhD in heart failure. (Natasha is in the photo at top, walking on the beach with Ron.)
And sure, Natasha had done her best over the years to convince her husband to clean up his act. "Believe me, I was preached to," laughs Ron.

"Natasha loves to cook. She made fabulous heart-healthy meals. But I travel a lot – I'm one of those million-miler guys. Unfortunately, away from home, I ate all kinds of junk. Heck, I couldn't even stop off to get gasoline without wandering into the mini-mart to pick up coke and chips."
At restaurants, he'd order "big fatty steaks" like rib eyes and porterhouses. And salty food often wasn't salty enough. "I'd add more salt with the salt shaker."
And regularly, Ron pulled into drive-thrus for a burger and a milk shake between meals. "I was a fast food junkie."
Borderline diabetes
But all that changed last year, thanks to a wake-up call in the doctor's office. Ron was told he was on the verge of needing medication for diabetes. "My sugar levels were right at that point."
Thanks to good friends, especially Pritikin alum Nancy Strother of Santa Rosa Beach, Florida, Ron boarded a plane for the Pritikin Longevity Center in Florida.
Another key supporter was Nancy's spouse Barron, Ron's real estate partner for 20 years "and a guy," notes Ron, admiringly, "who has always worked out and kept himself in great shape."
On the plane ride to Pritikin, "I had my 'last supper' of non-Pritikin food," Ron jokes.
He didn't dwell on that last supper for long, though, because just days into his two-week stay at Pritikin, "the light switch went on."
"I went to just about every lecture," recalls Ron, "and what the educators said, well, it all made sense. It fit together. And they were so passionate."
That passion wore off in a very big way on Ron.
Before going to Pritikin, he was not only on the verge of diabetes, he had fatty liver. He was also taking high-dose pills for high cholesterol, high triglycerides, and high blood pressure.
Cutting out pills
Today, he's completely off his cholesterol and triglyceride drugs, and down to the minimum dosage for blood pressure.
Before Pritikin, he got around, but not very well. It wasn't easy carrying an extra 70 pounds. Sliding into his sports car was painful. Getting into a small plane he'd purchased was so difficult that he had to sell it.
And sure, he was sore when he first started exercising at Pritikin, but upon returning home, he continued with a 45- to 60-minute walking routine almost every day. In addition to his cardio work on treadmills, ellipticals, as well as long walks outdoors "listening to music or sometimes just listening to nature," Ron lifted weights and stretched, adhering religiously to Pritikin guidelines for good overall conditioning.
But let's get back to that cardio work because Ron's earned bragging rights. Within seven months, he had graduated from walking to jogging. Today, on the treadmill, "I can knock out six miles in an hour."
Half marathon
And in April, at a lean muscular 190 pounds, Ron ran his first half-marathon, and in 2 hours, 26 minutes.
What's more, he was in such great shape that he talked the entire length of the race, prompting his running partner and friend, Bea Moseley, to tease him, "Next time, can you talk a little less? I need to concentrate on my breathing!"
New taste buds
One thing Ron cannot stop talking about is how his food preferences have changed. "I've regained my taste buds."
"I haven't eaten fast food since I got back from Pritikin because I don't miss it. I have taste buds again. I enjoy food like salmon without a lot of salty sauce on top, and fresh berries instead of sweets for dessert. I love pure, simple food, tasting strongly by itself."
Whenever Ron travels, he loads up his carry-on bag with fruit. In restaurants, he's gotten real good at asking for no-salt-added, no-fat-added food, and getting it.
"I've found that at just about every restaurant, chefs are more than happy to do what they can. In fact, they love a challenge."
Often, Ron doesn't even look at the menu. He simply asks the server, "What's your fresh fish of the day?" And "What vegetables do you have that are fresh and of perfect quality?"
Venison
Ron's a hunter, so at home he often has a freezer full of lean game meat like venison. At restaurants, his occasional red meat treat is a small filet mignon.
To kick up the flavor a little on his fish or lean meat, he uses Tabasco or raw horseradish. His veggies sometimes get sprinkled with a bit of cayenne pepper.
For salads, he enjoys balsamic vinegar as his dressing, and if that's not available, "I ask for fresh lemons and squeeze lemon juice all over my salad. It's delicious."
At sushi restaurants, he orders sashimi with wasabi, and brown rice instead of white. He never uses soy sauce, not even the reduced varieties "because they're still very high in sodium."
Also off his list are sweeteners, including zero-calorie ones. "I've switched to black coffee. I really enjoy the taste of pure coffee now. If I go to Starbucks, I get a soy latte. That's a treat."
Fresh fruit
And just about any time of the day, Ron's not far from a big bowl of fresh fruit.
One major change from his pre-Pritikin days is that he no longer drinks sodas, not even diet ones. And he used to be a big milk drinker. "Now, if I drink any milk at all, it's soymilk."
Ron still loves wine, "but I've noticed that with the weight loss, all I need is a small amount – much less than my 260-pound days."
This tenacious and inspiring Texan is now into his second year of Pritikin living. And he shows no sign of stopping. "I enjoy my exercise." When he isn't running, he's wheeling at top speed in spinning classes, or working up a sweat in cardio strength classes called BodyPump. "Now, that's a workout!"
What keeps him going? How does he steer clear of old favorites like 16-ounce steaks? What's motivating him?
For Ron, it all boils down to this: Nothing tastes as good as being healthy feels.
No more CPAP
And he's feeling it each and every day, and night. Before Pritikin, Ron suffered from sleep apnea. Every night, there was a CPAP machine tethered to his face. "By the way," he interjects, "those machines do not add to the bedroom life."
Today, he's machine free. "I simply don't need it anymore, and I've stopped snoring."
What he loves each day, too, is the pure pleasure of physical movement. Running just for the fun of it. For how it makes him feel.
For years, because of all the extra weight, movement hurt. Even the activities he loved, like hunting, were a struggle. All the hiking and lugging of equipment – the jackets, ammunition, and binoculars – wore him out.
Not anymore. With his new, trimmed-down body, "it's amazing what I can do." On a recent hunting trip in Wyoming, "I was going miles and miles with no trouble at all. It was a whole new experience."
So was skiing. Every year, Ron takes off for a "guy ski trip" with six buddies, but in years past, "it was almost non-enjoyable because of my big body. I was okay the first couple of hours, but for the rest of the day, I was giving it all I had to keep up with my friends."
Running and skiing
But this year, "I was on auto pilot. It was so easy." In fact, first thing every morning, before everyone headed up for the mountain, Ron went out for an hour-long run, either outdoors or at a local gym. "Most gyms have day fees, usually about $10, but it's worth it.""My friends were just shaking their heads," laughs Ron. "They were barely out of bed by the time I got back from running." Then, on the mountain, Ron skied every day till sunset – an hour or two past most of his buddies. "They were wiped out, and I was still going!"
Nowadays, he's also returned to sports he enjoyed in his teens and twenties, like tennis and golf, which he had thought, because of his excess weight, he'd never be able to play again.
What tickles Ron most of all, however, is Natasha's reaction to his new body. Over the past year, as his transformation was taking place, as he was getting thinner, leaner, more graceful, and yes, more appealing, she'd joke, "I feel like I'm cheating on my husband."
"Gee, you're sexy!"
"I still get comments," he smiles. Just the other day in their home, "as I was walking by, not wearing much, she looked up and said, 'Gee, you're sexy!'
"Now, why would I even think of giving all this up for burgers and fries?! No way! I'm 54, but I'm feeling 34.
"Thank you, everyone at Pritikin, especially my 'cheerleader' from day one – Diane Hansen. Thank you for giving me the keys to a new life – a great life!"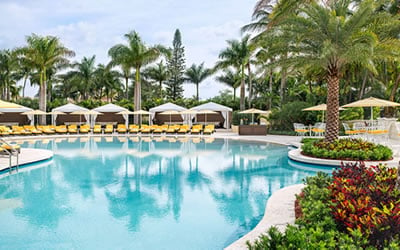 Health Resort
Take life to the next level, and be all that you can be. That's what a vacation at Pritikin is all about. Live better. Look better. Best of all, feel better.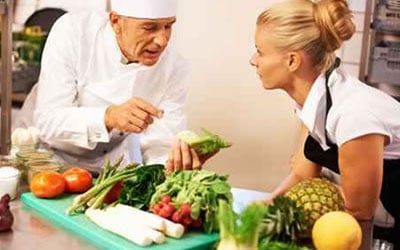 All-Inclusive Program
Since 1975, 100,000+ people have come to Pritikin. We are the longest-running, most scientifically documented health resort in America.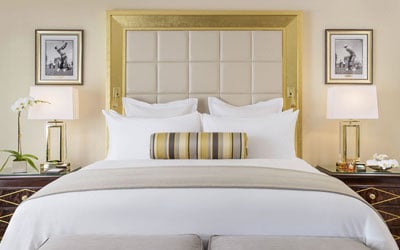 Rooms and Suites
Our newly renovated guest rooms at the health resort are spacious, serene, and amenity-rich. Each has a gorgeous garden view.