Day Four | Big Salads For Weight Loss
Super-sizing makes good sense when it comes to salads. In Pritikin's 14-Day Meal Plan For Health and Weight Loss, learn how to make big salads for weight loss that are full of fresh greens, colorful veggies, and calorie-light toppings.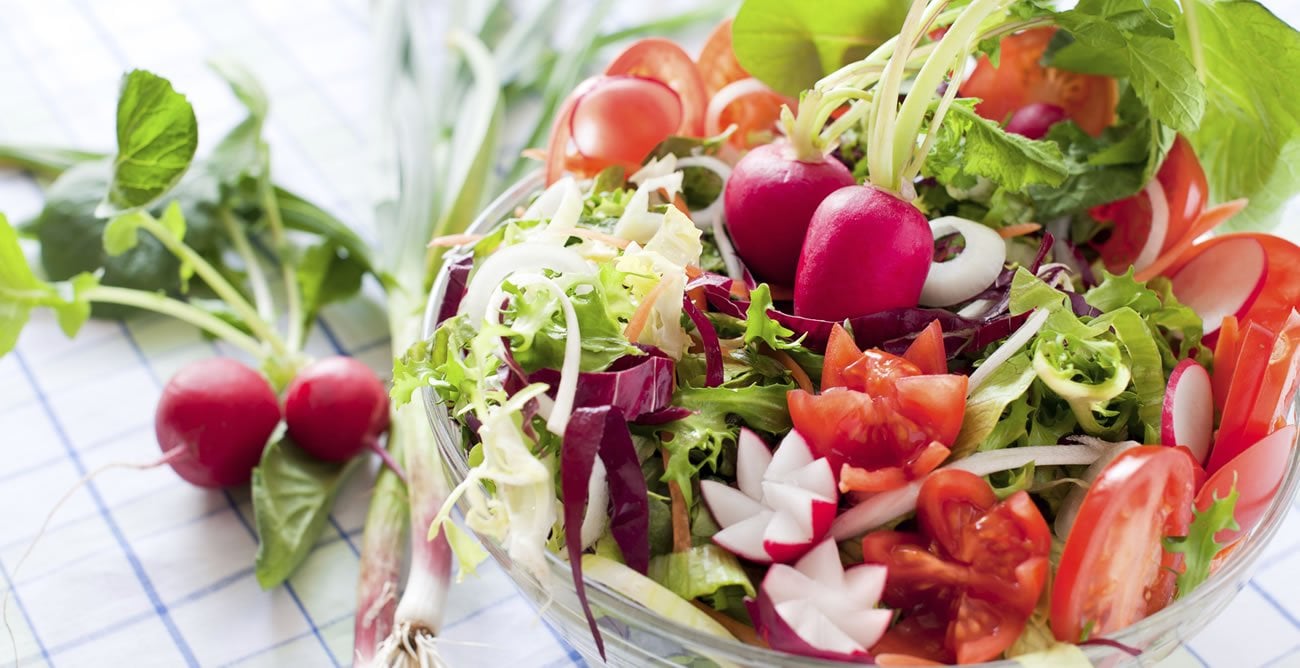 Breakfast
1 cup fresh fruit
1 cup nonfat plain or nonfat, no-sugar-added yogurt
Hash browns. In a nonstick skillet misted with a little cooking oil spray, stir fry until brown diced baked potatoes with sliced onions, sliced green bell pepper, freshly ground black pepper, and paprika.
1 cup tea or coffee with 1 tablespoon nonfat milk or soymilk and 1 packet of sugar substitute.
[sociallocker id="16433″]
Midmorning Snack
12 baked tortilla chips
½ cup of black bean salsa. Combine ¼ cup of canned black beans (no-salt-added variety) with ¼ cup salsa, ideally a no-salt-added variety.
Lunch – Super-Sized Salads For Weight Loss
A large salad of mixed baby salad greens with assorted fresh veggies such as sliced radishes, cherry tomatoes, and sliced jicama, topped with a few slices of avocado and 2 to 3 tablespoons of red wine vinegar.
1 to 1½ cups of whole-wheat penne pasta with tomato and mushroom sauce. For convenience, start with bottled, ready-made, low-sodium marinara sauces (good brand choices are Enrico's, Roselli's, and Walnut Acres), and add your own stir-fried mushrooms. Or start from scratch. It's easy! Simply combine no-salt-added tomato sauce, chopped fresh tomatoes, chopped garlic, and assorted sliced mushrooms. Bring to a boil and simmer for about 15 minutes. Finish by adding freshly chopped basil leaves.
Bowl of strawberries
Midafternoon Snack
½ cup fat-free cottage cheese with ½ cup to 1 cup fresh diced fruit, or use pop-top canned fruits packed in juice or water, no sugar added. Good brands include Del Monte and Dole.
Dinner
2 cups baby spinach salad with 2 tablespoons aged balsamic vinegar
1 cup of Black Lentil Soup (Thaw 1 cup of the Black Lentil Soup you made on Day 1 and have stored in your freezer).
Sweet potato "fries". Look in the refrigerated sections of markets for bags of fresh sweet potatoes that are prewashed and cut in the shape of French fries (one good brand is Mann Packing Company). Toss about 1 cup per person on a nonstick cooking sheet, sprinkle with a little garlic powder and black pepper, and bake, turning once. Even easier: fork-prick a whole sweet potato several times, then microwave on HIGH for 8 to 10 minutes, turning once.
Grilled pineapple slices. While you have the grill fired up, throw on a slice of fresh pineapple right alongside each chicken breast. Blacken up the pineapple a bit, and the natural sweetness comes right through. Place the pineapple right on top of your chicken.
Dessert
[/sociallocker]
Wellness Resort
Weight Loss Retreat