Best Foods For Weight Loss | Snacks
Many snacks marketed as "healthy" are actually not good for losing weight, such as kale chips, air-popped corn chips, dried fruit like raisins, pretzels, popcorn, whole-wheat crackers, rice crackers, plain bagels, and bags of dried green beans. Sure, they're better for you than fattier versions like regular potato chips or bagels with cream cheese, but virtually all dried foods pack a lot of calories into every bite you swallow.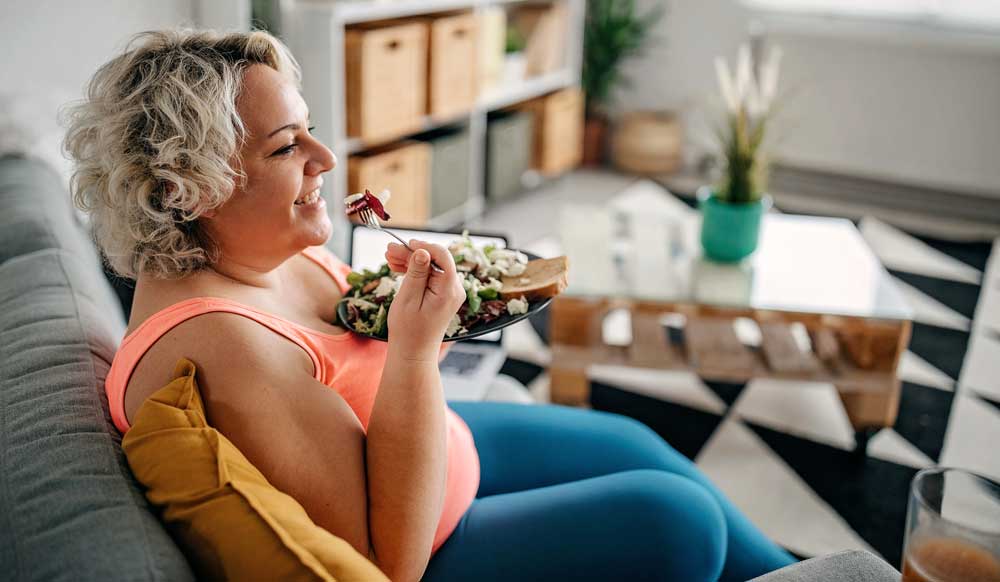 Tip #1
Listen To Your Body
Catch yourself.
When you see yourself reaching for something to nosh on, ask yourself: "Am I truly hungry? Or am I reaching for this snack simply out of habit, or because I'm bored, tired, or stressed?"
If you're genuinely hungry, of course, go ahead and eat.
"If you're not sure if you're truly hungry, ask yourself: 'Could I eat a plain baked potato or an apple right now?' If you could, you're legitimately hungry," advises Kimberly Gomer, MS, RD, Director of Nutrition at the Pritikin Longevity Center in Miami, Florida.
"And there's a nice bonus when you wait till you're truly hungry to eat," adds Gomer. "You'll enjoy your food more. Research1 has shown that a snack provides more satiety – that pleasurable feeling of fullness – if you're eating the snack when you're hungry versus when you're not."
If you're not hungry but craving something sweet or salty (yes, those mid-afternoon munchie cravings), do something else when you get these cravings. Focus your mind and energy elsewhere. For instance, take a 10-minute walk or call a good friend rather than wolf down a cookie.
As soon as you get home from work, do you find yourself sniffing around the pantry? Instead, take a walk around the neighborhood or, in bad weather, watch the news while walking on a treadmill. Keep moving, in short, away from the pantry.
---
Tip #2
Get the Best Snacks For Weight Loss
Start by getting rid of the worst snacks for weight loss around your house, office, or car.
The worst snacks can be summed up in just a few words: dry and/or fatty.
"Snacks that are dry and/or fatty are the worst snacks for weight loss because they tend to be super-dense with calories," explains Gomer.
"Each bite is packed with calories, which means that after only a minute or two of eating, long before we've felt any sense of fullness, we've taken in a bunch of waist-expanding calories."
Dry snacks

include many snacks that are often marketed as "healthy," such as kale chips, air-popped corn chips, dried fruit like raisins, pretzels, popcorn, whole-wheat crackers, rice crackers, plain bagels, and bags of dried green beans. Sure, they're better for you than fattier versions like regular potato chips or bagels with cream cheese, but virtually all dried foods pack a lot of calories into every bite you swallow.

Fatty snacks

such as nuts, nut butters, string cheese, and regular full-fat yogurt. While it's true that some of these fatty snacks deliver good things like calcium, many are also delivering excess calories as well as heart-damaging saturated fats.

Double Trouble

. "Especially troublesome for our health and weight-loss efforts are snacks that are fatty and dry," counsels Lon Ben-Asher, MS, RDN, Nutrition Educator at Pritikin. Examples include croissants, muffins, granola, trail mix, potato chips, pita chips, coconut chips, nachos, cheesy breads, donuts, scones, pastries, chocolate bars, energy bars, French fries, and cookies. Yes, just about everything in easy reach at places like gas stations, Starbucks, and vending machines.
"Should I avoid snacking altogether?"
"Not necessarily," says Pritikin nutritionist Kimberly Gomer. "For most of us, eating three healthy meals a day based on the Pritikin Eating Plan with an occasional healthy snack if we're hungry is the best approach for staying satisfied and still losing weight."
Best Foods For Weight Loss | Snacks
The good news: There are many best snacks for weight loss. Take a look below. "We think you'll quickly see that there is a whole wide world of healthy, pound-shedding options out there," encourages Pritikin dietitian Lon Ben-Asher.
"Again, we have just a few simple rules at Pritikin. Optimally, choose snacks that are both water-rich and fiber-rich. Foods that are naturally rich in water and fiber tend to be foods that give you a lot of stomach-pleasing satisfaction, but for a very low calorie cost."
Best Snacks For Weight Loss
Veggies
"If you're trying to lose weight and want a snack, respect the density, that is, the calorie density of the food. First and foremost, try veggies," recommends Kimberly Gomer.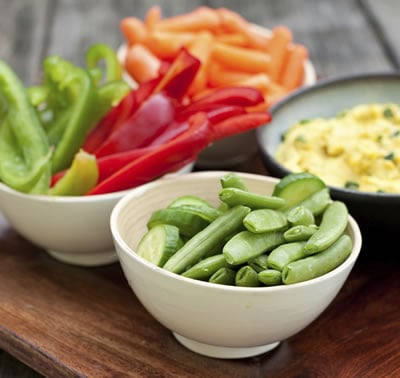 That's because vegetables have the lowest calorie density of any type of food. A whole pound of vegetables is only 65 to 195 calories.
A pound of peanuts, by contrast, is 2,570 calories.
That's right, for 65 to 195 calories, you get one whole pound of food when you're eating veggies. Lots of volume but not a lot of calories.
That's critical to emphasize because the storage capacity of our stomachs is only about two to three pounds, and our stomach doesn't really care whether we eat 500 calories to fill it up, or 5,000. Once it's filled to capacity and its stretch receptors have alerted us that it's full, we're pretty much done eating.
Science agrees. Several studies2 have demonstrated that eating low-calorie-dense foods like vegetables can curb hunger and enhance weight loss.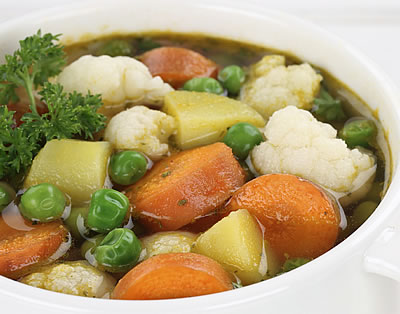 "So keep your stomach full and happy with veggie snacks," encourages Kimberly Gomer. "Vegetables are the best foods for weight loss.
"A big bowl of all-veggie soup may just hit the spot. Or try some roasted veggies like Brussels sprouts or beets."
Want a little dip with your sugar snap peas, celery, broccoli, and carrots? In a food processor, whip up your own delicious hummus dip with just 5 ingredients: 2 small garlic cloves, one 15-ounce can of no-salt-added garbanzo beans, ½ teaspoon sesame oil, 2 tablespoons fresh lemon juice, and 2 tablespoons plain, nonfat, Greek yogurt.
Still craving those kale chips? Here's a recipe for Pritikin Kale Chips. They're much kinder to your waistline than the store-bought, uber-processed chips.
Salad In a Second
At the market, pick up bags of pre-washed, pre-cut salad greens and veggies. At work, store them in the office's refrigerator along with your favorite homemade Pritikin-style salad dressing, or dressing you've purchased from PritikinFoods.com, or a really nice bottle of balsamic vinegar. Keep a big salad bowl in your desk drawer. When hunger hits, just pour the whole bag of veggies into your bowl and stir in your dressing.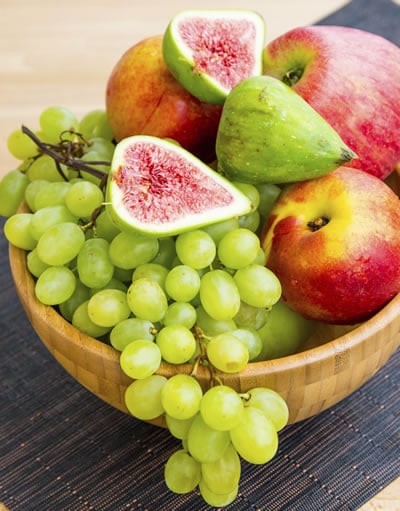 Fruit
After vegetables, your next best foods for weight loss are fruits.
Keep a big bowl full of fresh fruit – apples, bananas, pears, grapefruits, tangerines, grapes, and more – right on top of your kitchen table or counter. And keep replenishing it. Recent research3 has found that people who keep bowls of fruit on their kitchen counters weigh significantly less than people who do not.
Pineapple Salad
Here's a scrumptious blend of veggies and fruit. Combine 2 cups of chopped pineapple, 1 cup of chopped cucumbers, ¼ cup chopped cilantro leaves, 1 minced jalapeno, and 2 tablespoons of lime juice.
Celery Sticks and a Better Peanut Butter
Craving peanut butter? We understand. But unfortunately, regular peanut butter is very calorie dense and therefore fattening. Just 2 level tablespoons tally up nearly 200 calories.
But can purchase a peanut powder that has rich, nutty peanut butter flavor for just 70 calories per 3-tablespoon serving. And no added sugar or salt. It's simply roasted peanuts that have been defatted.
All you do is mix 3 tablespoons of Peanut Powder with 1-1/2 tablespoons of water. Pair with celery sticks, and you've got a thoroughly satisfying mid-morning or afternoon snack.
Bean-Rich Soups
Bean soups are all about feeling full on fewer calories. Make your own (see the delish Pritikin Lebanese Lentil Soup recipe below) and freeze in easy-to-carry, single-serving containers. Or buy soups made right in the kitchen at the Pritikin Longevity Center from the online Pritikin Store. At the office, just pop your soup in the microwave.
Alternatively, pack store-bought, low-sodium cans of soup.
Fat-Free Yogurt
Look for nonfat, no sugar/syrup varieties.
Sweeten plain varieties naturally with fresh, cut-up fruit, such as strawberries and bananas, or with a can of unsweetened applesauce.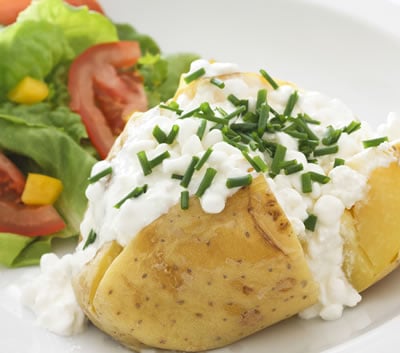 Cottage Cheese (nonfat, low-sodium)
Top your cottage with fresh fruit or canned, no-sugar-added choices.
Baked Potatoes
For convenience, try the individually shrink-wrapped and pre-washed varieties, located in produce sections. They're cooked, steaming and succulent, in 7 or 8 minutes. Try healthy, calorie-light toppings like fat-free sour cream, mustard, low-sodium salsa, or even soup or salad, like crunchy Romaine leaves with Pritikin Caesar Dressing.
Sweet Potatoes
Again, the shrink-wrapped varieties are a quick and easy option. Give your sweet potato a little sass with a teaspoon or two of Dijon mustard (low sodium) swirled in.
Corn on the Cob
Microwave, husk and all, for 3 to 5 minutes. Alternatively, microwave a husked ear of corn by wetting a paper towel and wringing it out. Wrap the ear in the moist towel and cook for 3 to 5 minutes.
Soft Veggie Taco
In the microwave, warm a corn tortilla between two slightly moistened paper towels, about 30 seconds. Then top with pinto beans (from a can of no-salt-added beans) lettuce, diced onions, and a low-sodium salsa.
Oatmeal
Oatmeal or another hot cereal for an afternoon snack? Why not? All you need is the oatmeal (no-sugar-added, no-salt-added varieties), water, and a bowl. If you'd like, add a little nonfat milk and sliced banana.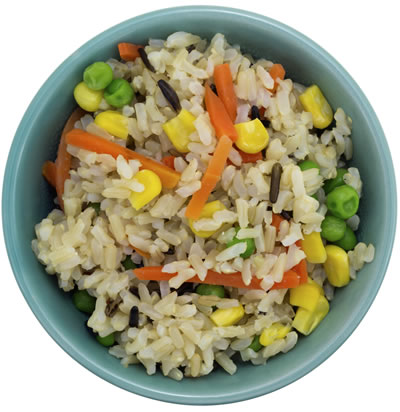 Brown or Wild Rice
Buy microwave, single-serving bowls. After their 1 to 2 minutes in the microwave, flavor with healthy choices.
For example, toss with a little chopped celery and shallots and a sprinkle of balsamic vinegar.
Or add some Asian-style kick with a bit of wasabi and rice vinegar.
Or fold in leftover slices of chicken or fish from last night's dinner, or leftover roasted or sauteed vegetables, like red and yellow bell peppers, butternut squash, or Brussels sprouts.
Edamame Beans
Fresh or frozen (thawed). Just pop them out of their shells, like eating peanuts. (And because you need to peel open the pods, you slow down your food intake – always a good thing if you're trying to shed excess weight.)
Best Snacks For Weight Loss | Key Points
Snacking on junk food makes us fat. Period.
Mindless snacking is a habit that can be broken. Listen to your body. Snack only when truly hungry.
Clear out the fatty and/or dry snack foods from your home and elsewhere. If they're not around, you won't eat them. (Imagine how quickly my friend's overweight teenage boys would drop pounds if the Doritos were no longer in sight.)
Keep healthy, water-rich, fiber-rich snacks everywhere – at home, in your office and desk drawers, in the car, and in your gym bag, purse, and briefcase.
Never leave home without taking a snack or two with you. It's one of the best ways to resist pulling into a fast-food drive-thru.
It's not whether you snack but what you snack on that matters most.
Sources
Wellness Resort
Weight Loss Retreat