Day Twelve | Go For Whole Grains
Want loads of nutrition? Go for whole grains. They're delicious, too! Why settle for wimpy white cotton bread when you can complement your sandwiches with the boldness of hearty whole-grain wheat or rye.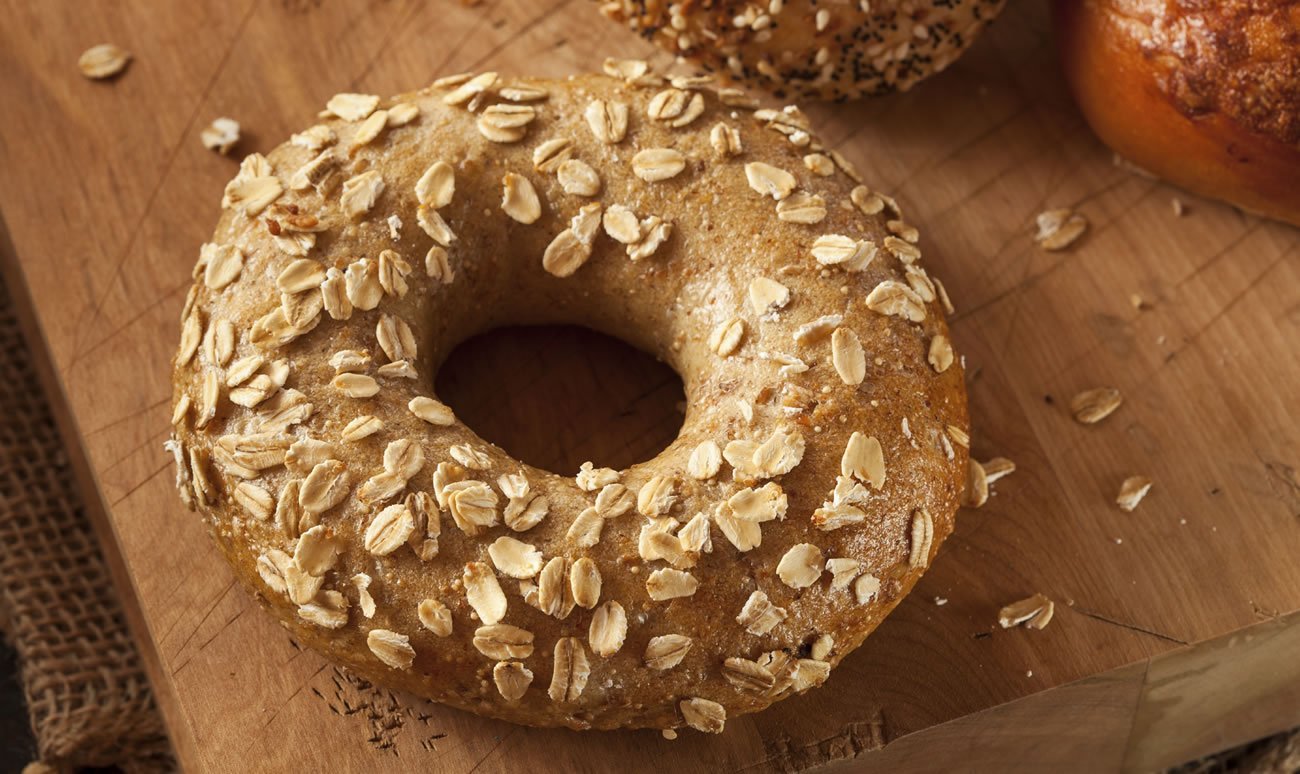 Breakfast
½ whole-wheat bagel with 2 tablespoons low-fat cream cheese and 2 teaspoons fresh herbs
1 to 2 cups fresh fruit
1 cup tea or coffee with 1 tablespoon nonfat milk or soymilk and 1 packet of sugar substitute
[sociallocker id="16433″]
Midmorning Snack
Tasty, steamy butternut squash in 5 minutes. Look in your grocery store or markets like Trader Joe's for microwaveable bags of washed and cut veggies, including butternut squash. All you do is snip off one corner of the bag and microwave on high for about 5 minutes.
Lunch
1 to 2 cups of Barley and Shiitake Soup. Ah, shiitakes. So much flavor. So satisfying. Enjoy!
Chicken Fajitas. Cook in 1 teaspoon canola oil 5 ounces of cubed chicken breast. (5 ounces will cook down to about 3.5 ounces). Fold cooked chicken into 6-inch whole-wheat tortilla with ¼ avocado and 2 tablespoons chimichurri sauce. For the sauce, combine 2 tablespoons freshly chopped cilantro, 2 tablespoons freshly chopped Italian parsley, ¼ cup red wine vinegar, ½ finely diced jalapeno, ¼ cup lemon juice, a pinch of salt (not more than 1/8 teaspoon), and black pepper to taste.
1 mango. Give an already sensational fruit even more flavor by breaking fresh mint leaves, squeezing out the mint oil, and rubbing it over the mango.
Midafternoon Snack
1 cup of nonfat, no-sugar-added vanilla yogurt topped with sliced bananas, blueberries, and raspberries.
Dinner
1 cup easy vegetable soup. Combine any leftover vegetables you have with low-sodium vegetable or chicken broth and your favorite salt-free blend of spices. Heat and serve.
1½ cups iceberg lettuce and ½ cup radicchio with 2 tablespoons vinegar, 1½ teaspoons walnut oil, and black pepper to taste.
Spaghetti and Meatless Meatballs. 1 cup of whole-wheat pasta topped with Meatless Meatballs (see recipe below) and quick-fix marinara. In a skillet lightly misted with oil spray, sauté diced onion and minced garlic about 2 to 3 minutes. Add ready-made, low-sodium marinara (good brand choices are Enrico's, Roselli's, and Walnut Acres). Heat. For a creamier touch, stir in a tablespoon or two of fat-free sour cream before serving.
Dessert
Banana Chips. Slice and freeze bananas, 12 slices to a bag, for a cold, creamy snack or dessert.
½ ounce semi-sweet dark chocolate
[/sociallocker]


Wellness Resort
Weight Loss Retreat