What is Quince Fruit?
The Secret Food of Fall
Though you may have never before heard of the bright, golden-yellow, pear-shaped quince, it's a nutritious fruit that you'll want to add to your next healthy grocery list.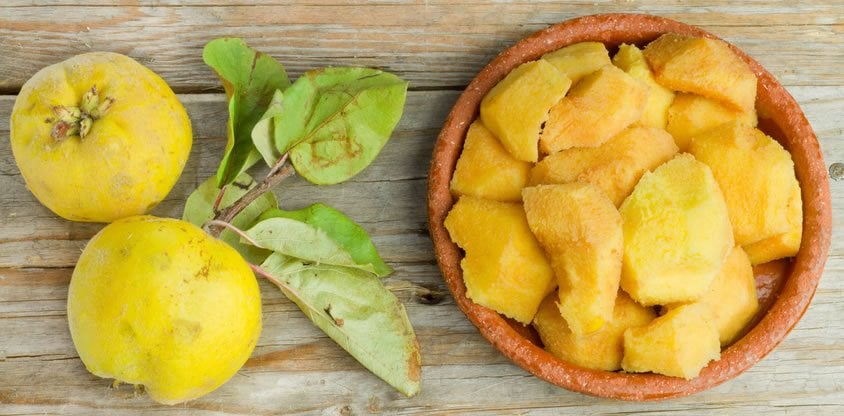 Pronounced "kwins," the quince is a small and rounded pome fruit grown on trees. Though it may look as delightfully sweet and juicy as an apple or pear, the quince in its raw form is rather tough, tannic and slightly sour at times. To enjoy all that this produce has to offer, it's best when cooked, which is why it makes the perfect ingredient for fall cooking.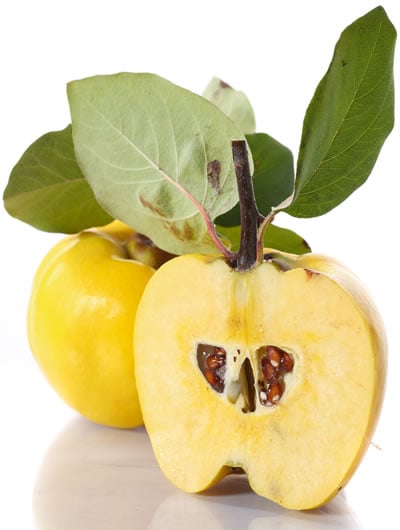 History of Quince
The quince's origins are in the Caucasus – the region between the Caspian and Black seas – as well as in northern Persia, according to The Splendid Table. It has even been considered the catalyst of the Trojan War, as told by Greek legend. From there, the usefulness of the quince in cooking spread to medieval banquet halls and beyond. Commonly enjoyed in the tropical regions of Latin America and Mexico today, the quince has maintained its popularity and found its way into the western culture of food and cooking.
Health Benefits of Quince
The quince is a very nutritious fruit that also has a very low calorie density. One 100-gram quince fruit contains just 57 calories, according to the USDA National Nutrient database. It's also a great source of dietary fiber, antioxidants, vitamins and minerals. The fruit contains tannins including catechin and epicatechin and has a very high concentration of vitamin C. Quince is also a good source of calcium, iron, potassium, magnesium and copper.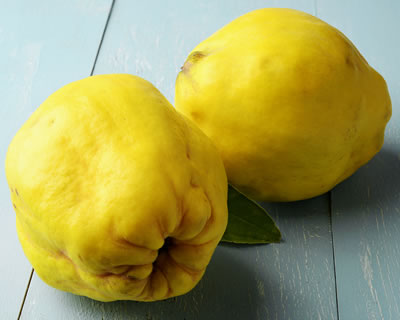 How to Buy Quince Fruit
In the southern states such as Florida, it's just about that time of year that the quince starts to come out. Often overlooked among the abundance of colorful common produce, the quince is not a very well-known fruit of the fall season. In fact, many people may not know how to buy quince fruit. When you do happen to stumble upon this secret gem of a fruit however, it's the perfect time to try something new, explained Pritikin's Chef Anthony Stewart. The quince is not farmed in great quantities. Thus, it won't be on your everyday healthy grocery list but instead it's what he likes to call, a "once a year treat."
"Most people see it and will pass it or mistake it for something else," said Chef Anthony. "However, it's great for people who enjoy experimenting with food."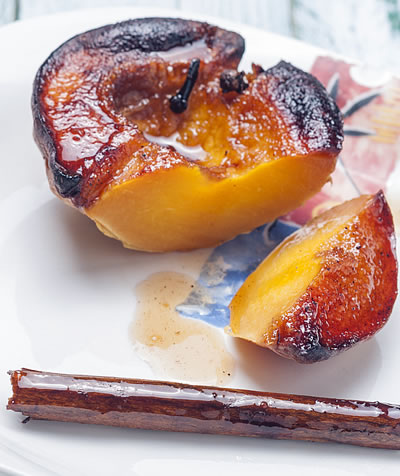 The quince often looks similar to a big plum in shape, with a light green color. When it is ripe and ready to eat, it reaches a bright yellow hue with little specks of brown. In addition to its appearance, its fragrant fruity aroma will certainly get your attention.
How to Cook Quince
Most people will tell you that they prefer the soft flesh of a cooked quince – which turns from yellow to soft pink – rather than the fruit in its raw form. Over time however, taste buds will adapt and quince fruit becomes enjoyable both ways.
"Initially, the flavor profile of quince doesn't register right away as very exciting," explained Chef Anthony. "The texture does take a bit of getting used to – between a pear and an Asian pear – it's slightly firm."
Because quince fruit is full of pectin, it is most often found as a jam, jelly, marmalade or compote, according to the Organic Authority. It can also be roasted in the oven and served with a fall-inspired meal or, similar to apples and pears, is great when baked in pies, tarts and muffins.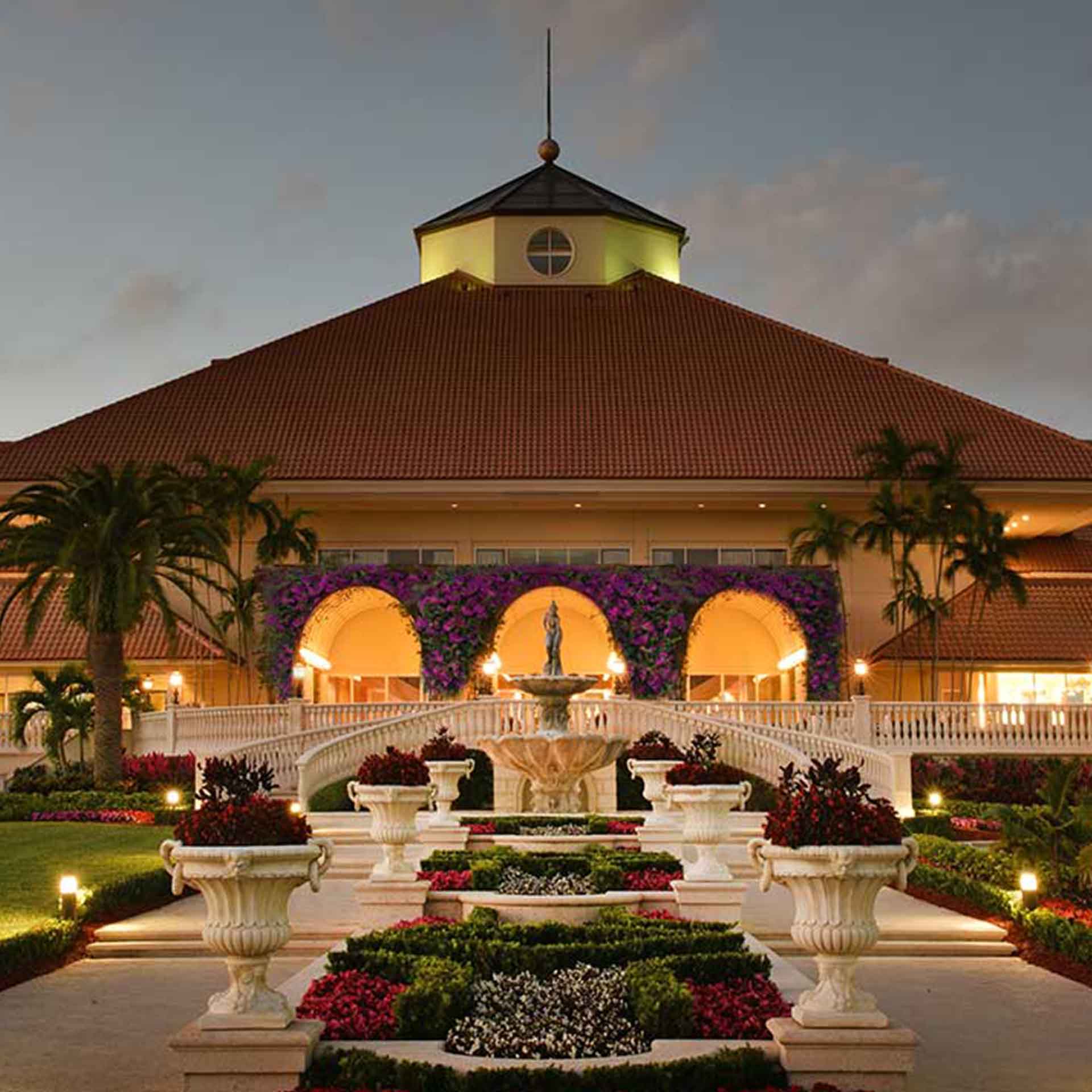 Learn More About Pritikin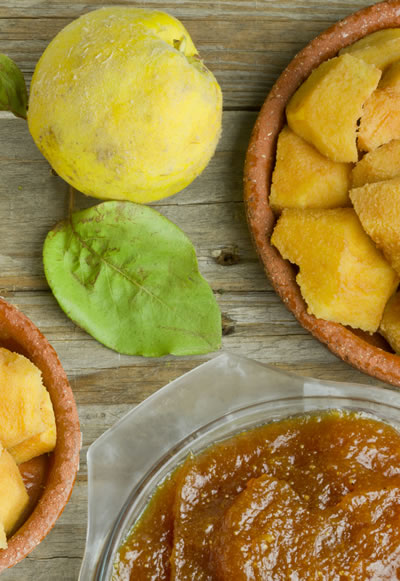 Simple Cooked Quince Recipe
To prepare and cook quince, follow these instructions:
Use a vegetable peeler to remove the skin. Save the skin if you are making any sort of jelly, according to The Kitchen.
Carefully cut each quince in half with a sharp chef's knife – this may be a little difficult because of its toughness.
Cut each fruit into quarters and then cut the core and seeds away.
Remove any mealy spots.
After slicing, place each piece of fruit in a bowl of water to prevent browning.
Pour water into a saucepan and bring to a boil over medium heat.
Add quince and simmer for about 40 to 50 minutes, until pink and tender.
Enjoy as you please!
How to Eat Quince
"I like it as is, but it's great on salads," said Chef Anthony. "Simply wash it, chop it up and squeeze a little lime or lemon juice on it. Put it over a bed of mixed greens with cilantro and it's just fabulous."
Another way Chef Anthony likes to use the quince in the kitchen is to dice it and cook it down with apple juice concentrate until it becomes a sweet and savory puree. This can then be used in a variety of ways, including over your morning oats as a substitute to brown sugar and calorie dense raisins. Instead of adding extra calories to your morning meal, enjoy the filling yet low calorie density of the quince on top of your oats.
Enjoyed as part of a healthy eating plan, quince can be a great source of nutrition and flavor. As always, be sure to maintain a balanced diet made up of a wide variety of colorful, natural fruits and vegetables, unprocessed whole grains, legumes and lean sources of protein. For more information, check out the Pritikin Diet and Eating Plan.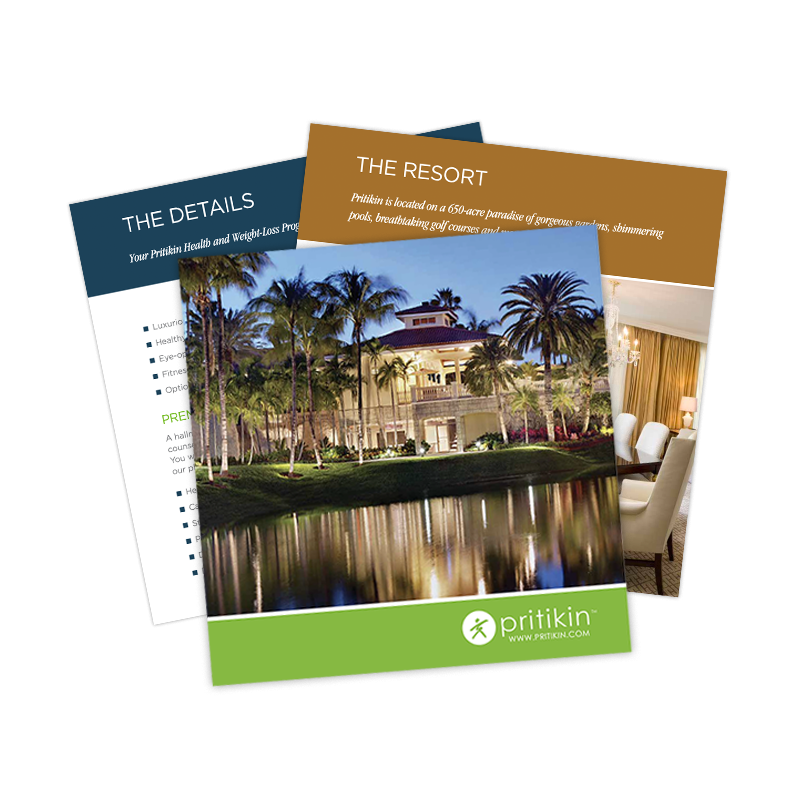 Get All the Details of a Stay at the Pritikin Center in Your Inbox
Wellness Resort
Weight Loss Retreat
Health Spa