Andrea M. Sosa-Melo, MD, FACP, FACE
Even now, as a fully entrenched physician at Pritikin, Dr. Sosa-Melo continues to be surprised and rewarded with the results her patients experience. "I have seen people crying. They feel new, inside and out. They have a happier, healthier life. They're so grateful for what the Pritikin Program has done for them. I am very glad to be part of this change."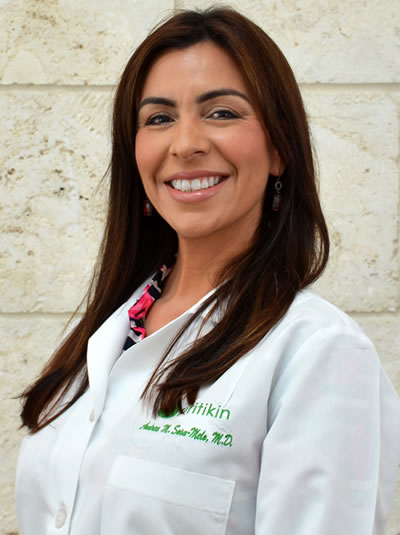 MD, Universidad Nacional de Colombia, Bogota, Columbia
Fellowship: Endocrinology, Diabetes and Metabolism, University of Miami School of Medicine
Residency: Internal Medicine, University of Miami School of Medicine
Board Certified, Internal Medicine
Board Certified, Endocrinology, Diabetes and Metabolism
Research interest: Vitamin D and its association with metabolic syndrome, diabetes, and obesity
Awards include:

Universidad Nacional de Colombia School of Medicine's Academic Scholarship for Best GPA During Medical School
Participation in the William J. Harrington Program at University of Miami, in which qualified physicians are selected from Latin America to receive excellent medical education and training in core medical rotations – from June 1999 to December 2000

Fluent in Spanish and English
Dr. Sosa-Melo was only 16 years old when she decided to become a physician. That's when her father was in a terrible accident, and she became his caretaker.
"My father was only 52 years old. It was tough to see him in that state," she vividly recalls. "But because of that accident, I learned I had the abilities to take care of others in profound need. Thankfully, everything turned out better for my father than I expected. And the experience revealed to me that helping others live a better, healthier life was my vocation, my plan for my future."
Over the next several years, Dr. Sosa-Melo had plenty of opportunities to follow her calling. After graduating from medical school, she devoted a year to a rural community near Bogota, Columbia, working at a 70-bed public hospital and doing everything from delivering babies to suturing wounds in the ER.
She then became the director of a 10-bed health center in a small town two hours from Bogota that involved both inpatient care and travel to remote rural settlements.
Becoming a diabetes expert
During these rich, and richly rewarding, first years after medical school, Dr. Sosa-Melo began focusing on one particular thing – diabetes prevention and treatment. She was deeply concerned by the disease's ever-rising rates and its disastrous long-term complications in both the Latino community and worldwide.
In 2008, she was awarded a two-year Fellowship in Endocrinology, Diabetes and Metabolism at the University of Miami Medical School. Shortly afterwards, she began working at an endocrinology-based practice in Providence, Rhode Island. Her emphasis was diabetes preventive care and treatment.
Joining other diabetes experts at Pritikin
Passionate about the power of a healthy lifestyle to prevent and arrest diabetes, it is no surprise that Dr. Sosa-Melo learned about the Pritikin Longevity Center and in 2015 joined Pritikin's team of physicians. All the doctors at Pritikin have expertise in the prevention and control of diabetes, heart disease, hypertension, and obesity via healthy lifestyle change.
"It is a patent miracle!"
But she, now the mother of a two-year-old girl, had plenty of surprises herself during her first few weeks at Pritikin. "I was in shock! I had not expected to see so many changes in my patients, and in such a short amount of time. Within days, they were seeing great results, including blood pressure normalization without the need for anti-hypertensive medications, cholesterol control through the many healthy foods served in the Pritikin dining room, and blood glucose falling into normal ranges. I also saw significant mood improvements. Even depression and anxiety were definitely better controlled. It is a patent miracle!"
"As physicians," she explains, "we are trained to teach our patients to change their lifestyles, but it's difficult for them unless there is access to an environment like Pritikin. Living here at Pritikin for two weeks is an eye-opener. With the education people receive here, they return home with a different perspective. They return home experts in diabetes control and healthy living, and with the confidence to make it happen."
"Our mission here at Pritikin…"
Even now, as a fully entrenched physician at Pritikin, she continues to be surprised and rewarded with the results her patients experience. "I have seen people crying. They are so grateful for what the Pritikin Program, and all the staff, have done for them. They feel new, inside and out. They have a happier, healthier life.  I am very glad to be part of this change.
"Our mission here at Pritikin is to play a crucial role in improving health and happiness, and, in doing so, help transform the world."
Wellness Resort
Weight Loss Retreat