The Benefits of Smoking Cessation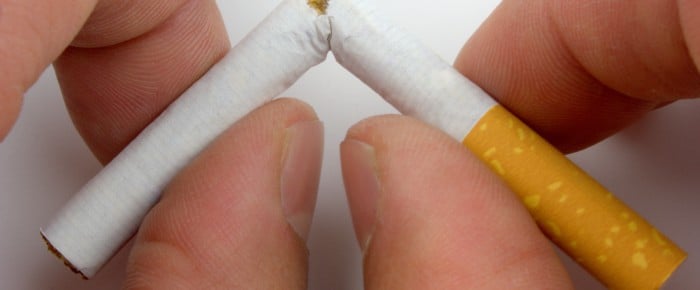 Although this is an improvement from years past, it is still a significant problem that, along with second-hand smoke, results in the deaths of 443,000 people annually. As dismal as this may seem, there are positive signs when it comes to smoking. The CDC also notes that of adults 18 and over, 21 percent have quit smoking. As a result, more people have quit smoking than there are people who currently smoke. In addition, 68 percent of current smokers want to stop and in 2010 52 percent of all adult smokers and slightly over 50 percent of teenage smokers in high school made an attempt to do so. Unfortunately, the cessation of one's smoking habits is difficult for a majority of people. Although most people are aware of the health problems associated with the habit, they have often become nicotine dependent, which makes it difficult to quit.
What is Nicotine Dependence?
Nicotine dependence is an addiction to the nicotine that is found in tobacco products. It may be called nicotine addiction or even tobacco dependence, and it is more common than any other chemical dependency in the nation. Nicotine is a naturally occurring, poisonous substance that is found in tobacco. People who become dependent or addicted to it have a compulsive desire to experience the feeling of pleasure that comes from its use. That feeling of pleasure and elevation in mood are caused by an increase in chemicals from the brain that alter one's mood, including dopamine. When people who have developed a dependency for nicotine no longer have access to it, they develop unpleasant physical and emotional responses such as depression, anger, insomnia, or anxiety, for example. It is nicotine dependence that makes it hard for most people to stop smoking.
Benefits of Quitting
A majority of the people who smoke want to quit because they acknowledge that there are numerous benefits to doing so. In addition to ridding themselves of a chemical dependency, people who are successful in their attempts to quit smoking are also eliminating toxic chemicals, some of which can cause cancer. Therefore, smoking cessation reduces not only the risk of certain types of cancer, such as lung cancer, but it also reduces other health problems such as the risk of stroke or coronary heart disease. Some benefits of quitting begin as quickly as twenty minutes after one has stopped. For example, twenty minutes after a person quits smoking, he or she may experience a decrease in blood pressure. After two days the person's sense of smell and taste begins to improve, and by nine months, shortness of breath, fatigue and coughing caused by smoking may lessen. The amount of money that a person saves from not buying cigarettes is another positive benefit.
Common Quitting Methods
When individuals are ready to quit, there are several methods that they may want to take into consideration. Common methods include medication, counseling, or a combination of the two. When choosing medication, a person may use prescription or non-prescription nicotine replacement therapy. Non-prescription products include nicotine patches, gum, and lozenges, while nicotine nasal sprays and inhalers are typically available with a doctor's prescription. In addition to nicotine replacement therapy, there are also effective non-nicotine medications available. Before choosing a medication, it is important to discuss potential side effects with a doctor. This is of particular importance for minors and women who are pregnant or breast-feeding.
When seeking smoking cessation counseling to help abstain from smoking, there are several types to choose from. Depending on the individual and his or her comfort level, there are group counseling programs or one-on-one counseling sessions. Some people may prefer sessions that do not involve meetings. In these instances, Internet programs are available or one may seek help by phone by calling 800-QUIT-NOW for free counselor advice, strategies and self-help materials.
Wellness Resort
Weight Loss Retreat