Healthy Winter Soup Recipes to Keep You Warm
Don't dismiss your favorite comfort food soups this winter, try these healthy Pritikin-approved ones instead.
This season, just because you're staying true to the Pritikin Diet and Eating Plan, doesn't mean you have to forego all of your favorite comfort foods. In fact, our Pritikin chefs are real pros at taking the most traditionally satisfying dishes and putting a healthy and gourmet spin on them.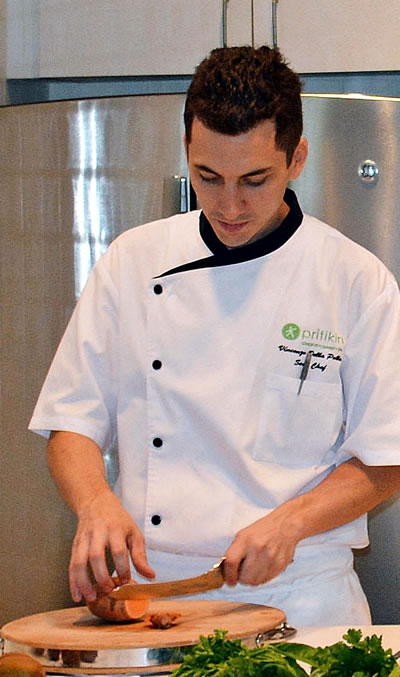 Healthy Comfort Food
With advice from our experts, a few creative zests and spices, and a little extra planning, you can learn how to incorporate your favorite comfort foods into your healthy eating plan. One of the best ways to add heartiness and flavor to a meal without adding extra fat, sodium or calories is to add a lot of root vegetables, such as pumpkin, carrots and turnips, Pritikin's Chef Vincent Della Polla explained. Even adding spinach to entrees such as soup is a great way to add more nutrients.
"Rather than use fat in your comfort food, fill your meals with a lot of fresh vegetables," advised Chef Vincent. "This way, you will still be able to enjoy your favorite dish, but in a healthier fashion. And what's more, you'll feel full afterward."
Adding grains and legumes such as brown rice, quinoa or lentils to your stews is another way to make them a little bit more robust. This season, try out the two seasonal-inspired recipes below. Both make four servings.
Jamaican Red Beans
This mouth-watering, wholesome soup is a perfect menu item to incorporate into your healthy eating plan for the winter. Packed with lots of root vegetables, big flavor and a kick of chipotle, it will have you warmed up on even the chilliest of days. Best of all, the red beans give you a boost of fiber and protein.
"This recipe is a winter soup that is rich, filling and satisfying," said Chef Vincent. "People really enjoy it!"
Lebanese Lentil Soup
Did you know that beans are one of the healthiest foods out there? Lentils specifically have been known to lower cholesterol, help improve heart health, improve blood sugar levels and aid in digestion. For another winter soup that's just as hearty as the one above and packed with fibrous lentils, try out this zesty vegetable recipe.
Wellness Resort
Weight Loss Retreat