The Secret To Weight-Loss Success
It's not how much you eat that matters. It's what you eat. This is an incredibly important concept taught by the doctors and dietitians at the Pritikin health resort.
For long-lasting weight-loss success, what guests at Pritikin eat are foods that deliver the most hunger-curbing satisfaction for every calorie consumed.
For the most part, foods with a lot of satisfaction per calorie are:
Naturally rich in fiber
Naturally high in water
Naturally low in calorie density (which means that your calorie intake, per bite, is low).
Foods That Shed Weight
Pritikin's Shopping List For Weight Loss is full of these high-fiber, high-water, low-calorie-dense foods.
Unfortunately, U.S. marketers often sell us the exact opposite. A Sausage McMuffin, for example, has about 95 calories per bite (470 calories in total). As we all know, that one McMcMuffin rarely quells hunger. We could easily order another, and another. That's what happens when your food is dense with calories. And we're sadly aware of what happens to our waistlines as a result.
Delish!
It's nice when food that is good for you also tastes good. The award-winning chefs at Pritikin make sure that's always the case. Not only do they cook all meals at Pritikin, from breakfast to four-course dinners, they teach guests how to prepare these very same foods in their home kitchens.
And, oh, what they and other Pritikin foodies can create! A can of beans becomes Black Bean & Tomatillo Soup. Oatmeal gets transformed into Chocolate Brownie Oatmeal. Salmon becomes Slow-Roasted Salmon With Fennel and Citrus.
So go ahead! Give this Pritikin Shopping List For Weight Loss a try. And check out the many, many other tantalizing recipes on Pritikin's website.
Health Vacation
Better yet, make your next vacation a health and weight-loss vacation at Pritikin. Discover for yourself how easy and delicious healthy living can be. And have a lot of fun doing it.
Most importantly, discover a new you. The Pritikin Program isn't just about losing weight. It's about losing everything else that may be weighing you down, like high blood pressure, high blood sugar, diabetes, and heart problems. It's about becoming your best and happiest self.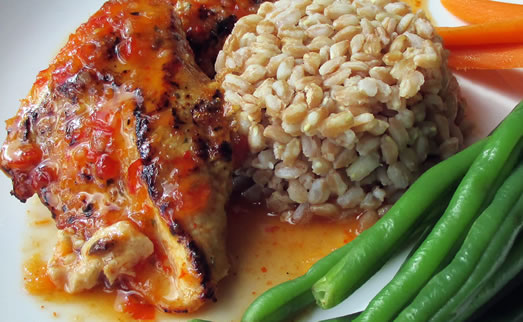 The Truth About Counting Calories
There is a biological truth: When you eat fewer calories than your body burns, you lose weight. However, counting calories often leads to overeating! Lose Weight Without Counting Calories
More than 100 studies published over the past three decades in peer-reviewed journals have found that the Pritikin Program improves virtually every modifiable risk factor for cardiovascular disease, including hypertension, pre-diabetes, diabetes, high cholesterol, high triglycerides, chronic inflammation, and excess weight.
"Our primary mission is leading our guests back to health and vitality," sums up Danine Fruge, MD, ABFP, Medical Director at the Pritikin Longevity Center.
"Give us two weeks, and we'll give you new life."