Healthy Grocery Shopping Scavenger Hunt
"One of the most daunting experiences our guests have after returning home from Pritikin is walking into their grocery store for the first time. There's often trepidation, a feeling of 'Where do I begin?' and 'Do I really know how to pick out the best products for my health?'" says Pritikin nutritionist Kimberly Gomer. "Our new Healthy Grocery Shopping Scavenger Hunt has gone a long way toward quelling that trepidation."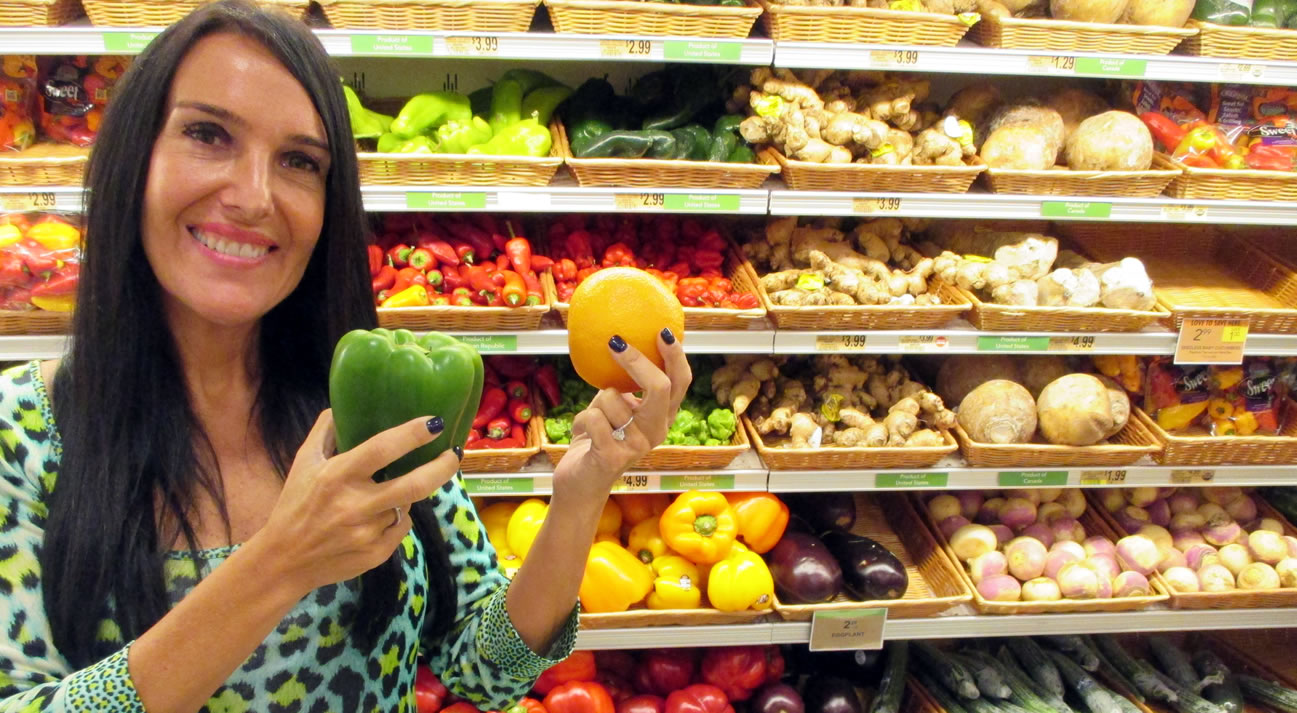 All the sound and fury is part of Pritikin's new Healthy Grocery Shopping Scavenger Hunt, the brainchild of Pritikin's Director of Nutrition, Kimberly Gomer, MS, RD.
"It's all about making healthy food shopping not only successful but fun," smiles registered dietitian Kimberly.
Healthy Grocery Shopping | The Competition Begins!
On Wednesday evenings at 7:30, everyone boards the Pritikin van at the health resort, often with workout clothes and running shoes on. "They're ready to roll," laughs Kimberly.
And they're ready to put into practice what they learned a few days previous in a core nutrition workshop at Pritikin entitled "Label Reading and Other Tips For Shopping Smart."
"Little Miss Muffet…"
At the entrance to Publix, a Pritikin nutritionist divides the competitors into teams of two or three. Each team is then given a list of 12 clues that rhyme, such as "Little Miss Muffet, sat on a tuffet, eating her ____ and whey."
They guess the clue (in the above case, curds, or cottage cheese) and race off to find the cottage cheese products that meet their Pritikin healthy grocery shopping guidelines.
Whoever comes back the quickest, and with the healthiest products, (and without running over another shopper), wins gifts like Pritikin Seasonings and Spices, handmade by the award-winning chefs at the health resort.
Products that sound healthy but really aren't
"Often, the fastest team is not the team that wins," points out Kimberly. "That's because they're going too fast. They've brought back the wrong products, the ones that sound healthy but really aren't, like I Can't Believe It's Not Butter or Ben & Jerry's frozen Greek yogurts.
The new field trip is an effort by the Pritikin faculty to inject new energy into its renowned healthy-living curriculum, taught at the health resort since 1975.
Healthy grocery shopping was at the top of the list.
"Where do I begin?"
"One of the most daunting experiences our guests have after returning home from Pritikin is walking into their grocery store for the first time. There's often trepidation, a feeling of 'Where do I begin?' and 'Do I really know how to pick out the best products for my health?'" says Kimberly.
"The new Healthy Grocery Shopping Scavenger Hunt has gone a long way toward quelling that trepidation."
Hands-on experience
The field trip gives the guests hands-on experience in reading food labels. They're touching the products, writing down important facts like sodium and saturated fat content, and learning how not to be fooled by bogus health claims, for example, foods touted as "fiber-rich" that actually have no real fiber.
"It was a lot of fun, and we learned so much."
Plus, it's hugely entertaining. The feedback Kimberly Gomer consistently hears is: "It was a lot of fun, and we learned so much."
Boarding the van for Publix are many veteran Pritikin guests – people who have come to Pritikin for health vacations several times over the decades. Many have told Kimberly, "Well, I really know everything there is to know about healthy grocery shopping, but I'll come along because I've heard this trip is a fun evening."
"What they discover is that there's so much more to learn," says Kimberly. "Every week, the shelves have new products. So it's a trip of discovery, and it's also good to simply practice their food label reading skills.
"Because when you think about it, is there anything more important to practice?"
"Nutrition Fun"
In addition to the health resort's hour-long workshop on "Label Reading" and the new Healthy Grocery Shopping Scavenger Hunt, guests at Pritikin have a third opportunity to practice food shopping with another new addition to the health resort's curriculum – "Nutrition Fun."
In the "Nutrition Fun" workshop every Saturday afternoon, everyone is given grocery bags stuffed with all kinds of food products. They go through the bags, picking up each product, dissecting their Nutrition Facts and Ingredient Lists, and deciding which products land in the "Winner" or "Loser" piles.
No more confusion
The upshot of all this nutrition coaching?
By the time people return home, "they really know how to sail through their grocery store," smiles Kimberly. "Etched in their minds is their checklist for deciphering what's healthy, and what's not. In 10 seconds or less, they can tackle a food label.  It's second nature. The confusion – questions like 'Did I really buy the right thing?' – are gone.
"Best of all, they're bringing home food that truly will help them shed excess weight, feel well, and live well."
Wellness Resort
Weight Loss Retreat