Healthy Meal Plans for Weight Loss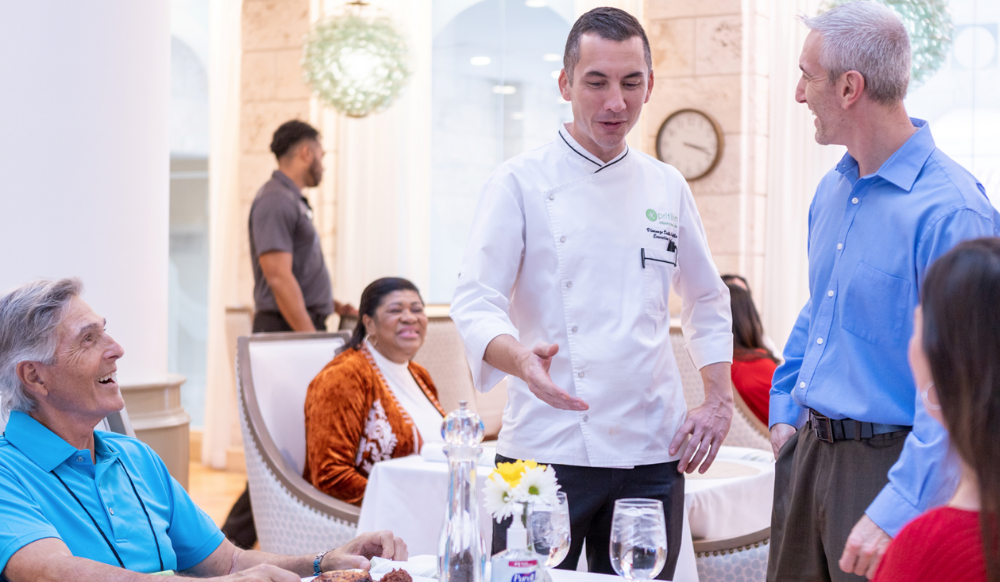 Even with the best of intentions, hunger can drive your healthy meal plan for weight loss off the tracks. Keep yourself steered in the right direction with a healthy meal plan that not only promotes weight loss, but is delicious, satisfying, and filling. Whether you're a culinary foodie or someone happy with a burger and a bowl of chili, below you'll find inspiration to create a healthy meal (or two) below.
Why a Healthy Eating Plan Works Better than a Diet
If you've been spinning between confusing dieting messages and social media trends, it's time to stop dieting. Dieting doesn't work – you know that, and experts agree. Research experts have looked at the evidence as to whether popular diets cause weight loss – they concluded there isn't enough evidence to suggest diets are effective at either short-term or long-term weight loss. "All too often you go on a diet and end up restricting [foods] too much, and then you fall apart," explains Registered Dietitian, Lon Ben-Asher, Nutritionist &Educator at the Pritikin Longevity Center. "Losing weight doesn't help if you can't keep it off." Let's discover why a meal plan helps you achieve your weight loss goals, some key foods to include, and ultimately, what is the best healthy meal plan for weight loss.
Why is a Meal Plan Helpful for Weight Loss?
Having a plan can help you have healthy food ready when hunger strikes – that's when it's really difficult to ignore cravings. Researchers tested this strategy with a group of adults, to see if ordering lunch in advance encouraged healthier choices. When researchers looked at the data, it was evident that pre-planning your meal helps you make healthier. Some people find having a healthy meal plan for weight loss is helpful. According to Registered Dietician, Lon Ben-Asher, "a healthy and sustainable eating plan, such as the Pritikin Eating Plan can help." In the Pritikin Eating Plan, you learn to listen to your hunger cues, and form new habits that support weight loss.
Weight Loss is More than a Meal Plan
Fueling your body can be hard, particularly when your lifestyle is stressful. It's almost impossible to avoid stress these days. That's a problem, as stress potentiates motivation for rewarding foods and behaviors, according to University of Yale researchers. You know your vice, whether it's salt, sugar, fat, or alcohol, we all have a food craving that can drive stress related weight gain. It can help to learn how to manage stress, and find ways to smooth emotions, and uplift your mood that promote weight loss. Try a walk outdoors – it can improve mood and reduce stress.
What to Eat to Lose Weight
Stress management can help you steer away from the sugary, salty, and fatty foods linked with weight gain. In their place, what should you eat to lose weight? Researchers found that eating whole foods (vegetables, fruits, and whole grains) was associated with long-term weight-loss. As for keeping the weight off, according to the  Weight Loss Maintenance Trial increasing one's intake of fruits and vegetables was associated with weight-loss, as was the inclusion of low-fat dairy (a source of protein). Evidence points to vegetables, fruits, and low-fat dairy as important foods to include in a healthy meal plan for weight loss. Need a little motivation to eat more fruits and vegetables? They are linked to  better overall health, according to leading health experts.
Can I Eat Fruit for Weight Loss?
Yes, eating fruit has been linked to successful weight loss. More importantly, fruit might help you live longer, better. Eating fruits and vegetables is noted by the World Health Organization as a way to reduce the risk of cancer, cardiovascular disease, diabetes, and death. The WHO recommended adults consume five portions of fruits and vegetables per day, with 80g considered a serving to improve overall health and reduce the risk of these diseases, in the 2020 World Health Organization FAO Expert Consultation. Better yet, eat more than five portions – fruits and vegetables are delicious and nutritious! Of note, if you have diabetes or prediabetes, or are insulin resistant, you'll want to limit fruit intake. Many overweight people are insulin resistant. Could you be insulin resistant? It may be hindering your ability to lose weight. During a stay at to the Pritikin Center, the team of medical experts will test for insulin resistance, and help you discover clinically proven strategies to achieve weight loss, and enjoy a healthier body.
Healthy Meal Plans for Weight Loss
Fruits and vegetables are called high-quality foods – they contain more health-promoting nutrients per bite than other foods. For example, compare an apple to a donut:  you'll notice they both fit in your hand, but the apple offers significantly more health-promoting nutrients.
Another helpful way to determine a foods' nutritional value in a meal plan for weight loss, is to look at the foods' calorie density. This is a successful approach used in the Pritikin Eating Plan at the Pritikin Center to promote healthy weight loss. Calorie density is the weight per pound of food. Take for example vegetables; vegetables are heavy and have a low calorie-density, similarly, a bucket of water is heavy yet contains no calories. Foods with a low-calorie density, include vegetables, fruits, and whole grains. Foods with a higher calorie-density, such as bread and avocados, are best eaten sparingly if you are trying to lose weight. A healthy meal plan for weight loss includes vegetables, fruits whole grains, low-fat dairy, and healthy sources of protein (aim for mostly plant proteins). "We recommend reaching for a protein and a carbohydrate," notes Ben-Asher. In the template below for a Healthy Meal Plan for Weight Loss, you'll notice this combination of proteins and carbohydrates in practice. Of note, it's a template – you'll notice no measurements. This is part of the success of the Pritikin Eating Plan – you're unique, and thus so needs to be your food plan.
Can a Healthy Meal Plan for Weight Loss Include Dessert?
Yes, you can eat dessert. Pritikin Chefs have recipes for delicious desserts, like Chocolate Mousse that's surprisingly healthy, as it is made with the plant-based protein tofu. Yet, for the most success at weight loss, ask yourself why you want to eat dessert. Is it out of boredom, for emotional reasons, or a habit?  Registered Dietician, Lon Ben-Asher suggests, "when trying to lose weight, make vegetables the largest component of your meal, eat nothing after dinner, and exercise as many days of the week as you can. After coaching over 300 patients here at Pritikin, that is what leads to the most success."
What Can I Eat to Feel Full and Lose Weight?
Yes, it is possible to effectively lose weight and keep it off while eating foods that are delicious, and satiating. "If weight loss is your goal, we want the vegetable to be the star of the show, as it lowers the density of your food for the day," explains Ben-Asher. Pritikin is an all-inclusive health resort that offers guests an integrative health program – the Pritikin Program has been found to bring proven effective in over 100 clinical studies.
What is the Best Meal Plan for Weight Loss?
A busy schedule can make it hard to fit in enough time to many meals commonly included in a meal plan. Meal prep is a trendy term used for making food, in bulk, on the weekend, and storing them in portioned containers in the fridge for quick, healthy, go-to food. Ben-Asher has a great suggestion for those feeling short on time, "Buy pre-prepared vegetables, such as bagged salads or baby carrots." From snap peas, to green beans, cooked beets to edamame beans, there are many pre-pared vegetables ready in stores to save you time.
Soups, stews, and chilis can be made and stored in portioned jars, perfect for on the run lunches.
Steel cut oats can be made in advance in large quantity, then scoop out into a bowl for a quick reheat in the microwave each morning, adding in a low-fat protein, and berries to make it a complete meal.
In under 10 minutes, you can have crisp, cut-up vegetables ready for the week – precut carrots, celery, cauliflower, bell peppers, and radishes, and store in a glass container in the fridge filled with cold-water.
You can enjoy many of the famous Pritikin meals at home – delivered frozen straight to your door through Pritikin Foods.
How to Lose Weight Successfully
There's more to weight loss than what you eat. Research shows physical activity, smoking, and sleep can impact how successful you are at losing weight. Even watching television may impact your weight – a study suggests it could possibly cause you to gain 0.3lb per hour of television you watch. To achieve optimal health, including weight loss, a whole lifestyle approach has been shown to have the best results. The National Weight Control Registry, the most comprehensive study on long-term weight loss, found people who followed a healthy lifestyle program (healthy meal plan, regular physical exercise, and practicing a positive mindset) on average lost 66 pounds over 6 years. That's the same three pillars of the Pritikin Program: a healthy meal plan, an active lifestyle, and a positive mindset.
Delicious and Easy 3 Day Meal Plan for Weight Loss
Here is a 3 Day Meal Plan for weight loss featuring recipes from the award-winning chefs at the Pritikin Center. These recipes are not difficult to make. If you're sceptical of their flavor potential with the lack of sugar, salt and fat, you'll be surprised – they are delicious! There is lots of variety below, to show that eating healthy can include foods in many forms, and include a wide array of flavours form sweet, savoury and spicy.
Healthy Meal Plan for Weight Loss: Day 1
Breakfast
Hot bowl of oatmeal topped made with skim, almond or oat milk, with fresh berries
Coffee or tea (if desired) – add a splash of non-fat milk or unsweetened soy milk, and/or a bit of sugar substitute.
Mid-Morning Snack (enjoy only if hungry)
Lunch
Mid-Afternoon Snack (enjoy only if hungry)
Dinner
Healthy Meal Plan for Weight Loss: Day 2
Breakfast
Egg White Omelette made with chopped up vegetables and potato
Coffee or tea (if desired) – add a splash of non-fat milk or unsweetened soy milk, and/or a bit of sugar substitute.
Mid-Morning Snack (enjoy only if hungry)
Lunch
Mid-Afternoon Snack (enjoy only if hungry)
Dinner
Healthy Meal Plan for Weight Loss: Day 3
Breakfast
Sweet Potato Pancakes with Blueberries topped with fat free, no-sugar added yogurt
Coffee or tea (if desired) – add a splash of non-fat milk or unsweetened soy milk, and/or a bit of sugar substitute.
Mid-Morning Snack (enjoy only if hungry)
Cottage cheese with fruit
Lunch
Mid-Afternoon Snack (enjoy only if hungry)
Dinner
There are so many more Pritikin recipes to try at home, or come to the Pritikin Cooking School. The Pritikin Cooking School is an additional program offered to those who want to prep for healthy success in the kitchen with hand on cooking classes.
Where can you find this type of healthy meal plan for weight loss? The Pritikin Center, in Miami, Florida. Within three weeks of starting the Pritikin Program, among 4,587 adults, men lost on average 11 pounds and women lost 7 pounds, according to the research study. What are you waiting for?
REFERENCES