New Study Highlights Another Reason to Avoid Fast Food
A new study has revealed that many fast-food wrappers contain chemicals.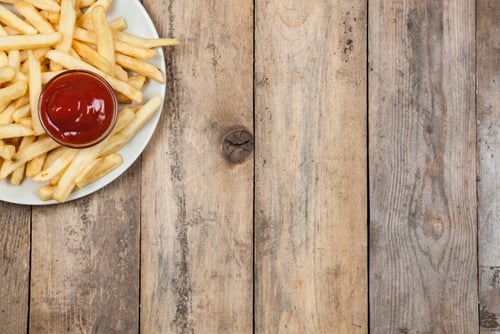 Though it may be difficult to avoid the allure of fast food in today's media-driven consumption culture where everything is extra-large and processed, after just a short stay at the Pritikin Longevity Center you'll leave with a long list of reasons to avoid this harmful, unhealthy category of food.
As if you needed one more reason to avoid the drive-thru hamburger joint, the greasy French fries and sandwiches served at these fast-food restaurants are likely to be wrapped in chemical-filled packaging.
New Study Finds Chemicals in Fast-Food Wrappers
When testing fast-food wrapping and packaging materials at 27 different fast-food companies ranging from notoriously unhealthy McDonald's to eateries publicly working to be more healthy such as Panera, researchers found a high rate of perfluorinated chemicals, reported Science Daily. These chemicals, known as PCFs, are the same ones used in nonstick and stain-resistant products as well as firefighting tools.
Testing over 400 samples, the study – published in the journal Environmental Science & Technology – found these chemicals present in more than half of bread and dessert wrappers, 38 percent of burger and sandwich wrappers and 20 percent of all paperboard products. There were no chemicals present in the paper cups tested.
As Science Daily explained, these PCFs have been linked to a number of health concerns in the past and prior research has revealed that these chemicals can move into the food and then the body after consumption. Concerns linked to the chemicals include immunotoxicity in children, thyroid disease as well as kidney and testicular cancer. And according to investigator Graham Peaslee, a professor of experimental nuclear physics in the College of Science at the University of Notre Dame, they do not biodegrade or naturally degrade and can remain in the bloodstream for many years.
Avoiding Fast Food and Eating Healthy
There's no question that avoiding fast food and now, the majority of fast-food packaging as well, is important when following the Pritikin Diet and Eating Plan. Though foregoing some of your favorite foods may be difficult at first, many guests will tell you that after just a few days at Pritikin, they've found that their taste buds have transformed and that weekly bacon cheeseburgers no longer taste as good as it once did. Best of all, Pritikin chefs, staff members and educators make it easy for you to follow the eating plan and stick to food that is minimally processed, whole and natural.
Even once you've returned home, guests have access to the library of Pritikin recipes as well as our online Pritikin Market, offering all your Pritikin favorites that can be delivered right to your doorstep. And be sure not to miss our monthly Food of the Month series where we introduce one of the best fruits or vegetables of the season, its health benefits, tasty recipes and ways to incorporate it into your healthy eating plan.
Wellness Resort
Weight Loss Retreat