Day Ten | Veggie-Rich Soups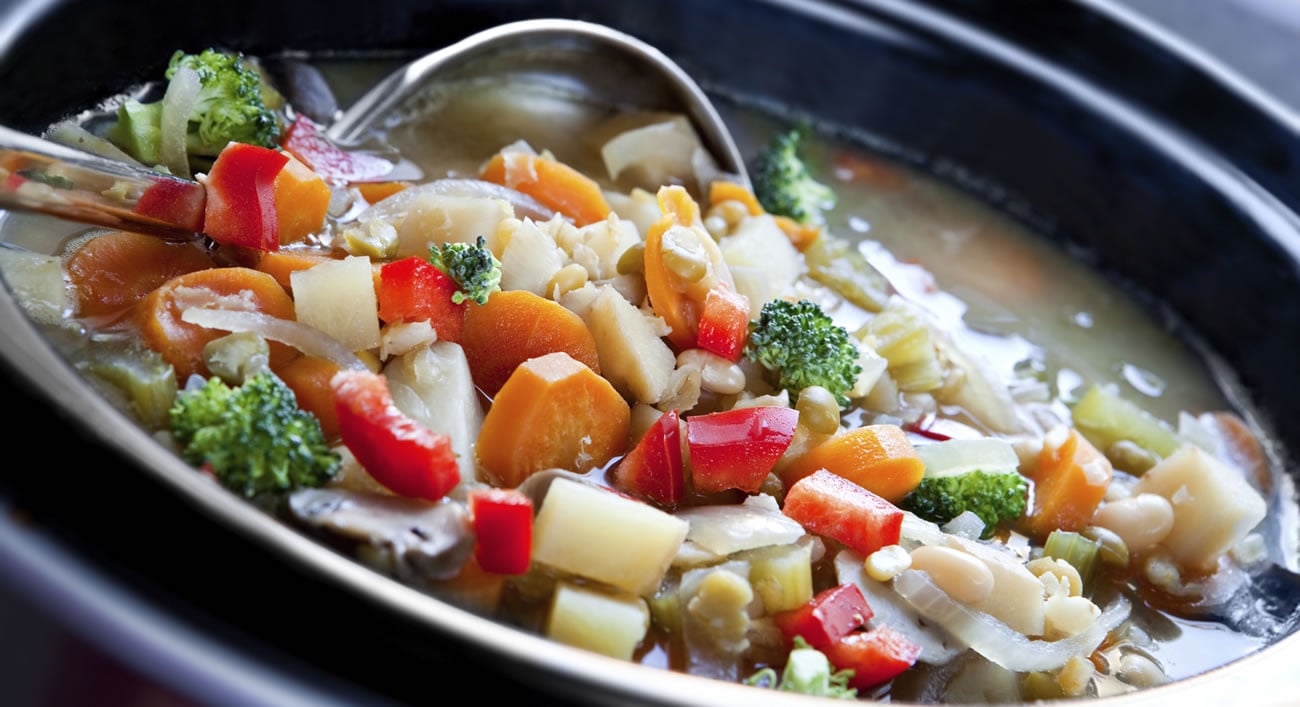 Breakfast
2 whole-wheat buttermilk pancakes or waffles with 1 cup fresh berries
1 cup plain nonfat yogurt
1 cup tea or coffee with 1 tablespoon nonfat milk or soymilk and 1 packet of sugar substitute
[sociallocker id="16433″]
Midmorning Snack
1 nectarine, plum, or tangerine. A diet rich in whole fruits and vegetables is great not only because they help you lose weight and get plenty of nutrients but also because they are so incredibly low in sodium, which means they can help you avoid high blood pressure. A piece of fruit has just 3mg of sodium. Just 3! A bagel has about 440mg of sodium. An Aunt Annie's Soft Pretzel has 1,120mg of sodium (two-thirds the sodium we should eat for the entire day).
1 ounce walnuts
Lunch
Salad on-the-run. Did you know that many restaurant salads have more calories and saturated fat than two McDonald's Quarter Pounders? A Chicken Caesar salad at many restaurants can tally up 1,000 calories. Stop off instead at supermarkets with big, bountiful salad bars full of delicious, freshly cut veggies and other healthy toppings, like beans and freshly roasted chicken. Use fat-free dressing or make your own very-low-calorie (and very-low-sodium) dressing by combining a little oil (just a teaspoon or two) with vinegar and black pepper. Total calorie count for your designer salad? Probably not more than 200 calories.
4 ounces canned low-sodium salmon with 1 teaspoon fresh dill, sliced cucumber, and finely chopped onion stuffed into ½ whole-wheat, low-sodium pita pocket
1 cup fruit (While at the salad bar, make up another container full of pre-cut fresh fruit like melon and strawberries.)
Midafternoon Snack
Chickpea Crunchies. Toss 1 cup of blotted-dry, cooked chickpeas (garbanzo beans) with ½ teaspoon each of black pepper, coriander, cumin, and cayenne. Spread on a nonstick baking sheet and bake at 400° F until golden brown, about 40 minutes.
Dinner
2 cups mixed greens with 2 tablespoons chopped red onion, 1 tablespoon low-sodium soy sauce, ¼ cup nonfat ricotta cheese, and 1 teaspoon canola oil
1 cup of Super-Fast Italian Soup. From one 14-ounce can of cannellini beans, spoon out 2 tablespoons of beans. Puree the rest. In a medium nonstick pot, sauté 5 cloves of chopped garlic till translucent. Add 2 cups low-sodium chicken broth and 1 head of escarole, finely chopped. Simmer for about 15 minutes, or to your taste. Throw in pureed beans, red pepper flakes and black pepper to taste, and the 2 tablespoons of whole beans. Freeze leftovers in single-serving containers for future meals and snacks.
Dessert
Jell-O Sugar-Free Rice Pudding (just 70 calories). Make it pretty by scooping it out of its plastic container and topping it with blueberries and a sprig of mint. Garnish with a little no-sugar-added raspberry jam.
[/sociallocker]


Wellness Resort
Weight Loss Retreat