"A struggle to cut your own toenails? That's pretty powerless," acknowledges Lee, who owns a construction firm in Manhattan and recently celebrated his 50th birthday.
A couple of years ago, there were plenty of other challenges, too. Big ones. Lee had sleep apnea. He had to wrap his jaw in an appliance every night. He also struggled daily with a nasty case of acid reflux.
"I was so lethargic"
And he just felt blah. "I was so lethargic. I was always wanting to lie down for a nap. I knew I was missing out on life. And I hated it."
It wasn't as if Lee woke up one morning and said, gotta do something. He'd been trying to lose weight and keep it off for virtually his entire adult life, starting after college. That's when the weight started to creep up.
"Diets, fads, programs, cleanses… I tried them all."
They'd all failed, even the 12-step program that had worked so well for his drinking. "Basically, I have an addictive personality," says the husband and father of sons ages 13 and 14. "I throw myself into everything, from drinking to eating to work."
"One piece of chocolate, and it's all over."
"I was able to overcome my drinking problem, but I couldn't put the breaks on my eating. I'm one of those people where one piece of chocolate, and it's all over. I couldn't succeed no matter how hard I tried."
"Do something big."
About 18 months ago, Lee hit bottom. He and his wife, Lauren, had just hosted a truly joyful event – their older son's Bar Mitzvah. "But afterwards," recalls Lauren, "Lee couldn't look at the photos. He was so upset when he saw how overweight he'd gotten."
That's when Lauren told him, "Lee, I think you've got to do something big. Get away. Make a complete break. Find a place where you can immerse yourself in healthy living, in a whole new way of life."
Pritikin Longevity Center
Lee agreed. He researched extensively online, found the Pritikin Longevity Center in Miami, and learned that Pritikin's focus wasn't diet. It was lifestyle change, and it had the science to prove that it worked.
Pritikin, he decided, was his next move.
He also decided to ask his mother, Gloria, to come to the Pritikin health resort with him. "She'd battled her whole life with weight and high blood pressure. We thought that maybe, together, we'd have some success."
In January 2016, both mother and son flew down to Pritikin.
Off blood pressure medication
By the second day, Gloria was off her blood pressure medication.
And by the second day, both mother and son were all in.
"We went at it!" laughs Lee. "We didn't leave the Pritikin campus for an entire week."
Every day, morning till night, they attended all the education classes. They exercised. They ate Pritikin, "and we ate well!" Lots of fresh fruit, fresh vegetables, savory soups, pastas, grilled salmon, roasted bison, new and interesting whole grains like farro, and even chocolate mousse, Pritikin-style, of course. No calorie-dense, artery-clogging cream, but plenty of creamy, chocolately flavor.
"Pritikin worked when nothing else did"
What Lee appreciated most of all was what he learned. "Pritikin provided me with the education and tools to obtain the healthy lifestyle I've always wanted.
"Pritikin worked when nothing else did."
No sleep apnea. No acid reflux
Today, Lee no longer needs his appliance for sleep apnea. He no longer needs acid reflux pills. In fact, he visited his gastroenterologist today, who told him he had great results, and that "everything is way better than it used to be."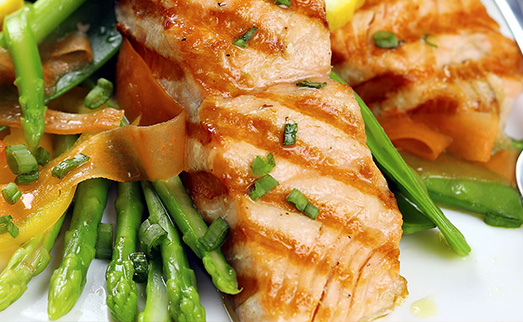 Do You Have Acid Reflux?
Having acid reflux doesn't mean you have to give up on flavor. The Acid Reflux Diet
50 pounds lighter, and keeping it off
And, as stated earlier, he dropped 50 pounds over the course of six months, going from 218 to 168. He's maintained this weight loss for more than a year.
Most importantly, he feels fantastic. "I'm healthier at age 50 than I've ever been in my adult life."
He walks and takes stairs whenever possible, tallying up about 12,000 steps most days. He starts each day with bicycle sit-ups and push-ups. He's devoted to his twice-weekly trips to the gym to work out with a trainer. They continue the stretching routine Lee learned at Pritikin. He's also taken up bicycling.
And he loves hiking with Lauren, the kids, and their dog.
"I have a different husband"
"I have a different husband, an active husband," says Lauren. "Before, he always felt so bloated and uncomfortable. That's what bad eating can do to you. Now, he's walking all over the place. He's light on his feet. He's happy.
"Before, everything was a struggle. Now, everything is so easy."
"I'm leading the pack"
When hiking in vacation spots like the island of Saint Lucia, "I'm leading the pack," says Lee, clearly awed at what he can now do.
"I'm much more energetic. I'm going all day long. I'm more engaged with the kids. I no longer simply exist. I'm living."
Oreos in the pantry
But Lee will be the first to tell you that it's no cakewalk. "Some days are great. Some days have their challenges. I've got teenagers in the house, so there are things like Oreos in the pantry. When I'm 'on the beam,' I don't even see them. I walk right past them. But there are days I don't. I'm not perfect.
"But I learned at Pritikin how to put healthy living to work in my life, one day at a time. I'm a visual person. At Pritikin, there were visuals and messages that have stuck with me. There were habits I picked up that are now second nature to me. I used to, for example, eat without paying attention to my eating – I wasn't even aware I was getting full – and I packed it in as a result. No more.
"I used to drink down a ton of calories every day. No more."
Falling down, then getting back up
Lee also learned how to handle slips. "Don't go 'back to back,' Pritikin taught me, and I live it every day. It means that if I eat something I know isn't the best choice, I don't keep slipping. I get right back on track with my next meal."
Adds Lee's mother, Gloria: "Of course, I've always loved my son, but watching him ever since he got back from Pritikin, I love him in a different way. He's different. He's strong. He tries and tries. He doesn't give up… I'm so proud of him."
Yes, healthy eating can have its challenges, but it can also be fun.
"He likes brown rice!"
Laughs Lauren, "I think one reason Lee's doing so well is because he really likes what he's eating. He likes brown rice! He likes balsamic vinegar on his salad."
Restaurants
He doesn't feel deprived in restaurants. "I was pleasantly surprised at how easy it is to eat well when I go out," says Lee. "I almost always start with a salad and then order a 'Pritikin friendly' entree consisting of a small portion of fish or other protein like bean chili, plus vegetables and a whole grain like brown rice, or a plain baked potato or sweet potato.
"I also tell the server, 'I'm trying to avoid oil and salt.' On occasion, the chefs come out and ask me about the Pritikin Program. They're intrigued. They want to know more. Then, they go back to the kitchen and whip up some great food."
"Always a smile on his face"
Since Pritikin, life's been great. Mothers know these things. "These days, Lee always has a smile on his face," says Gloria. "Both he and Lauren are having a wonderful time. They're traveling. They have a very active social life. They look radiant when they dress up. They are radiant."
Agrees Lee: "I'm feeling terrific…from the toes up! Thank you, Pritikin!"

Lose Weight at the Pritikin Weight-Loss Retreat
Take life to the next level, and be all that you can be. That's what a vacation at Pritikin is all about. Live better. Look better. And best of all, feel better.