Day Three | Healthy Sandwiches
Turn ho-hum sandwiches into hearty, healthy sandwiches. Learn how with the Pritikin Program's 14-Day Meal Plan For Health and Weight Loss.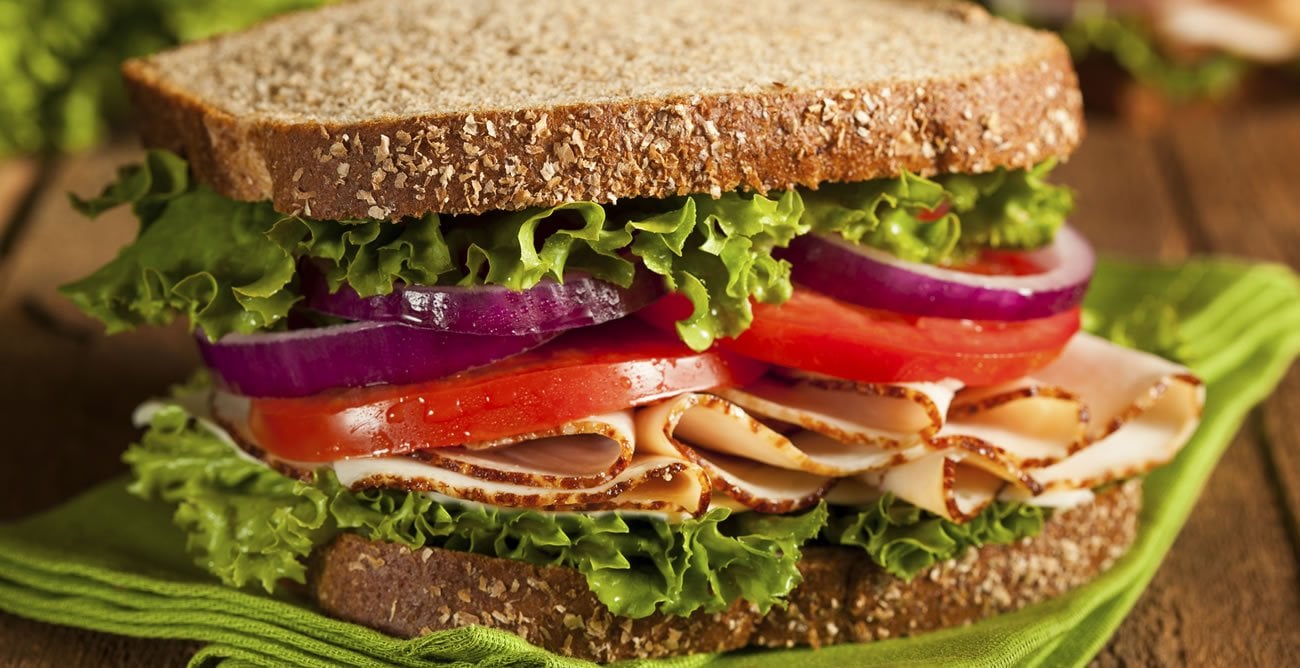 Breakfast
1 cup oatmeal cooked with water and topped with nonfat milk or soymilk, ½ cup of strawberries (fresh or frozen), ½ cup of blueberries (fresh or frozen) and 1 tablespoon chopped walnuts
1 cup tea or coffee with 1 tablespoon nonfat milk or soymilk and 1 packet of sugar substitute, such as Splenda.
Midmorning Snack
1 cup diced watermelon
1 bag baby carrots
Lunch – Healthy Sandwiches – Lose the white flour!
1 to 2 cups canned vegetable and bean soup (good choices include low-sodium, fat-free varieties like Pritikin or Health Valley or frozen variety like Tabatchnick)
2 to 3 cups of mixed baby salad greens with Papaya Salsa
Sandwich of fresh roasted turkey breast (3 ounces) with 2 slices of low-sodium, whole-grain bread with assorted veggies, like baby greens and sliced tomatoes. Smear the bread with 1 tablespoon of stone-ground mustard and 1 teaspoon nonfat mayonnaise.
Midafternoon Snack
1 cup fresh fruit
2 cups air-popped popcorn. A good ready-made brand is Bearito's no-salt, no-oil variety. It takes 2 quarts of air-popped popcorn to equal the calories in just 20 potato chips.
Dinner
Big salad of romaine lettuce mixed with your own homemade salad dressing using fat-free sour cream or nonfat plain yogurt sassed up with a little mustard, vinegar, low-sodium ketchup, and/or hot sauce.
Chicken Veggie Burger stuffed into whole-wheat pita bread with, if you desire, big slices of roasted red bell pepper.
1 cup of roasted baby red potatoes. Preheat oven to 400° F. Cut potatoes into bite-size pieces and toss with a teaspoon of canola oil, freshly ground black pepper, and thyme (fresh or dried). Put in Pyrex dish lightly misted with cooking spray. Bake until tender (about 40 minutes), tossing occasionally.
Dessert
Smoothie made in blender with 1 cup nonfat plain yogurt, ¾ cup crushed ice, ½ banana, and fresh or frozen berries.
Wellness Resort
Weight Loss Retreat