What is the wildest food request you've ever received, and were you able to accommodate it?
The wildest food request is when a guest asks our healthy kitchen, "I'm craving a cheeseburger. Can you make me anything that gets close to one?"
Well, we do! With a whole-wheat bun and a juicy chicken-veggie patty topped with a hint of fat-free mozzarella cheese, and with some crispy potato skins on the side, we can make our cheeseburger-loving customers smile and enjoy some very pleasurable moments.
What do you like most about working at Pritikin?
The fact that I'm working in a healthy environment, doing something good for our guests, and improving people's lives. The teamwork and support that we create and maintain in the kitchen helps a lot too.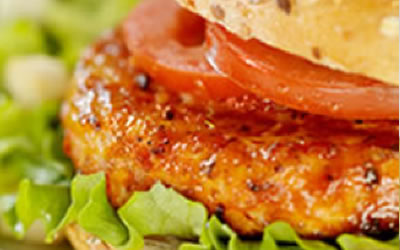 More Tips for Healthy, Juicy Burgers
Do your chicken burgers turn out dry and rubbery? Try these 6 simple tips from the award-winning chefs at the Pritikin Longevity Center and Spa in Miami. Get 6 Secrets For Cooking Juicy Chicken Burgers
What are your top three healthy cooking tips?
The following healthy cooking tips are tops for me because anyone can do them. You don't have to have any special chef skills. And personally speaking, I know they really work.
Add more vegetables to your dishes. Even when dining out, simply ask your server, "Would you please triple the amount of veggies on my plate?"
Never, ever use salt or salt substitutes. Hide the salt shaker from plain view in your kitchen and dining room! Maybe put it way up high on a shelf only reachable by ladder. Bring it out only when you have guests over for dinner. If it's out of sight, you're more apt to find great alternatives, from lemon juice to salt-free seasonings. Most importantly, you give your palate a chance to shed the taste for salt, which opens you up to many amazing flavors that salt often covers up.
Plan ahead. For example, cook some foods, like soups, in advance so that you always have something good and ready to go.
Do you have a favorite Pritikin recipe? What is it?
My favorite recipe at Pritikin is the Citrus Fennel Mango Salad topped with a piece of Mustard-Coated Salmon.
If you had to pick one secret ingredient that works every time, what would it be and why?
My secret ingredient – and I always teach it in our healthy cooking classes – is ginger root. It's delicious and adds spark and spice to just about everything – soups, salads, and even desserts.
What is your favorite memory of healthy cooking classes at Pritikin?
The most stressful but loveliest moment I've ever had was one particular afternoon when our Executive Chef Anthony asked me to prep the cooking class tray. I'd always been the prepper for our healthy cooking classes, never the teacher.
But then, at the head of class, in front of all our guests, Chef Anthony said, "Today, Ernesto, this cooking class is yours. You will teach it." He then walked away! That was my first experience as a cooking class instructor. And I've been thoroughly enjoying being a cooking school teacher here at Pritikin ever since!
---
Chef Ernesto's Favorite Healthy Recipes
These super-filling and absolutely delicious recipes are bound to end up on your list of favorites, too! Have some fun in the kitchen. Discover healthy meals that actually taste good, really good. You'll learn how in Pritikin's healthy cooking classes.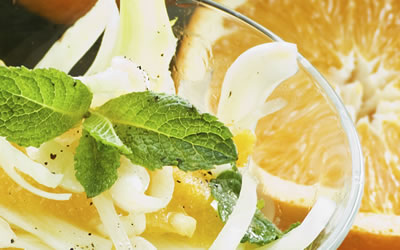 Citrus Fennel Mango Salad
Here's proof positive that healthy food can be as enticing as expensive red wine! You'll love this recipe's complex blend of citrus zest, licorice-flavored fennel, tropical mango, and fresh cilantro.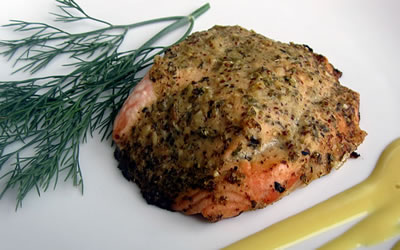 Mustard-Coated Salmon
So simple but so gourmet! A weeknight dish that makes you feel it's the weekend! Serve with a quick-and-easy whole grain like quinoa or couscous, or a microwaved baked potato, plus a big green salad.

---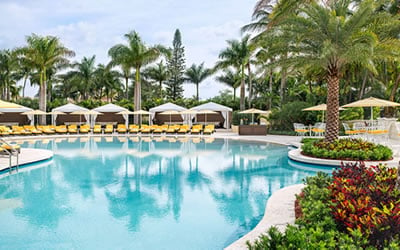 Health Resort
Take life to the next level, and be all that you can be. That's what a vacation at Pritikin is all about. Live better. Look better. Best of all, feel better.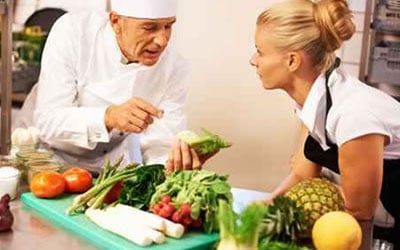 All-Inclusive Program
Since 1975, 100,000+ people have come to Pritikin. We are the longest-running, most scientifically documented health resort in America.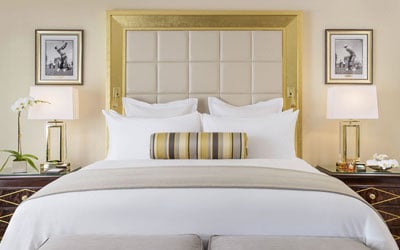 Rooms and Suites
Our newly renovated guest rooms at the health resort are spacious, serene, and amenity-rich. Each has a gorgeous garden view.