Cinco De Mayo Food & Healthy Recipes
Get the Cinco de Mayo party started with these delicious and healthy recipes. These Cinco de Mayo foods will be the hit of your event.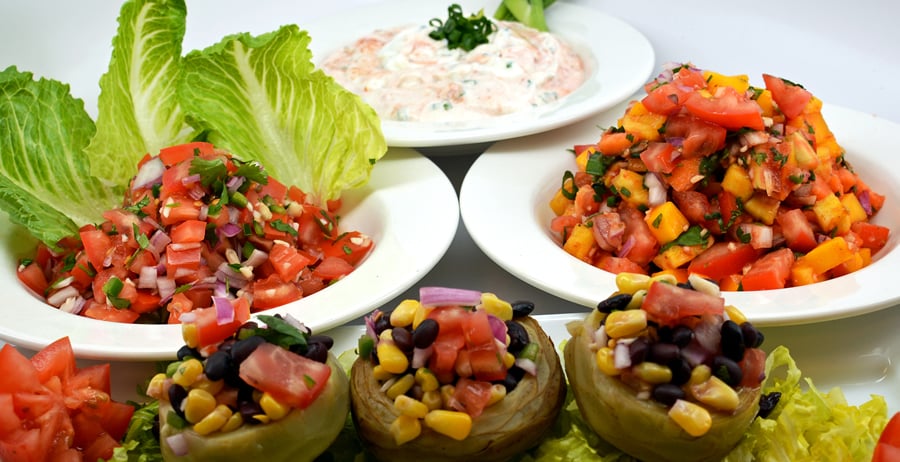 During a healthy vacation at Pritikin you'll enjoy healthy food at every meal. Learn in cooking classes how to become an expert healthy food chef. Exercise under the guidance of board-certified physicians. Shed weight. Get your blood pressure and other cardiovascular risk factors under control. And return home with a whole new zest for life. Now that's how to add some spice to your life.
Our Favorite Food for Cinco De Mayo
Creamy Salsa
Here is a semi-Pritikin salsa for guests at your Cinco De Mayo party who crave "creamy" but don't need to go as low (in terms of both health and flavor) as Velveeta.
Get Recipe
Tropical Salsa
This Tropical Salsa recipe brings the fresh flavors of South Florida to your south of the border fiesta. It includes a medley of divine fruits, but nothing that's bad for you. Wow!
Get Recipe
Burrito Bar
A bar full of delicious fixings for healthy burritos is a great way to please everyone. Serve up healthful Cinco De Mayo foods like fresh bell pepper strips, low-fat sour cream, no salt added beans, and Spanish-Style brown rice.
Get More Ideas
Black Bean Salsa
Black beans and salsa are staple Cinco de Mayo foods, but make a double batch of this lively recipe and enjoy the leftovers in all sorts of ways, for example, as a topping for green salads, poultry, or fish, or blended with whole-grain rice.
Get Recipe
---
---
Pico De Gallo
Serve with colorful, cut-up veggies and pick up bags of baked, low-sodium tortilla chips. Good choices include Guiltless Gourmet and Garden of Eatin' Baked Yellow Chips.
Get Recipe
Seafood Ceviche
Ceviche recipes are staples in Mexico, so this colorful treat is an ideal food for Cinco De Mayo! The refreshing kick of this recipe will have your taste buds tingling!
Get Recipe
Wellness Resort
Weight Loss Retreat
Health Spa