Healthy Thanksgiving Menu
Want your taste buds titillated? Check out this yummy, super-healthy Thanksgiving menu and recipes from Chef Anthony and his mighty team of sous chefs at the Pritikin health resort. Citrus-Marinated Turkey Breast. Stuffed and Roasted Holiday Acorn Squash. Cream of Green Pea Soup. Garlic-Roasted Brussels Sprouts. And more!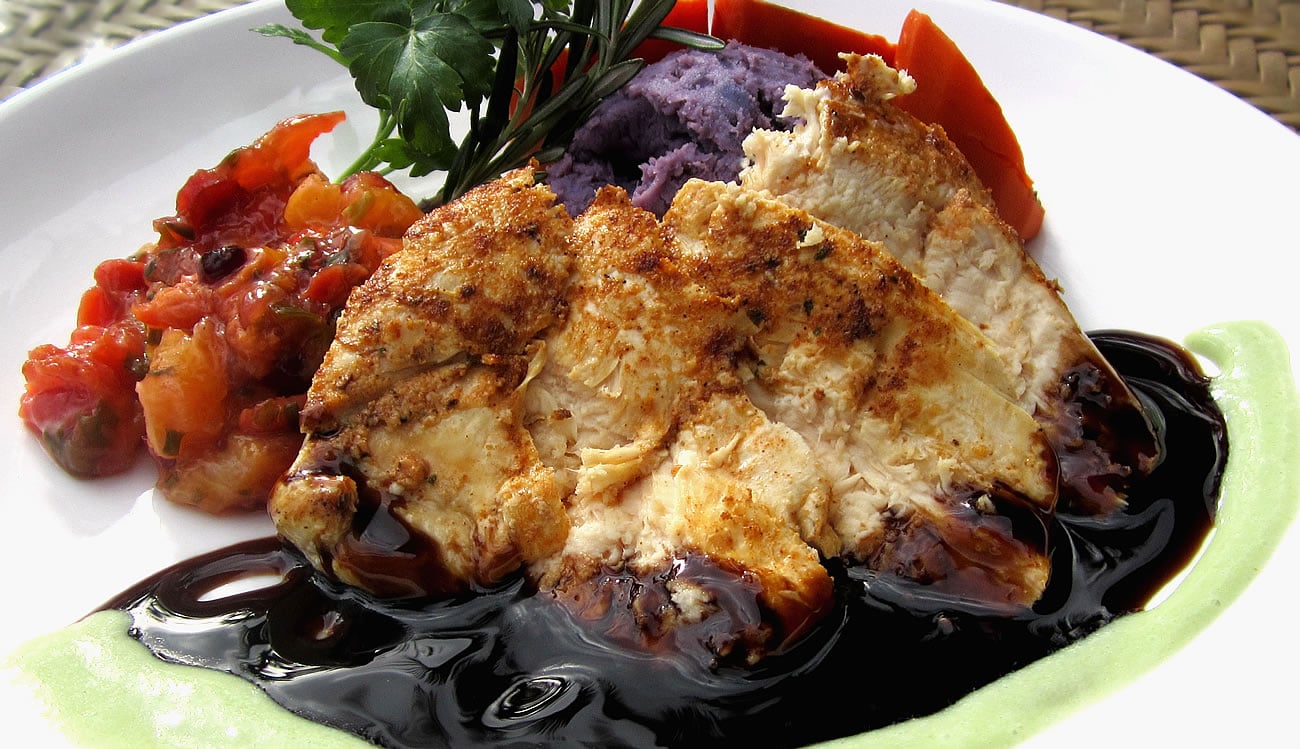 Created by chefs at the Pritikin Longevity Center, these recipes will help you create a healthy Thanksgiving menu that is packed with rich, unprecedented flavor, yet contains little or no saturated fat, salt or sugar. There's not a better gift you could give, than a scrumptious meal that's good for the health of you and your loved ones.
Healthy Thanksgiving Menu of Holiday Favorites
Full of rich, savory surprises, here's a super-healthy Thanksgiving menu from Pritikin's elite chefs. Easy recipes with culinary flare, this exceptional menu includes all of the traditional holiday favorites made healthy:
Citrus-Marinated Turkey Breast
Sage Dressing
Stuffed and Roasted Holiday Acorn Squash
Cream of Green Pea Soup
Garlic-Roasted Brussels Sprouts
Sweet Potato Chocolate Mousse
Wisely raise your forks and enjoy these delicious healthy Thanksgiving dishes from the inspirational chefs at Pritikin. "We wish your holiday is full of joy," says Executive Chef, Vincenzo Della Polla, who wrote this witty poem to inspire you – and, sprinkle a little more joy into your holidays.
It's time for Thanksgiving
But let me just say
Try to eat a bit healthy on this food filled day
If you reach for the salt
Remember to HALT.
Please don't even utter
That dreaded word butter.
Make your food yummy and tasty
But stay away from all the pastries.
Roast your turkey until it's juicy and plump
Mash those potatoes so there's not one lump!
Roast your yams, they'll come out delicious
But more important, they're still nutritious.
You can win this holiday, don't take defeat
Just be mindful of things you eat!
Don't let this holiday be your demise
Let's keep Thanksgiving dinner off those thighs!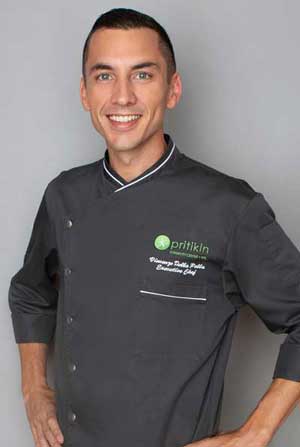 Citrus-Marinated Turkey Breast
This roasted turkey breast recipe sings with flavors! Fresh pineapple, fresh oranges, fresh rosemary, balsamic vinegar and molasses creates a turkey so delectable, no one will want gravy.
Get the Recipe
Stuffed and Roasted Holiday Acorn Squash
An explosion of flavors, this holiday side dish is spellbinding! With cranberries, raisins, barley, basil and garlic, it is a delight for the taste buds – but contains not one bit of added salt or fat.
Get The Recipe
Cream of Green Pea Soup
Velvety, warm bowls of this Cream of Green Pea Soup is perfect for chilly Thanksgiving meals. It's a wonderful alternative to typical cream-based soups which are full of dietary insults that can do a lot of damage to our health.
Get The Recipe
Garlic-Roasted Brussels Sprouts
When a platter of these scrumptious Garlic-Roasted Brussels Sprouts are put out in the snack buffet at the Pritikin health resort, they're gone (not one left!) within five minutes.
Get The Recipe
Sage Dressing
Who needs traditional stuffing packed with artery-damaging ingredients, such as sausage and butter, when you can enjoy all the rich complexity and warmth of healthy Pritikin Sage Dressing?
Get The Recipe
Sweet Potato, Kale, and Rum Pie
Yes, this is a creative one!  Pritikin Chef Vincenzo has added delicate Tuscan kale to this rich, blend of rum, sweet potatoes, acorn squash, and raisins. The crust is no sugar, no salt added corn flakes.
Get The Recipe
Get away from temptation and spend the holidays at Pritikin
This year, create your own holiday magic right here at the Pritikin Longevity Center. Escape the fudge and fruit cakes. Bask in our balmy Miami breezes.  Relax. Eat well. Exercise well. Enjoy time with Pritikin friends.  And return home weighing less. (How many people can say that after the holiday season?) It's holiday magic, Pritikin-style.
Brochure & Rates
Wellness Resort
Weight Loss Retreat