Healthy Travel Tips for Summer
At the airport, you can often find colorful, large salad bars, and even very-low-calorie salad dressings for your veggies. Other possibilities at many airport terminals are coffee shops like Starbucks that serve nice oatmeal selections, including one with fresh blueberries.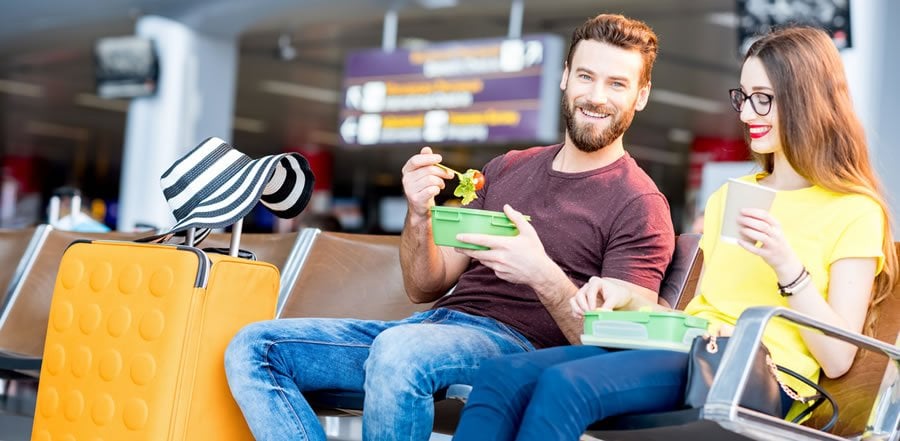 Follow these tips to stay healthy while traveling. They'll help you launch your health and weight-loss retreat at the Pritikin Longevity Center in the best way possible:

Healthy Travel Tips | Plan (And Pack) Ahead
Whether traveling by plane, train, or car, your best option to maintain your healthy Pritikin Eating Plan is to plan ahead. You know you're going to get hungry during your travels, so pack some low-calorie-dense yet filling snacks.
If you're traveling in the morning, bring along oatmeal and easy-to-eat fruit like apples and grapes, or whole-wheat bread spread with a little peanut butter and topped with slices of banana.
For mid-morning and afternoon snacks, pack veggies like cherry tomatoes and baby carrots. (During your healthy vacation at Pritikin, you'll learn all kinds of great tips in cooking classes for whipping up healthy, tasty dips for your veggies.)
Throw all your healthy goodies in a cooler for the car, or toss them in your carry-on for the plane. As long as you're bringing solid foods, there are no restrictions for airplanes, so follow this Pritikin guide to snacks and pack away.
Once at Pritikin, you're going to be amazed at all the scrumptious snacks served, such as savory, delicious soups made daily like Corn Chowder and Spicy Seafood Soup, the best of season-fresh fruit like peaches and cherries, baked potatoes (yes, you can eat potatoes!) with tangy, slimming toppings like nonfat Greek yogurt and chives.
One thing you'll learn immediately during your wellness vacation at Pritikin is that you're never hungry. From breakfast to mid-morning snacks to lunch to mid-afternoon snacks to a sumptuous 3-course dinner, the Pritikin menu is always a tantalizing bounty of food. "Always, our guests are amazed that they're eating till they're full and losing weight at the same time," smiles Pritikin's Director of Nutrition Kimberly Gomer, MS, RD.
Healthy Travel Tips | Eat Out the Right Way
Healthy Travel Tips | Try To Stay Active
Traveling involves a lot of sitting, which is not comfortable nor suitable for your exercise plan.
Don't worry about it. When you arrive at Pritikin, you'll soon be involved in what many have described as the safest, most effective fitness program in the world. And you'll learn plenty of tips for fitting exercise into everyday life.
Here are a few to get you going…
If you're at the airport with some extra time, take a walk. There are usually plenty of places to window shop.
If you're driving, pull over every hour or so and take a stroll for about 10 minutes. Also, after stopping off for a meal or snack, take a walk before getting back into the car.
If you're spending the night in a hotel, find one that has a gym, and get up a half-hour earlier than usual for a 30-minute workout on a treadmill or stationary cycle.  It's a nice way to get the blood going, which is good for both your cardiovascular health and very likely your back, neck, and shoulders while driving.
If no gyms are available, take a nice walk outside in the early morning light. It's often a wonderful way to explore the new town that you're in.
All the above will give you a chance to stretch your legs, get some fresh air, and stay active while you travel.
Healthy Travel Tips | Skip the Alcohol
It's awfully easy to give in to the complimentary peanuts and soft drinks on the plane, but perhaps the most important thing to refrain from is the list of alcoholic beverages being offered. Though the Pritikin Eating Plan allows for alcohol in moderation, drinking while flying can have poor health effects, including dehydration.
A pressurized cabin has much lower humidity levels than a typical indoor space – only 10 to 20 percent versus 30 to 65 percent. This lack of humidity, even without alcohol consumption, can lead to serious dehydration. This is especially dangerous for people with diabetes.
So while an alcoholic beverage may sound nice, you're better off skipping the increased risk of dehydration. Instead, drink water and enjoy naturally-water-rich foods like fruit and vegetables to stay feeling healthy and prepared for your Pritikin wellness retreat.
You want to walk through the gorgeous tropical gardens at Pritikin and up to the front door ready to go!