Healthy Pie Recipes | Favorite Desserts from the Pritikin Cooking School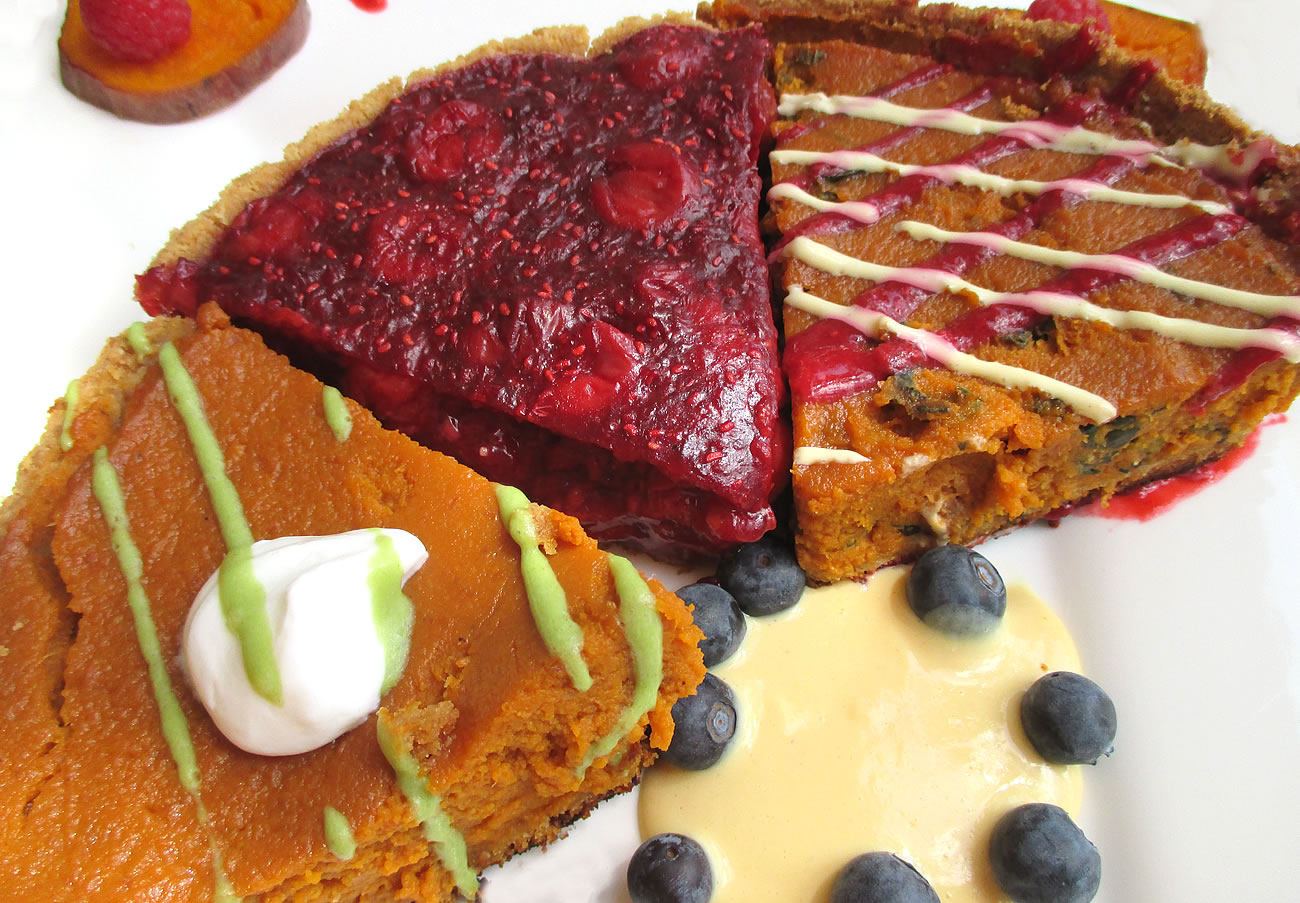 Pumpkin Pie. Sweet Potato, Kale, and Rum Pie. Cherry Pie. All are bursting with fresh, fantastic flavor, but are low, so very low, in everything that's bad for us, like sugar, salt, refined "white" carbs, and saturated fat.  Yes, with our Pritikin healthy pie recipes, you really can have your pie, and eat it, and watch the numbers on the bathroom scale dip.
Don your cooking apron and get down to business!  These pies are the perfect ending to almost any dinner.
Better yet, make every day a perfect day for a full week or more.  Plan a health vacation at Pritikin. Enjoy healthy food (and desserts!) at every lunch and dinner.  Learn in cooking classes how to become an expert chef of healthy pie recipes, and much more. Exercise under the guidance of board-certified physicians.  Shed weight. Get your blood pressure and other cardiovascular risk factors under control.  And return home with a whole new zest for life.
Pumpkin Pie
A slice of traditional pumpkin pie often has 5 grams of artery-crippling saturated fat. It's like eating 5 slices of bacon for dessert! And really, who needs it when you can enjoy deeply satisfying pumpkin flavor with our zero-saturated-fat pie.
Get Recipe
Sweet Potato, Kale, and Rum Pie
Yes, this is a creative one!  Pritikin Chef Anthony Stewart has added delicate Tuscan kale to this rich, dreamy blend of rum, sweet potatoes, acorn squash, and raisins. The crust is no sugar, no salt added corn flakes.
Get Recipe
Cherry Pie
Want a cheeseburger for dessert? That's what you get in terms of artery-busting saturated fat when you eat regular cherry pie. Get zero saturated fat but lots of lip-smacking cherry flavor with our Pritikin Cherry Pie.
Get Recipe
Wellness Resort
Weight Loss Retreat
Wellness Resort
Weight Loss Retreat